Why Pharma Brands Should Use Content Experience Platforms?
Sales & Marketing
Increasing digital maturity is one of the priorities in the pharmaceutical industry. As a part of digitalization, omnichannel marketing has become a new paradigm of success. Organizations of all sizes use various software to optimize their activities and provide personalized customer experience at a large scale.
At Viseven, we use eWizard to help big brands, medium businesses, and small marketing agencies in pharma and life sciences personalize communication with each customer on an individual level. eWizard is a content experience platform that facilitates the production of high-quality content, reducing operational costs and increasing customer satisfaction.
In this article, we will show the potential of content experience platforms in pharma and life sciences by demonstrating the main functionality of eWizard and how it turns leads who meet a company for the first time into loyal customers who share the company's values.
Content Modularization
The modular content approach is the core technology that makes eWizard the best fit for optimizing content production. Modularization allows pharmaceutical and life sciences organizations to reuse existing content with ready-made blocks called modules. 
The modular approach has two unique advantages for organizations that need copious amounts of top-notch content to engage with many customers:
Accelerated MLR (Medical, Legal and Regulatory) review and time to market. Each module can separately pass the medical, legal, and regulatory (MLR) review process, which significantly increases content delivery.
High-quality content production at scale. Modules help to produce engaging content in different variations and combinations for multiple target audiences and communication channels without duplication and plagiarism.
Also, the modular approach partly eliminates the need for professional coding, design, and copywriting skills in large-scale content creation. If necessary, employees from different departments and with varying levels of expertise can produce excellent content effortlessly.
Simplified Customization
eWizard offers life sciences and pharmaceutical organizations limitless opportunities to customize the content according to their goals and priorities, using Editor.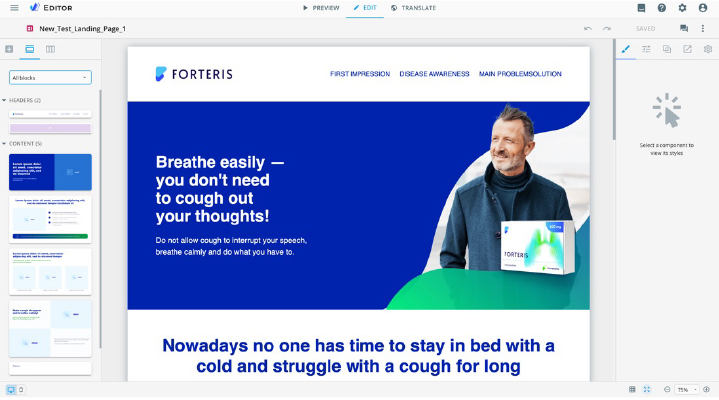 Template Builder within Editor enables organizations to produce content templates from scratch or adapt pre-built templates for different marketing channels from a rich collection of Library. Powered by drag-and-drop functionality, Template Builder allows users to construct nice-looking layouts with ready-made blocks and customize their width, background colors, texts, and images.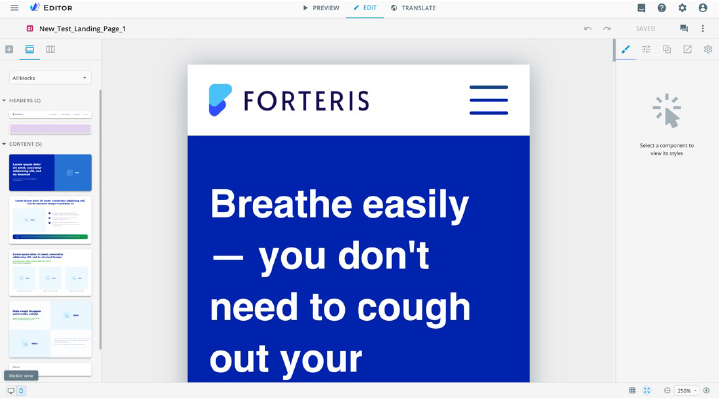 eWizard Editor works in desktop and mobile modes, allowing organizations to switch anytime and edit placeholders and blocks separately. In the Mobile View editing mode, producers can edit content for the template's mobile version. In the Desktop View editing mode, producers can customize templates for desktop computers.
Multivendor Campaign Management
With eWizard, businesses can not only customize high-quality content for their needs but use it within marketing campaigns. Stakeholder supervision and cooperation of multiple departments and organizations is easier with the help of Planner.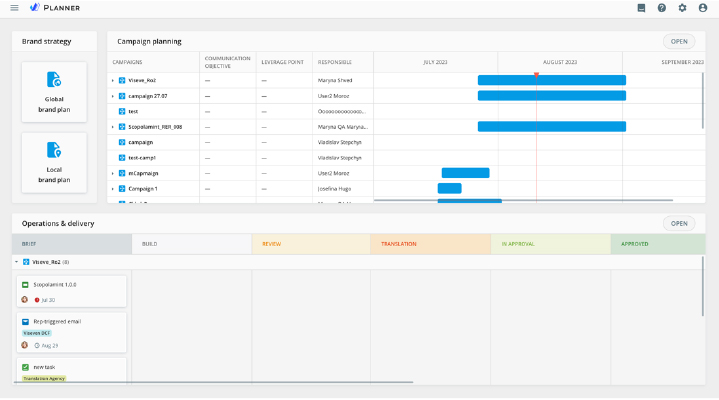 Planner is an add-on where marketers and brand managers can together plan, coordinate and manage promotional campaigns and monitor their execution using specialized widgets. The add-on is a part of a single ecosystem where multiple teams can synchronize their workflow statuses, arrange delivery flow, and use integrated third-party software.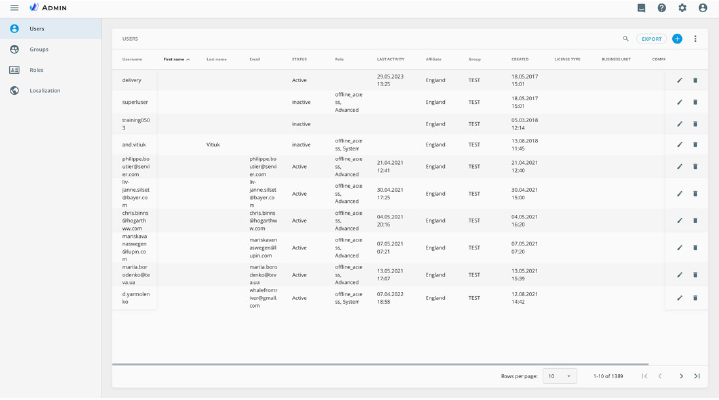 With Business Admin, companies can manage user accounts, assign roles, and arrange users into different groups. The easy-to-use panel enables admins to see active and non-active roles, activate, deactivate, and reassign them according to the needs of an organization. For multinational organizations, there is an opportunity to change the interface language of the core eWizard services.
Deployment of Websites and Landing Pages
eWizard users can create landing pages and websites from scratch and deliver them from Library to the eWizard hosting platform using one of the default domains or a custom domain upon request.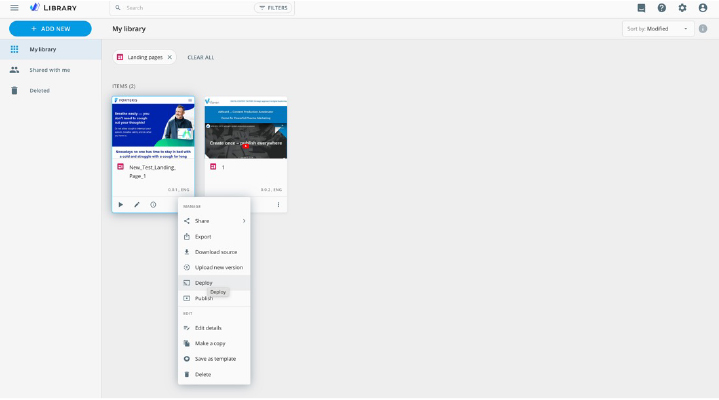 All websites and landing pages created in eWizard have semantic markup, which provides a clean coding structure and leads to better search engine optimization (SEO).
Auto Translation & Quick Localization for Multiple Markets
Powered by the AWS translate engine, the Auto Translation tool helps companies with target audiences in multiple geographies automatically translate content assets from the original language into the languages they need. Also, companies can quickly export texts of any content asset from eWizard as an XLIFF or XLSF file, translate the texts manually, and import them back to the suitable placeholders.
Integration with Third-Party Software
For companies that work with Veeva products, eWizard complies with the Veeva 22R3 standard and supports integration with Vault PromoMats / MedComms, Veeva Multichannel CRM, Veeva CRM Approved Email, Veeva CRM Engage Meeting, Veeva CRM Engage for Portals, and Veeva CRM MyInsights.
Companies that use the Contentful platform can automatically synchronize the data with eWizard to improve content distribution across multiple communication channels.
eWizard Content Experience Platform: Free Trial
To succeed in their marketing and boost ROI, pharmaceutical and life sciences organizations should understand customers' needs and preferences and engage with them at the right moment using their preferred channels and substantial amounts of tailored content.
Content experience platforms like eWizard are the best solution to continuously build customer trust and efficiently streamline large-scale production of high-quality content related to the target audience's problems using the latest technology.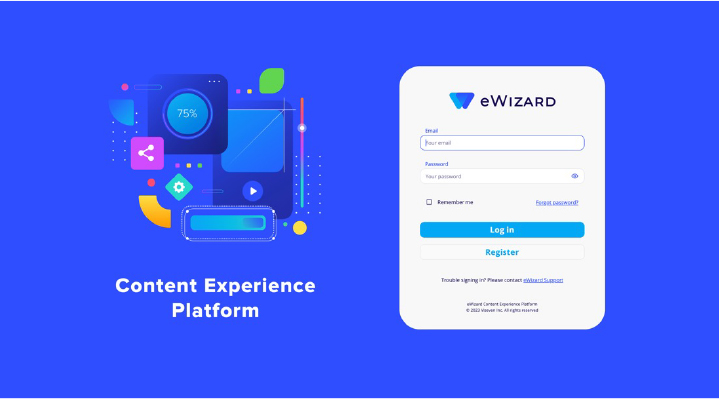 If you want to see the potential of content experience platforms for customer engagement in pharma, remember that you can try eWizard free of charge during a trial period. The free trial version includes the basic functionality your team can use to create excellent experiences for each customer.
Also, feel free to talk to an eWizard expert if your organization wants to learn more about creating personalized omnichannel experiences on a large scale.
Follow eWizard on LinkedIn
Visit our website: https://ewizard.io/