Disrupted medical conferences: 2022 and beyond
Sales & Marketing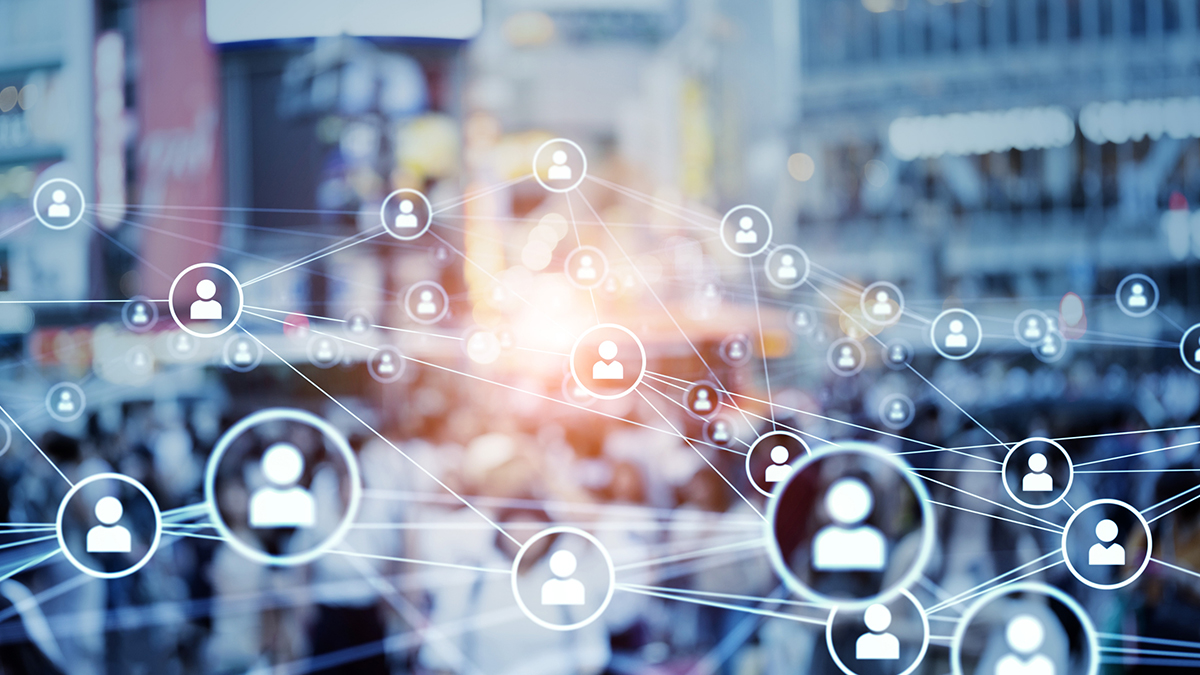 How to make it in the new normal 
Part 1 of this article discussed the massive disruptions to medical events caused by the COVID-19 pandemic and how attendees' preferences have shifted as things have shaken out. You can read part 1 here. In part 2, we look at how some affected groups can respond.
Pharmas confront a steep learning curve
For the pharmaceutical industry, the disruption of the medical conference landscape came as a shock since its focus had traditionally been on participation at physical events. That said, the industry has accrued substantial experience of virtual engagement with healthcare professionals dating back for at least 25 years. In the pharmaceutical industry digital marketing is nothing new, but in the context of onsite-and-online events it is. This is where the industry confronts a steep learning curve necessitating a fundamental reassessment of its conference participation strategies.
Just as PCOs are working closely with medical societies to provide tactical and strategic support services for their virtual offerings so too are they working equally closely with the pharmaceutical industry.
Future onsite-and-online conferences present significant decision-making challenges to the pharmaceutical industry, amply demonstrated by the sponsored symposia options, shown in Figure 5, which were available at the 2021 EAACI hybrid conference. Accessibility to physical symposia was limited to approximately one hour, compared with three years on-demand for virtual symposia, or 26,280 times longer. Moreover, no attendee data was available for physical symposia, whereas all virtual symposia packages provided full attendee metrics analyses. A similar array of complex engagement options was available for physical and virtual exhibition stands.
Figure 5  Sponsored symposia options at the EAACI hybrid congress 2021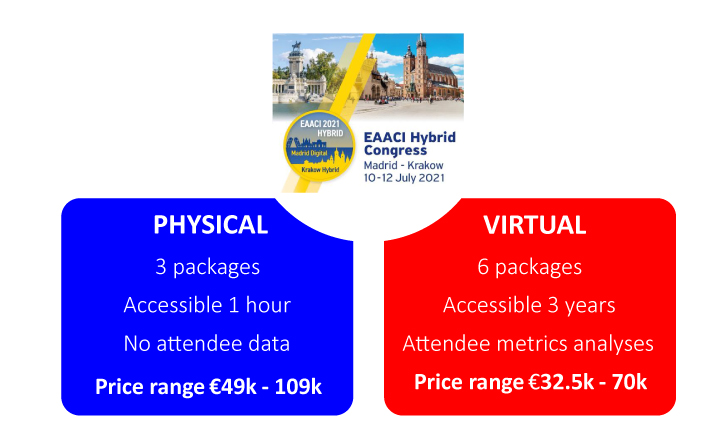 According to the 1st Ashfield-IPCAA survey of over 300 doctors who had attended virtual conferences in 2020, pharma's sponsored symposia were generally well received but its virtual exhibition stands were not. Simply attempting to emulate a physical exhibition stand virtually will not succeed. The industry and its PCOs will need to provide new, and above all, compelling reasons for doctors to engage via its virtual exhibition stands.
The 2nd Ashfield-IPCAA survey additionally revealed that doctors want the industry to focus more on the science and be less commercially-orientated, in addition to being more adept at digital marketing and its use of social media.
How the industry will eventually invest and participate at future onsite-and-online events is unclear. Will it focus more on onsite, more on online, or on both options equally? One indication from a 2021 survey of 208 pharma and medtech companies across 42 therapeutic areas was that only 52% prefer to focus exclusively on the onsite option (Figure 6). Reassuringly, these participation intentions map well with doctors' declared participation preferences (see Figures 2 & 3 in part 1 of this article).
Figure 6  At a hybrid (onsite-and-online) event how would you prefer to participate? Results from a 2021 survey of 208 pharma and medtech companies across 42 therapeutic areas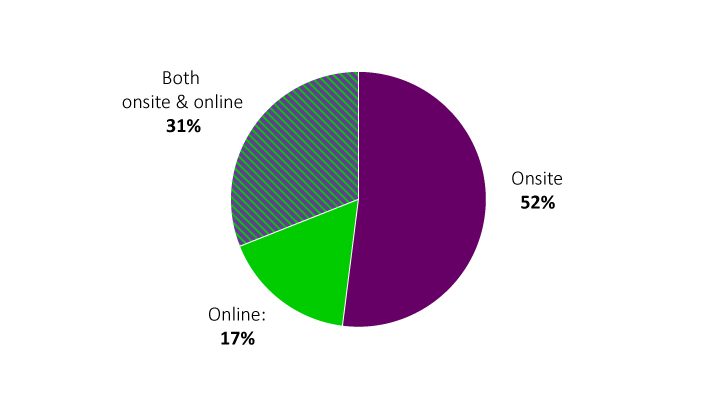 Medical societies must learn to thrive in the new normal
In the introduction to part 1 of this article it was stated that the characteristic which best describes how most medical societies where able to rapidly transition to virtual formats was evolutionary, rather than revolutionary. This assertion is based on interviews conducted by the author of this article with a number of leading European medical societies in 2014, including the ESC, which indicated that younger society members were becoming increasingly 'disloyal' because of their dissatisfaction with major society conferences. Younger members questioned the rationale for staging major events annually and why societies neglected to use digital channels to disseminate advances in medical sciences more rapidly. Since then, many societies have indeed made discernible progress towards digital transformation of their events and communications practices.
Yet each one of the six lessons learnt outlined in part 1 represents a radically new set of conference attributes requiring societies to apply imagination, innovation and willingness to experiment. Areas of critical importance are likely to include:
Continuous in-depth monitoring of members' conference preferences: content, format, quality of presentations, user experience, organisation, platform navigation, satisfaction with learning experiences.
Greater reliance on specialist technology partners and PCOs for strategic and tactical guidance.
Enhanced internal digital capabilities and expertise to orchestrate work with external partners.
Creation of more patient-inclusive formats and cultures.
Re-evaluation of existing business models to maximise opportunities in the new normal.
In addition to these measures the pandemic has also brought into question a more fundamental issue focusing on knowledge dissemination, specifically, the effectiveness of traditional medical conference education formats which remain predominantly passive, employing lectures or presentations with minimal attendee interaction or discussion. These methods have consistently been found not to alter doctors' behaviours, improve clinical performance or change patient outcomes. However, studies indicate that conferences which include interactive sessions such as discussion groups, workshops, hands-on training, and problem-based learning, are more effective. One society which has recognised the need to improve standards of conference medical education is the European Committee for Treatment and Research in Multiple Sclerosis (ECTRIMS). It introduced a number of innovations during its virtual 2021 annual congress which included speaker coaching, better-structured presentations, and more opportunities for engagement and interaction.
The congress keynote lecture is a good example of how the speaker, Roland Martin, was coached to deliver an engaging story and how concise, easily-comprehensible graphics have been created to elevate the content.
The society additionally re-designed its website to become less society centric and more member centric. Simplifying the user-interface (UI) and improving overall user experience (UX) resulted in significant improvements in key website metrics:
25% increase in daily traffic.
29% decrease in bounce rate (percent of visitors who leave after viewing only one page).
69% increase in engagement.
The President of ECTRIMS, professor Maria Pia Amato, succinctly describes as follows ECTRIMS' focus on audience-centricity and why improving its standards of conference education are so crucial:
'Connecting with our scientific and medical audience, and understanding their needs is an absolute necessity during our annual congresses. It is our job to ensure they are engaged in scientific discourse during the conference and beyond: i.e., they absorb it, share it with their colleagues, and ultimately use it to aid further advancement in MS research and care.'
Figure 7 summarises all seven measures likely to be needed by medical societies to thrive in the new conference normal.
Figure 7  Measures needed by medical societies to thrive in the new conference normal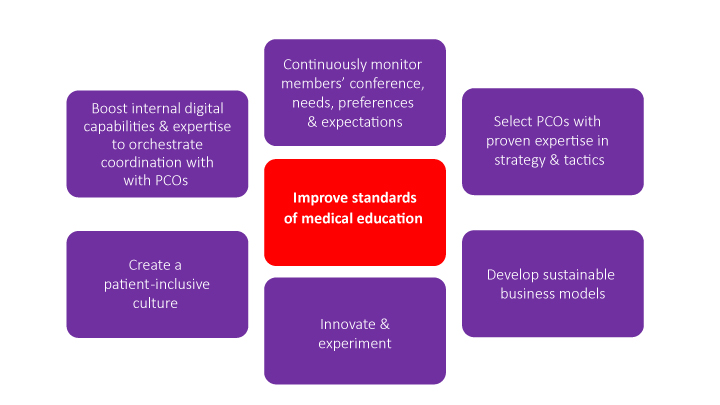 Expectations for 2022 and beyond
As of January 2022 it appears that the majority of major society conferences are set to be onsite and online throughout the year, but this will of course be ultimately determined by the trajectory of the pandemic. Indications are that some smaller local meetings will either remain virtual or return to in-person only.
There is also a great deal of discussion, within PCOs and the medical media especially, focusing on how the experimentation and innovation evident during the last two years will accelerate yet further evolution of formats and event features. Options abound with many formats and features capable of being deployed in multiple permutations and combinations. However, as in the hybrid discussion, organisational complexity and cost will most likely be the limiting constraints. Examples include:
Asynchronous onsite and online. An onsite-only event is staged first, recorded, then made available later as an online week-long event offering discussion and Q&A with speakers.
Pre-learning and discussion. Attendees access pre-recorded presentations in advance on the conference website, followed by in-person discussions and workshops at a later date. Additional options include online week-long follow-up Q&A sessions replacing the in-person discussions, which in turn allows attendees in any time zone to participate. This approach broadly follows the recommendations for improving standards of medical education outlined previously.
Onsite-and-online using local hubs. Here online access is augmented with multiple local hubs where attendees can meet in-person and discuss presentations in local language.
Although not strictly part of the novel-format discussion, the European Society of Radiology (ESR) has announced that its annual ECR 2022 congress will follow a 'two-in-one' format: an online introductory event featuring the highlights of the scientific and educational programme of the main onsite-and-online event scheduled at a later date.
Beyond current considerations of novel formats the post-pandemic future of medical conferences may well be dominated by concerns about sustainability and climate change. A 2020 British Medical Journal (BMJ) opinion piece presented a cogent case for conferences to remain virtual:
'The medical community should use this moment to promote international scientific conferences that are more environmentally friendly.'
Yet these concerns about the environmental impact of conferences are hardly new. The University of California Santa Barbara (UCSB) has been developing and experimenting with an online, Nearly Carbon-Neutral (NCN) approach for conferences since 2016. The NCN-conference model was developed not due to global epidemiological reasons, but for reasons of planetary health. Moreover, the formats proposed are almost identical to those advocated to improve standards of medical conference education.
Another significant factor adding to this discussion is that Millennial doctors (born between 1981 and 1996) and Generation Z doctors (born between 1997 and 2012) will comprise the largest share of the medical profession by 2030 and both cohorts view climate change as the single most important issue facing humanity. It is not too fanciful to predict that, together, they will aggressively drive medical societies to switch to virtual-only NCN formats by the end of the decade.
Postscript
In 2030 descriptions of medical society congresses may read as follows:
'A virtual, Nearly Carbon Neutral, multi-hub, multi-lingual, patients-included, AI-assisted congress offering state-of-the-art medical education and CME options'.
About the author
Len Starnes is an independent digital healthcare consultant providing strategic support to governments, biopharmas, doctors' social networks, management consultants, and start-ups. He additionally consults for The Stem, a global networked healthcare consultancy specialising in digital transformation. Prior to becoming independent Len spent 16 years directing digital strategies at Bayer AG and Schering AG where he held responsibilities at European and global levels. He speaks regularly at conferences in the USA, Europe, and Asia and holds degrees in business administration, solid-state physics, and physics from Boston University, Manchester University, and University College London, respectively.
Email: lenstarnes@gmail.com
Twitter: @lenstarnes
Acknowledgements
A sincere thanks to the following for their support in developing these articles:
Professor Maria Pia Amato, President of ECTRIMS, MS Center Dipartimento di Neuroscienze, Area del Farmaco e Salute del Bambino (NEUROFARBA), University of Florence, Florence, Italy. https://www.ectrims.eu/
Jelmer van Ast, Founder & CEO, Conference Compass, The Hague, The Netherlands. www.conferencecompass.com
Jeff Bateman, Accredited Executive Coach/CMP/Presenter Coach. Head of Strategic Communication, Congrex, Switzerland. https://www.linkedin.com/in/jeffbateman/
Ilan Ben Ezri, CEO, & Cassandra Leah Gomes, Content Manager,
G-Med Physicians, www.g-med.com/
Mellanie True Hills, Founder and CEO, StopAfib
Mark Lightowler, Founder & CEO, Phorix, Basel/London. www.thephorixgroup.com
Peter Llewellyn, Director, NetworkPharma Ltd, Director, Burntsky Ltd, Oxford,