Q&A: Albireo's Ron Cooper on bile acid modulation
Views & Analysis
While bile acids might not be as trendy as gene editing, modulating them has potential for first-in-class therapies for liver diseases. We discussed the future of the area with Ron Cooper, president and CEO of Albireo, a company that has been working on bile acid science since 2008.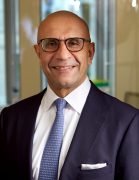 Why are bile acids of interest to life sciences researchers?
Bile acids regulate numerous metabolic processes including glucose, lipid and energy homeostasis through signaling via bile acid-activated receptors. They also play an integral role in the absorption of fat-soluble nutrients and downstream fat-soluble vitamins. The conversion of cholesterol to bile acids is critical for maintaining cholesterol homeostasis.
When the flow of bile from the liver into the intestine is disrupted, cholestasis – or the accumulation of bile acids in the liver – can occur. This accumulation may lead to inflammation, apoptosis and cell death in the liver and could potentially impact other organs as well.
There are limited treatment options today for cholestatic diseases beyond surgery and liver transplant, so this is a big area of unmet need for patients.
What kinds of treatments could this research lead to?
We believe that bile acid modulators hold great potential as a new therapeutic category that could address largely unmet needs in a range of diseases affecting the liver, from rare pediatric and genetic cholestatic liver disorders to more common liver diseases like nonalcoholic steatohepatitis (NASH).
At Albireo, much of our focus today is on the development of an IBAT inhibitor called odevixibat. Odevixibat is a novel bile acid modulator that is under evaluation as a potential treatment for a range rare cholestatic liver diseases. It is a selective inhibitor of the IBAT that has minimal systemic exposure and acts locally in the gut.
The initial indication we are investigating is progressive familial intrahepatic cholestasis (PFIC), which tends to be diagnosed in children within their first few years of life. PFIC is a rare, life-threatening disease impacting one in every 50,000 to 100,000 children born worldwide that is caused by several different genetic mutations and results in bile acid buildup in and damage to the liver. Children with PFIC often have a failure to thrive and they tend to experience an intense, insatiable itch known as pruritus in addition to a range of other symptoms.
There is no pharmacological treatment specifically approved for PFIC today. Instead, many patients require a surgical intervention known as partial external biliary diversion (PEBD) in which bile acids are diverted to a stoma bag outside the body, or a liver transplant.
These procedures carry substantial risk and can impact quality of life. For example, children that undergo PEBD surgery will have external stoma bags to collect bile for years and, potentially, for the rest of their lives. Children with these diseases also undergo a liver transplant to prevent progression to cirrhosis or because their pruritus is so severe. For patients in the pediatric age range, the mortality rate has been estimated at 14% at five years. Post-transplant care requires a lifetime of immunosuppressive therapy, which could increase risk of infection, post-transplant lymphoproliferative disorders (PTLD) and nephrotoxicity. Some patients also experience acute and chronic rejection, which may cause graft failure and need for another transplant.
We believe that odevixibat may have the potential to benefit children with PFIC as well as a range of other rare pediatric liver disorders, and it is currently in a Phase 3 study in patients with PFIC.
Is this a well-understood area of research or is there still much to learn? How do you think the area will evolve over the next few years?
Albireo has been focused on bile acid modulation science and the development of IBAT inhibitors for more than a decade. We were spun out of AstraZeneca and, after years of research and development, were able to gain the world's first approval for an IBAT inhibitor. This product, known as elobixibat, was approved in 2018 in Japan for chronic constipation. We're encouraged that interest in this therapeutic category and understanding of the important role that bile acids play in liver disease continues to grow.
Our learnings continue and are, in fact, accelerating. In 2017, we announced data from a Phase 2 study of odevixibat in patients aged one to 17 with pediatric cholestatic liver disease, including PFIC, Alagille syndrome, biliary atresia and intrahepatic cholestasis. This trial informed our plans for a pivotal Phase 3 trial in PFIC that is now well underway with a topline readout expected in mid-2020.
What are your future plans for odevixibat?
We plan to pursue the development of the drug  in other rare cholestatic liver diseases. Next up will be a pivotal trial in biliary atresia, a disease with significant unmet need. We estimate that biliary atresia impacts 15,000 to 20,000 patients in the US and Europe. It is caused by blocked or non-existent bile ducts, which, if left untreated, generally causes liver failure within months.
Virtually all children with biliary atresia receive their diagnosis within the first months of life. The child then immediately undergoes a Kasai procedure to surgically bypass the ducts within the liver. While this procedure can help immensely, about 50% of patients still require a liver transplant within two years, and approximately 80% require a liver transplant by the age of 20.
We are looking forward to getting this trial underway in 2020.