SMi's Pre-Filled Syringes West Coast conference and exhibition – attendee list released
Partner Content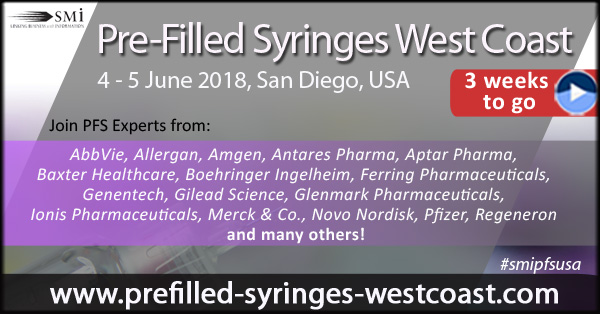 In just 3 weeks, SMi Group will open its doors to host the next instalment in this year's PFS conference series, 3rd annual Pre-Filled Syringes West Coast (June 4 – 5, San Diego).
Following in the steps of the European and Boston events, the San Diego PFS show will once again gather a truly global audience from not only the USA, but also Belgium, Denmark, France, Germany, UK, Japan and more.
ATTENDEE LIST RELEASED – full version is available on the Download Centre of the Pre-Filled Syringes West Coast website. A snap shot of those confirmed attendance:
AbbVie, Allergan, Amgen, Antares Pharma, Aptar Pharma, Baxter Healthcare, Boehringer Ingelheim, Credence MedSystems, Ferring Pharmaceuticals, Genentech, Gilead Science, Glenmark Pharmaceuticals, Ionis Pharmaceuticals, Merck & Co., Novo Nordisk, Pfizer, Regeneron, Shire, Xeris Pharmaceuticals
Spaces are filling up fast – to reserve the seat, book online or contact Fateja Begum - fbegum@smi-online.co.uk / +44 (0)20 7827 6184
As well as providing guidance on regulatory expectations and assessing quality control systems and risk-based control strategies, the agenda for 2018 will also feature a spotlight on human factor engineering, manufacturing in the landscape of complex biologics, and showcase emerging trends of technologies and studies to assist device and drug formulation developers.
To view detailed agenda and find out who is speaking at the event visit http://www.prefilled-syringes-westcoast.com/pharmaphorum
Incorporated in the PFS West Coast event is an interactive workshop on June 6 - How to leverage tangibles in user testing to ensure successful commercialisation of innovation products – lead by iO Lifesciences
CONTACT:
+44 (0)20 7827 6000
Twitter - @SMIpharm & #smipfsusa
LinkedIn - SMi Pharma