SMi's Exclusive Interview with MedImmune Principal Scientist just released
Partner Content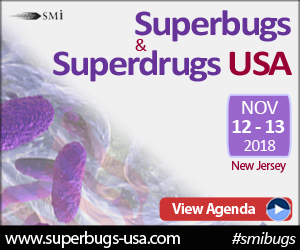 An exclusive interview with Dr. Antonio DiGiandomenico, Principal Scientist, MedImmune has been released
SMi Reports: An exclusive interview with Dr. Antonio DiGiandomenico, Principal Scientist at MedImmune on challenges and his vision for the future of AMR R&D has been released in the run-up to the 3rd annual Superbugs & Superdrugs USA Conference taking place in Iselin, New Jersey on November 12 - 13, 2018.
SMi Group is proud to present some insightful content to you, who will be speaking at the 3rd annual Superbugs & Superdrugs USA Conference, a leading scientist in AMR R&D: Dr. Antonio DiGiandomenico, Principal Scientist, MedImmune. SMi caught up with Dr. DiGiandomenico to talk about his role in the field, his vision on challenges and the future for the development of novel anti-infectives.
Dr. Antonio DiGiandomenico is currently a Principal Scientist in the Department of Microbial Sciences at MedImmune/AstraZeneca and has 20 years of experience in microbiology and immunology.
--SNAPSHOT OF INTERVIEW--
What do you see as the greatest hurdle to developing novel and effective anti-infectives?
Cost to develop novel drugs is a major drawback to large pharma due to the lack of incentives, which factors from: 1) an overall public perception that antibiotics need to be cheap. 2) the rate of antibiotic resistance development can be so fast that there could be widespread resistance shortly after a new antibiotic reaches the market. 3) broad-spectrum antibiotic usage is detrimental to the host and should only be used in special circumstances.
What do you think could be and should be done to address this?
To start, regulatory agencies need to develop a path for the development of narrow-spectrum drugs. In addition, there should be greater incentives for the development of novel anti-infectives. The US is behind their EU counterparts in implementing similar to Innovative Medicines Initiative programs, but there is current movement in the positive direction with the recent introduction of the Antibiotic Resistance Leadership Group (ARLG).
What would you say is the biggest barrier to implementation of novel anti-infectives in common treatment plans and the commercial market?
I firmly believe that the novel anti-infectives of the future will be those that target a limited number or single pathogens.
- Download the full interview online -
Join Dr. Antonio DiGiandomenico this November as he will be presenting: 'Immunotherapeutics Targeting Pseudomonas Aeruginosa Acute and Persistent Infections'. The presentation will introduce novel anti-Pseudomonal mAbs and their mechanisms of action. Activity will also be discussed in multiple animal models when used in both prophylaxis and treatment indications. Dr. DiGiandomenico will also address synergy with antibiotic treatment and activity against biofilms.
Further details and speaker interview available online
Bookings made by 31st August will be eligible for the special summer discount and save US$200, by using the voucher code: P266EM
SMi presents the 3rd annual industry leading conference:
Superbugs & Superdrugs USA
Date: 12th – 13th November 2018
Location: Renaissance Woodbridge Hotel, Iselin, New Jersey
Website: www.superbugs-usa.com/pr6
---end---
Contact Information:
For sponsorship bookings, contact Alia Malick Director on +44 (0)20 7827 6168 or email amalick@smi-online.co.uk
Book your place online at www.superbugs-usa.com/pr6
Follow us on: Twitter - @SMIpharm & #smibugs | LinkedIn - @SMi Pharma
About SMi Group:
Established since 1993, the SMi Group is a global event-production company that specializes in Business-to-Business Conferences, Workshops, Masterclasses and online Communities. We create and deliver events in the Defence, Security, Energy, Utilities, Finance and Pharmaceutical industries. We pride ourselves on having access to the world's most forward-thinking opinion leaders and visionaries, allowing us to bring our communities together to Learn, Engage, Share and Network. More information can be found at http://www.smi-online.co.uk