Precision Medicine Market will surpass USD 96600 million by 2024
Partner Content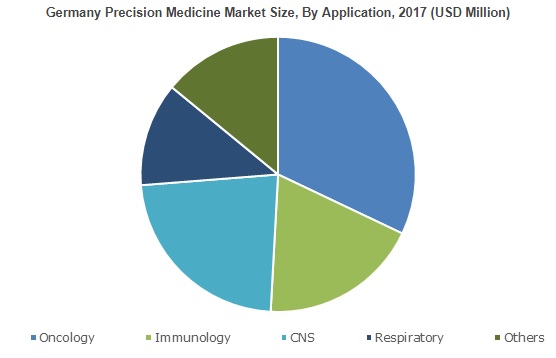 Germany precision medicine market exceeded USD 2.6 billion in 2017 and high segmental growth will be due to the growing pediatric as well as adult population susceptible to metabolic diseases such as diabetes. According to NCBI, prevalence of Type 2 diabetes is high in the German population. Researchers and scientists have geared up efforts to develop precision medicines that are altered according to patient's genome ensuring efficient treatment of genetic disorders. Moreover, high income levels and developed healthcare infrastructure will prove beneficial for Germany precision medicine industry growth in future.
U.S. precision medicine market held the highest revenue of USD 18 billion in 2017 and will show similar trend in the coming years. Various government initiatives to increase the adoption of precision medicine will render positive impact in the market growth. For instance, in 2015, President Barack Obama launched Precision Medicine Initiative (PMI) for developing novel solutions for chronic diseases including cancer based on lifestyle characteristics and genomic environment of patients.
Bioinformatics segment held significant revenue share of 15.5% in 2017 and is estimated to witness lucrative CAGR over the forecast period. The growth is attributable to the use of bioinformatics in making effective clinical decisions. Furthermore, bioinformatics tools enable quick data mining from literature, regulatory documents, clinical trials, and other patient-based information that can be used for rapid identification of drug targets and repurposing in treatment of rare diseases.
Oncology segment dominated the precision medicine market with USD 15.4 billion in 2017 and is estimated to show lucrative growth in the coming years. The segmental growth is attributed to growing prevalence of cancer in developed as well as developing countries. According to the American Cancer Society, in 2017, around 1.68 million new cancer cases were estimated in the U.S. Such factors will increase the demand for effective cancer therapies thereby augmenting the segment size.
To access a sample copy of "Precision Medicine Market" report in detail along with the table of contents @ https://www.gminsights.com/request-sample/detail/671
Healthcare IT companies segment is estimated to witness highest CAGR of 11.5% over the analysis timeframe due to growing demand for technologically advanced tools to enable rapid integration, storage, and analysis of patient data. In addition, increasing focus of leading healthcare IT industry players on development of big data platforms such as iPhronesis that integrate genomics, electronic health records and imaging via advanced analytics will further spur the market size.
Pharmaceutical companies segment of precision medicine market accounted for 37.1% in 2017 owing to the increasing R&D efforts for drug development activities. Pharmaceutical companies are currently trying to develop precision medicines for rare genetic diseases. According to Global genes, there are around 7,000 rare genetic diseases discovered. In 2015, around 30 million Americans were detected with rare diseases that will augment demand for precision medicines thereby, propelling the segment growth.
Prominent industry players operational in the precision medicines market include Biocrates Life Sciences AG, Eagle Genomics Ltd, Ferrer inCode, Intomics, Laboratory Corporation of America Holdings, NanoString Technologies, Novartis, Pfizer, Qiagen, Quest Diagnostics, F. Hoffmann-La Roche, Silicon Biosystems, Tepnel Pharma Services, Teva Pharmaceuticals.
Global Precision Medicine Market is poised to hit USD 96.6 billion by 2024; according to a new research report by Global Market Insights, Inc. Increase in adoption rate of gene therapy in developed economies with relatively high-income level will further enhance the precision medicine market growth. Rising incidences of genetic disorders has positively influenced the business growth. According to WHO, sickle cell anemia affects around millions of people globally every year. Along with sickle cell anemia, there are many other genetic diseases such as thalassemia, hemophilia and others that are prevalent globally.