Initiatives on increasing commercial value of antibiotics research
Partner Content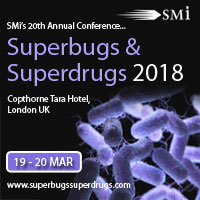 SMi's Superbugs & Superdrugs conference this March will focus on the strategies pharmaceutical companies use to assist the development of new therapeutics & drugs, how to obtain funding for new projects and address why there is a current lack of incentives for researchers working in antimicrobial resistance research and development.
Superbugs & Superdrugs Conference | 19 - 20 March 2018 | London, UK
www.superbugssuperdrugs.com/phphorum
'The main issue with antibiotic drug development is the perceived low commercial value and many big pharmaceutical companies have pulled out of antibiotics research due to negative returns on investment. Mobilising public funding and ensuring that greater financial resources are available for the fight against AMR is therefore fundamental.
The good news is that there are numerous early stage drug development programmes in universities and institutes worldwide. These are only limited in what they can achieve by the amount of funding available.
Funding initiatives launched in the past 12 months, such as CARB-X, ENABLE and GARD-P, are providing around $600m for pre-clinical to clinical translation of new treatments and diagnostics, mainly in grant support to smaller biotechs*
-  AMR Centre, Laboratory News, January 17, 2018
At SMi's Superbugs & Superdrugs Conference these issues will be brought up in presentations:
INCENTIVIZING ANTIBACTERIAL RESEARCH AND DEVELOPMENT
Mark Albrecht, Health Scientist, HHS/ASPR/BARDA
- What is BARDA and why is it interested in AMR
- How BARDA partners with industry to stimulate innovation in AMR R&D
- How CARB-X is refilling the preclinical AMR product pipeline
GARDP: AN ALTERNATIVE MODEL TO ANTIBIOTIC DRUG DEVELOPMENT
Jean-Pierre Paccaud, Director of Business Development at GARDP, Drugs for Neglected Diseases initiative (DNDi)
- GARDP is a not-for-profit R&D organisation developing new treatments to tackle drug-resistant bacterial infections, and aiming at delivering them in a responsible, sustainable and accessible manner.
- Public-private partnerships contributions to fight AMR: collaboration and complementarity.
- Experimenting alternative business models to deliver innovation.
- Current programs and deals will be presented.
Interactive training on the USE OF ANIMAL MODELS IN PRE-CLINICAL DRUG DEVELOPMENT hosted by University of North Texas Health Science Centre – 21st March
Event programme is available for you at
www.superbugssuperdrugs.com/phphorum
Early bird discount:
Save £100 - book by 31st January at www.superbugssuperdrugs.com/phphorum
Superbugs & Superdrugs Confernce Sponsored by MSD
SMi offer unique sponsorship, exhibition and branding packages, tailored to complement your company's marketing strategy.
To sponsor or exhibit, contact Alia Malick on +44 (0)20 7827 6168
For delegate inquiries call Fateja Begum on +44 (0)20 7827 6184
Follow 'SMi Pharma' on LinkedIn and @SMIpharm on Twitter for latest pharmaceutical industry updates.
-------------------------------------------------------------------------------------------
Superbugs & Superdrugs Conference | 19 - 20 March 2018 | London, UK
www.superbugssuperdrugs.com/phphorum
-------------------------------------------------------------------------------------------
*Dr Peter Jackson, Executive Director of the AMR Centre, Laboratory News, January 17, 2018