Vinehealth earns CE marks for cancer management apps
News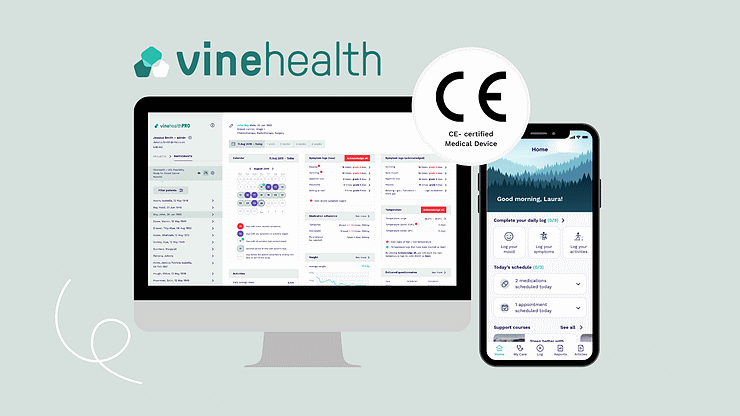 UK digital health firm Vinehealth has won a CE mark for a mobile app that helps cancer patients manage their medications and care, as well as a sister web-based app aimed at clinicians. 
The Vinehealth Cancer Companion – originally developed by neurologist Dr Rayna Patel and Georgina Kirby, the company's co-founders – uses behavioural science and artificial intelligence to help cancer patients track, manage and understand their care.
It aims to make cancer patients feel more in control, for example by simplifying tasks such as taking medications, setting up appointment reminders, and giving advice about what to ask doctors during consultations.
The related separate VinehealthPRO app is used by healthcare professionals to support clinical decision making and inform the development of cancer therapeutics which have clinical trials ongoing that may be an option for some patients.
The award of the Class 1 CE mark means that the apps have met safety and performance requirements for medical devices in the UK and EU – and comes just two years after Vinehealth was founded to develop the platform with the help of hundreds of cancer patients, as well as NHS oncologists.
"CE marking our software as a medical device whilst maintaining the ability to move fast and innovate was a challenging process," said Kirby, who is chief technology officer at Vinehealth.
"We had to critically think about our entire product development process and create a quality management system that would meet medical device standards in the UK, Europe and the US," she added.
Since its release in 2020, the Vinehealth app has had  around 5,000 patient downloads, according to a spokesperson for the company.
A cohort analysis of patient usage data from these downloads – published by the National Cancer Research Institute and UK Oncology Nursing Society – has demonstrated the feasibility of long-term use across ages and other demographics, platform usability and accessibility for the intended population, with evidence of a positive impact on patient quality of life and self-management, she added.
A key objective – even before the pandemic – was to relieve pressure on the NHS at a time when increased survival prospects for cancer patients means more people living with the disease as a long-term condition.
"The pandemic has meant that patients have been more isolated than ever and clinicians need better remote ways of tracking patientsm" said the spokesperson.
"A study we did during the first COVID-19 lockdown with the Royal Marsden showed unparalleled engagement from patients using the Vinehealth mobile app. Outcomes included...87% of patients reporting improved quality of life whilst using the app."
Feedback from patients showcases how with the support of the app they have felt more in control of their cancer care.
Last month, Vinehealth partnered with medical charity Prostate Cancer Research to use the app to support men living with the disease, and it has also it formed similar alliances with the National Hospital for Neurology and Neurosurgery to support people with brain cancer and Bowel Cancer UK.
It has also secured a £1 million Innovate UK grant to deliver the Cancer Companion app to four NHS trusts within a randomised controlled trial.
The Vinehealth app is free to download from the App Store and Google Play.