US imposes first rebates on drugs with price hikes
News
The US government has followed through on its plans to fine pharma companies who raise the process of their medicines at rates above inflation, naming 27 drugs in its first tranche of drugs.
The list of products – all coming under Medicare Part B which covers drugs administered to older patients in physicians' offices or hospital outpatient departments – includes AbbVie's massive-selling immunology drug Humira (adalimumab), which made $18.6 billion in sales from the US alone last year.
Among a number of measures enshrined within President Joe Biden's Inflation Reduction Act is one that requires drug companies to pay rebates if the prices of their Part B medicines prices rise faster than inflation.
Those that fail to pay the rebate will face a penalty equivalent to 125% of the rebate amount, with the first demands for payment due to go out in 2025. The list of transgressing medicines will be updated each quarter, according to the legislation.
Other prominent medicines on the list (see below) include Gilead Sciences CAR-T therapies Yescarta (axicabtogene ciloleucel) and Tecartus (brexucabtagene autoleucel) for blood cancers, Seagen's antibody-drug conjugate Padcev (enfortumab vedotin) for bladder cancer, and Roche's recently-approved lung cancer therapy Rybrevant (amivantamab).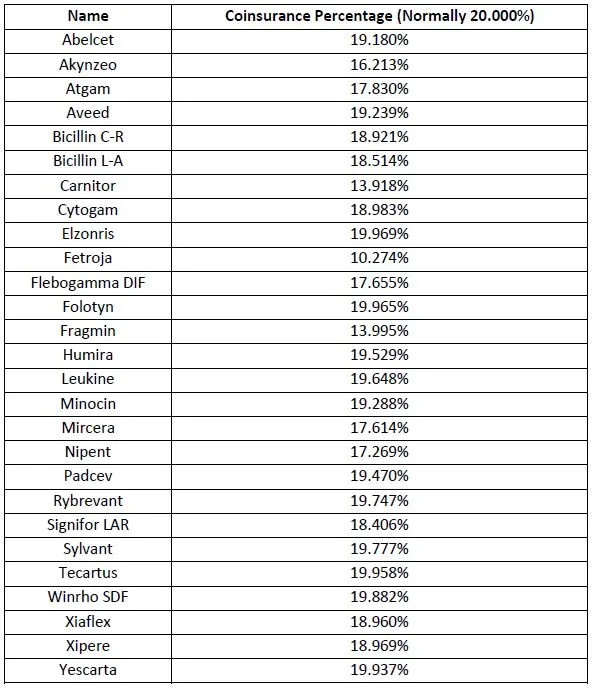 Pfizer is the company with the highest number of drugs in the list with five entrants – and six if it completes a proposed takeover of Seagen – with Gilead, Kamada, Leadiant, and Endo with two apiece.
The White House said that from April, "some Medicare beneficiaries will have lower co-insurance for the 27 prescription drugs that raised prices faster than inflation in the last quarter of 2022."
It pointed to figures from a recent report by the Department of Health and Human Services (HHS), which found that 1,200 prescription drugs had their prices increased at a rate faster than inflation in 2021 – the year before the Inflation Reduction Act was signed into law.
"In addition to making drug companies pay Medicare back for increasing their prices faster than inflation, this provision of the Inflation Reduction Act discourages other companies from doing the same, with the goal of reining in excessive drug price hikes year-over-year," said the administration.
The legislation also introduced a framework for Medicare to negotiate the price of some high-cost, single-source prescription drugs, a $2,000 cap on Medicare Part D out-of-pocket spending, expanded income eligibility for low-income subsidies, and a $35-per-month cap on insulin co-pays for seniors.
The Pharmaceutical Research and Manufacturers of America (PhRMA) has claimed the new provisions are already having a chilling effect on R&D in the US, with a poll of its members published in January suggesting three-quarters were "reconsidering their R&D investment strategy" as a result.
Of those, two-thirds said pipeline projects for new medicines that are planned, but not yet in clinical development, will likely no longer be pursued.