Trump's tweets advocate hydroxychloroquine as big COVID-19 vaccine trials start
News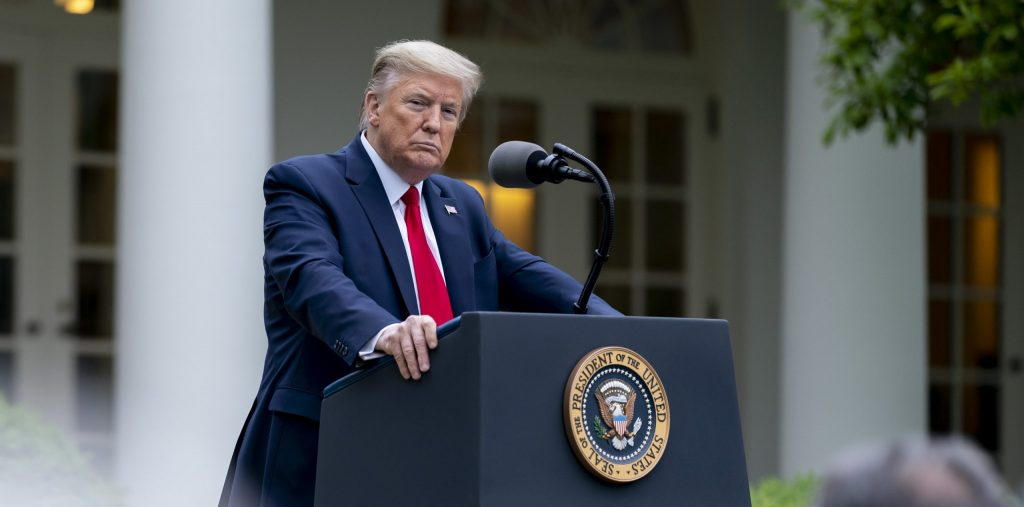 Hydroxychloroquine, the anti-malaria drug controversially used to fight COVID-19, was trending again after a string of retweets from president Donald Trump in favour of the medicine.
Trump has championed hydroxychloroquine, which was first touted as a potential cure for COVID-19 by the French doctor Didier Raoult on the basis of a small and inconclusive study at the start of the pandemic.
The president's tweets coincided with the start of phase 3 coronavirus vaccine trials by Moderna and Pfizer/BioNTech, with the companies eyeing a launch at year-end if things go well.
But as the US heads for presidential elections in November, approval of Trump's handling of the coronavirus pandemic has hit a low – 32% of Americans said they support his strategy according to a poll released on Sunday.
The president has continued to advocate using hydroxychloroquine despite concerns about its safety and efficacy from the mainstream scientific community.
The FDA has also cautioned against using the drug against COVID-19 and last month revoked an Emergency Use Authorisation that allowed it to be used in hospitals to fight the pandemic.
Trump's tweets point to studies and organisations that are suggesting using hydroxychloroquine as a prophylactic treatment, to ward off the virus in those who have not yet been exposed.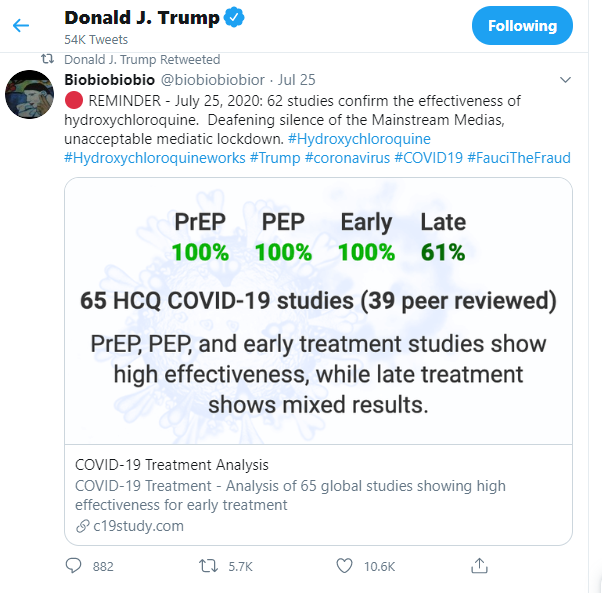 The president has previously said that he has been taking hydroxychloroquine prophylactically.
The tweets also ramped up Trump's attack on Dr Anthony Fauci, director of the National Institute of Allergy and Infectious Diseases (NIAID).
Trump and his allies began to attack Fauci earlier this month after Fauci's blunt messaging about the pandemic seemed to undermine the optimistic stance taken by the president and his administration.
However Trump does have his supporters in the medical community: The Association of American Physicians and Surgeons (AAPS) earlier this month suggested that workers who serve the public such as medics, police, and factory workers should be given hydroxychloroquine as a pre-exposure prophylactic treatment.
The AAPS noted that key workers can personally choose to take hydroxychloroquine prophylactically but criticised Arizona governor Doug Ducey, who has prohibited prophylactic use of hydroxychloroquine by executive order.
Trump's tweets pointed to research, also cited by the AAPS, which showed that hydroxychloroquine cut the COVID-19 death rate in hospitalised patients by half.
The World Health Organization halted the hydroxychloroquine arm of its SOLIDARITY trial at the beginning of the month, in patients who are already hospitalised.
This followed a pause a month after a now-retracted study in The Lancet that seemed to show little benefit in patients, while raising concerns about its safety.
It turned out that The Lancet had made a blunder by using data from the small US firm Surgisphere that could not be validated - but the weight and opinion of the mainstream scientific community suggests that hydroxychloroquine is a poor choice in patients who have advanced disease given its low efficacy and potential of cardiac side-effects.
Whether it can be used as a prophylactic treatment is harder to determine.
Trump's strategy of undermining expert opinion that diverges from his own makes it difficult for policy makers and lay people to make decisions.
Updated to include information about last month's FDA decision.