Smartphone-based skin cancer diagnostic certified for use in UK
News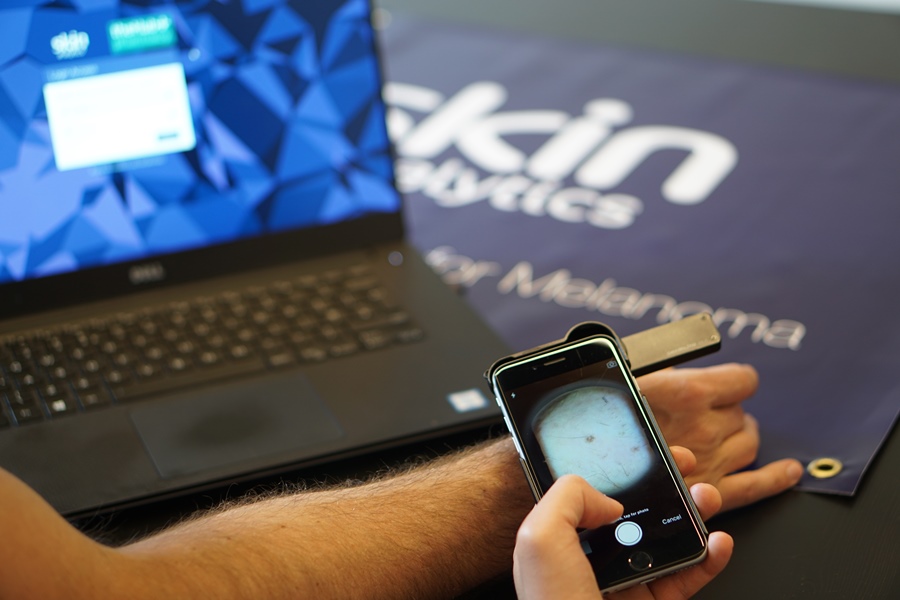 An artificial intelligence-powered digital tool for diagnosing skin cancers developed by Skin Analytics has been cleared in the UK as a Class IIA medical device, setting up broader use of the technology in patient assessments.
DERM is being deployed across five NHS Trusts, for example in a pilot to see if it can support GPs in referring patients to the urgent two week skin cancer referral laid out in NICE guidelines.
The tool has been used to assess more than 23,000 patients and discover almost 1,500 cases of cancer, whilst reducing the number if dermatology appointments needed by more than 4,700, said the company.
While the technology was already in market with Class I certification, Class IIA certification accelerates the process for DERM users to move from diagnostics to follow-ups to outpatient recovery. According to Skin Analytics becomes the first and only AI-based dermatology technology to gain this status.
DERM uses machine learning to algorithms to recognise the most common malignant, pre-malignant and benign skin lesions, including melanoma – which is the fifth most common cancer in the UK and the most dangerous form of the common skin cancers.
The digital device consists of a lens that can be attached to a smartphone, and an app that contains this software to assess a lesion, such as a mole that has started to change its look or behaviour.
London-based Skin Analytics said the certification is "the first step in enabling the company to unlock new pathways with NHS Trusts, aiming to further support the NHS with outpatient demand in dermatology."
It comes as the UK is facing something of a crisis in the NHS as it tries to tackle a backlog of cancer diagnostic procedures that built up during the pandemic, while access to healthcare services was reduced.
Last September, a report by the Institute for Public Policy Research (IPPR) and Carnall Farrar (CF) consultancy suggested it could take until 2033 to clear the backlog unless hospitals can raise their operating capacity significantly.
Meanwhile, rapid diagnostics has been identified as the biggest factor in cancer survival rates in the NHS Long Term Plan, which lays out a target to increase the proportion of cancers diagnosed at stages 1 and 2 from half to three quarters by 2028.
"Skin cancer rates are doubling in the UK every 10-15 years and about 30% of dermatology posts in the NHS are unfilled," said Skin Analytics' quality assurance and regulatory director James Hamlyn.
"Healthcare systems are not equipped to deal with the volume of patients they need to see, especially in the light of the backlog created by COVID. AI can bridge this gap."