Seagen wins Enhertu patent dispute with Daiichi Sankyo
News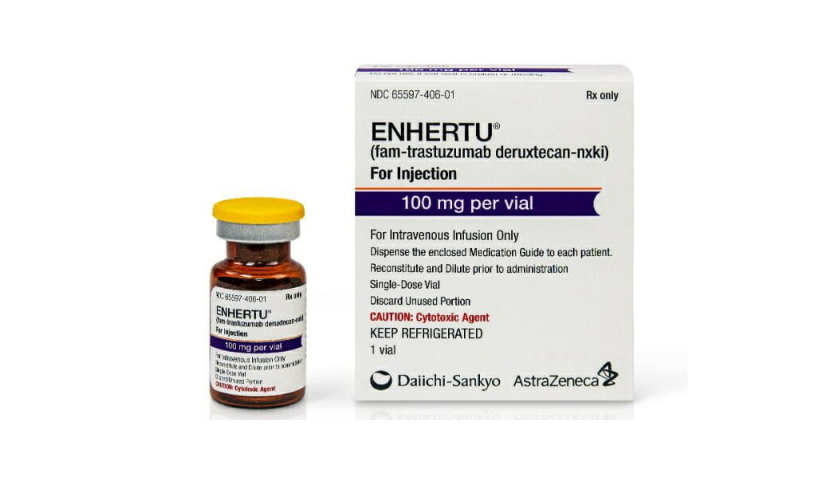 A US jury has decided that Daiichi Sankyo and AstraZeneca's breast cancer drug Enhertu infringes a patent held by US biotech Seagen, awarding almost $42 million in damages.
Seagen claims Enhertu (trastuzumab deruxtecan) – an antibody-drug conjugate (ADC) targeting HER2 – infringes a patient it holds (No. 10,808,039) covering ADCs that include auristatin compounds coupled to an antibody via a linker molecule.
The jury in the US District Court for the Eastern District of Texas agreed with the biotech that the infringement was wilful, awarding it a sum based on past royalties that should have been paid on Enhertu sales in the US to date.
Daiichi Sankyo said that it disagreed with the verdict and was looking into its options - including potential post-trial motions and an appeal - and added that the court has not yet ruled on Seagen's request for royalties on future sales "and whether to enhance damages in view of the jury finding of wilful infringement".
It also said the US Patent and Trademark Office has granted a request to review the patent's validity, so it looks like the legal wrangling could go on for some time.
Seagen hailed the outcome of the lawsuit, saying it will now seek royalties on all future US sales of Enhertu through the remaining lifespan of the patent, which expires in November 2024.
That could be a sizeable sum. AZ recorded $426 million in Enhertu revenues last year, from direct sales and as a share of gross profits with Daiichi Sankyo under the two partners' $6.9 billion licensing deal for the drug in 2019. That was more than double the amount made in the previous year.
The ADC is already approved as a third-line treatment for HER2-positive breast cancer and gastric cancer, but is poised to move into earlier lines of treatment as well as breast and gastric cancers with low HER2 expression levels.
In February, Enhertu scored its first phase 3 win in HER2-low breast cancer in the DESTINY-Breast04 trial, which analysts at Credit Suisse said could unlock $3 billion in additional sales for the drug.
Breast cancer classed as HER2-positive accounts for somewhere between 20% to 25% of all patients with the disease, but that proportion rises to 55% for the HER2-low category.
Seagen has a long history in ADC development, claiming FDA approval for Adcetris (brentuximab vedotin) as a treatment for classical Hodgkin lymphoma and anaplastic large cell lymphoma (ALCL) in 2011.
In 2019, it got a green light for a second ADC – Padcev (enfortumab vedotin) – for metastatic urothelial cancers, adding a third in 2021 when it got FDA clearance for cervical cancer therapy Tivdak (tisotumab vedotin).
"As a pioneer and leader in antibody-drug conjugate (ADC) technology, protecting our intellectual property is essential to our ability to continue developing innovative therapies for cancer patients in need," said Seagen chief executive Clay Siegall.