Scotland backs Roche's Rozlytrek for ROS1 lung cancer
News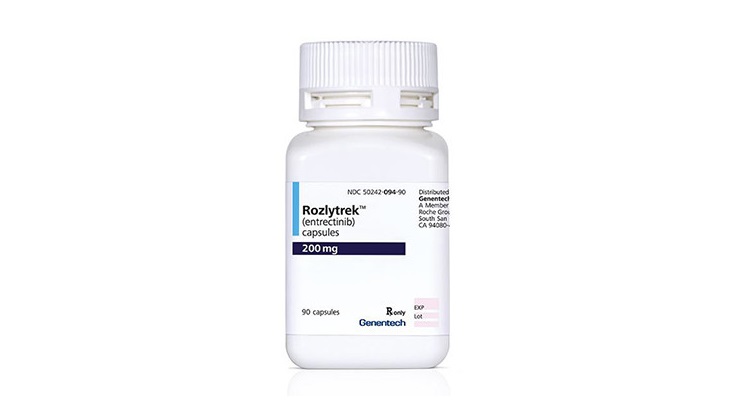 The Scottish Medicines Consortium (SMC) has given a green light to Roche's Rozlytrek for a rare form of lung cancer, almost seven months after NICE backed the drug in England.
Rozlytrek (entrectinib) can now be used by the NHS in Scotland as a treatment option for ROS1-positive, advanced non-small cell lung cancer (NSCLC) not previously treated with ROS1 inhibitors.
ROS1 is a rare mutation found in fewer than 2% of NSCLC cases, and patients have few treatment options, especially when the disease has spread to the brain. NICE has previously estimated that roughly 412 patients across the UK are have NSCLC eligible for treatment with Rozlytrek.
The SMC cleared Rozlytrek via its Patient and Clinician Engagement (PACE) programme, a mechanism that brings agency reviewers, clinicians and patient group representatives together in order to discuss benefits of a medicine that may not be fully captured in the conventional appraisal process.
In the meeting, patients and clinicians said ROS1-positive NSCLC is often diagnosed at an advanced stage, so is associated with a short life expectancy, and there are limited treatment options available.
"This type of advanced NSCLC is a very rare and incurable lung cancer that often occurs in non-smokers and affects many under 60 years old," commented Gemma Boni, head of lung cancer at Roche Products Ltd.
"Our commitment is to ensure that people in Scotland with lung cancer live longer and healthier lives, and today's news shows how we are advancing science to achieve this," she added.
In 2018, Pfizer's ALK and ROS1 inhibitor Xalkori (crizotinib) was cleared by NICE in England – via the Cancer Drugs Fund (CDF) – as well as in Scotland by the SMC as a first-line option for treating ROS1-positive advanced NSCLC in adults.
Second-line treatment options include pemetrexed with carboplatin or other platinum doublet chemotherapy, with pemetrexed as a maintenance therapy.
Rozlytrek is also approved to treat people aged 12 years of age and older with solid tumours that have an NTRK gene fusion – regardless of where they appear in the body – and the SMC should decide whether that use is cost effective in the next couple of months. NICE has already approved Rozlytrek for that use in England via the CDF.
Other decisions
The SMC also backed NHS use for four other medicines in its January update, including Janssen's Darzalex (daratumumab) for adults with newly-diagnosed multiple myeloma who are eligible for autologous stem cell transplant. NICE is due to deliver a verdict on this use for the drug in April.
Meanwhile, Rigel Pharmaceuticals' Tavlesse (fostamatinib) – sold by Spain's Grifols in Europe – can now be used in Scotland to treat chronic immune thrombocytopenia (ITP) in adult patients who are refractory to other treatments. NICE is also conducting an appraisal of Tavlesse, but hasn't yet set a timeframe for review.
Also backed were Takeda's Adcetris (brentuximab vedotin) for systemic anaplastic large cell lymphoma (sALCL) – a use already approved by NICE in England – and Novartis' Cosentyx (secukinumab) for non-radiographic axial spondyloarthritis which NICE expects to decide on in May.
The SMC rejected RAD Neurim Pharma's Slenyto (melatonin) for the treatment of insomnia in children with autism spectrum disorder and rare neurogenetic disorder Smith-Magenis syndrome, ruling the company had not provided strong enough evidence to show it was cost-effective.