Scotland backs rare blood cancer drug Poteligeo rejected by NICE
News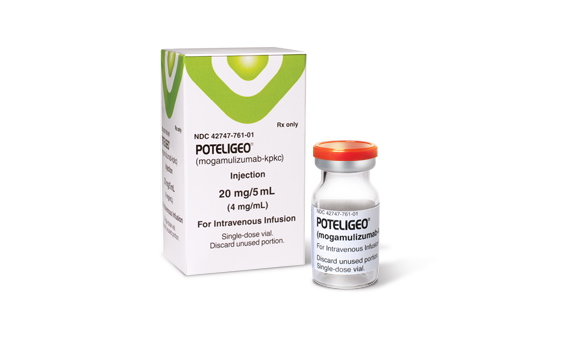 A north-south divide has emerged in UK medicines access after the Scottish Medicines Consortium (SMC) okayed Kyowa Kirin's Poteligeo for two rare blood cancers, a few weeks after the drug was turned down in England by NICE.
Poteligeo (mogamulizumab) has been backed by the SMC for adults living with mycosis fungoides (MF) and Sézary syndrome (SS), two subtypes of cutaneous T-cell lymphoma (CTCL), who have received at least one prior systemic therapy.
The drug was approved by the EMA for these rare cancers in 2018 on the results of a phase 3 trial in which it demonstrated a median progression-free survival (PFS) of 7.7 months compared with 3.1 months for those prescribed Merck & Co/MSD's HDAC inhibitor Zolinza (vorinostat).
The Scottish agency has allowed restricted use of the drug by NHS Scotland, limiting it to patients who are clinically ineligible for or refractory to treatment with Takeda's Adcetris (brentuximab vedotin), an antibody-drug conjugate (ADC) also used for relapsed CTCL.
The SMC said that as MF and SS are both rare, it was able to exercise some additional flexibility in its decision-making, particularly as treatment options are limited, and took into account views voiced at a Patient and Clinician Engagement (PACE) meeting.
"PACE participants spoke of how advanced MF and SS can significantly impact on patients' lives," said the SMC in a statement, adding that the conditions cause skin tumours that can ulcerate and weep, leading to severe discomfort and distress and raising the risk of infections or even life-threatening sepsis
In March, NICE said it was unable to back use of the drug by NHS England as clinical trial evidence for Poteligeo was "very uncertain" – mainly because comparator drug Zolinza is neither used nor licensed in the UK. Merck withdrew its application for the drug in Europe in 2009, although it has been approved for CTCL in the US since 2006.
NICE also said that it could not recommend the treatment for use within the Cancer Drugs Fund (CDF), as collecting further data would be unlikely to address that clinical uncertainty.
Poteligeo is a humanised monoclonal antibody, which acts against the against CC chemokine receptor 4 (CCR4) that is often found in the blood cancer cells including CTCL.
Other decisions
Meanwhile, the SMC also recommended four other therapies, including Boehringer Ingelheim's Ofev (nintedanib) for the treatment of chronic fibrosing interstitial lung diseases (ILDs), an indication which is still under review by NICE with a decision expected in the autumn.
There is currently no licensed treatment option for this condition, said the SMC. In trials, Ofev was shown to slow the rate of decline in lung function in ILDs, and also reduce exacerbations.
There was good news for AstraZeneca as well, as the SMC backed its BTK inhibitor Calquence (acalabrutinib) or the treatment of previously untreated, non-high-risk chronic lymphocytic leukaemia (CLL).
The drug was also recommended by the SMC for treatment-naïve, high-risk CLL associated with certain genetic mutations as well as second-line use in patients who can't be treated with chemo-immunotherapy in April. NICE has also okayed the use of Calquence in both these patient groups.
Also approved is Eli Lilly's JAK inhibitor Olumiant (baricitinib) as a second-line therapy for moderate to severe atopic dermatitis – following in the footsteps of a NICE recommendation in March – and Servier's Lonsurf (trifluridine/tipiracil) as a third-line monotherapy for advanced gastric cancer.
NICE turned down Lonsurf indication in January on the grounds that it did not meet its criteria to be considered a life-extending treatment at the end of life.