Real-world data backs Kymriah's safety profile, says Novartis
News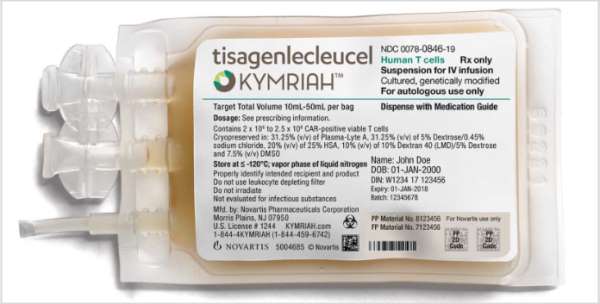 With more competition looming for its CAR-T therapy Kymriah, Novartis has pointed to new data that show the therapy works at least as well in the real world as in clinical trials.
The post-marketing studies looked at patients with diffuse large B cell lymphoma (DLBCL) and acute lymphoblastic leukaemia (ALL) – two approved indications for Kymriah (tisagenlecleucel) – and was presented at the ASH congress this week.
In both registry studies, the CAR-T's efficacy matched what was seen in the studies Novartis conducted to support regulatory approval, but serious side effects like cytokine release syndrome (CRS) and neurotoxicity were actually seen at a lower rate.
That's an encouraging finding because at the time of approval some clinicians had voiced concerns that these potentially fatal adverse reactions might prove harder to manage outside of a carefully controlled clinical trial protocol.
In adults with relapsed/refractory DLBCL, Kymriah achieved an overall response rate (ORR) of 58%, including 40% complete response (CR), after a median follow-up of just over four months. That's shorter than in the pivotal JULIET trial – which looked at response rates at 24 months – but is right in line with the 52% ORR and 38% CR rate in that study.
On safety, the rate of severe (grade 3 or higher) CRS and neurotoxicity was around 4% and 5%, respectively, as compared to 23% and 11% in JULIET.
While the grading scales used were different so no direct comparison can be drawn, the result does suggest that Kymriah treatment is no more hazardous in a real-world setting. That is also backed up by data showing that rescue medicines for CRS like corticosteroids and Roche's RoActemra/Actemra (tocilizumab) were used less often.
The pattern in children and young adults with relapsed/refractory ALL was the same, with a CR rate of 85% after six months compared to 82% in the pivotal ELIANA study. On safety, severe CRS and neurotoxicity rates were 14% and 8% in the real world respectively, versus 48% and 13% in ELIANA.
The data lends confidence to Kymriah's clinical profile as it continues to jostle for market share with Gilead's rival CAR-T Yescarta (axicabtagene ciloleucel) – which is approved for DLBCL and another form of non-Hodgkin's lymphoma called primary mediastinal large B-cell lymphoma (PMBCL) but not ALL.
Both the CAR-Ts are also facing possible competition from Bristol-Myers Squibb's lisocabtagene maraleucel, which it acquired as part of its takeover of Celgene and is due to be filed before the end of the year for B-cell lymphomas.
At ASH, BMS reported phase 1 results with its CAR-T – also known as liso-cel – which revealed a 53% CR rate in patients with relapsed/refractory large B-cell lymphomas. Prior to the merger Celgene claimed this was a potential best-in-class product with $3 billion sales potential.
If that is the case it would be a massive step up for the anti-CD19 CAR-T class. Kymriah had sales of $182 million in the first nine months of the year, while Yescarta made $193 million for Gilead.