Novartis' bid to extend Kymriah into earlier use hits a roadblock
News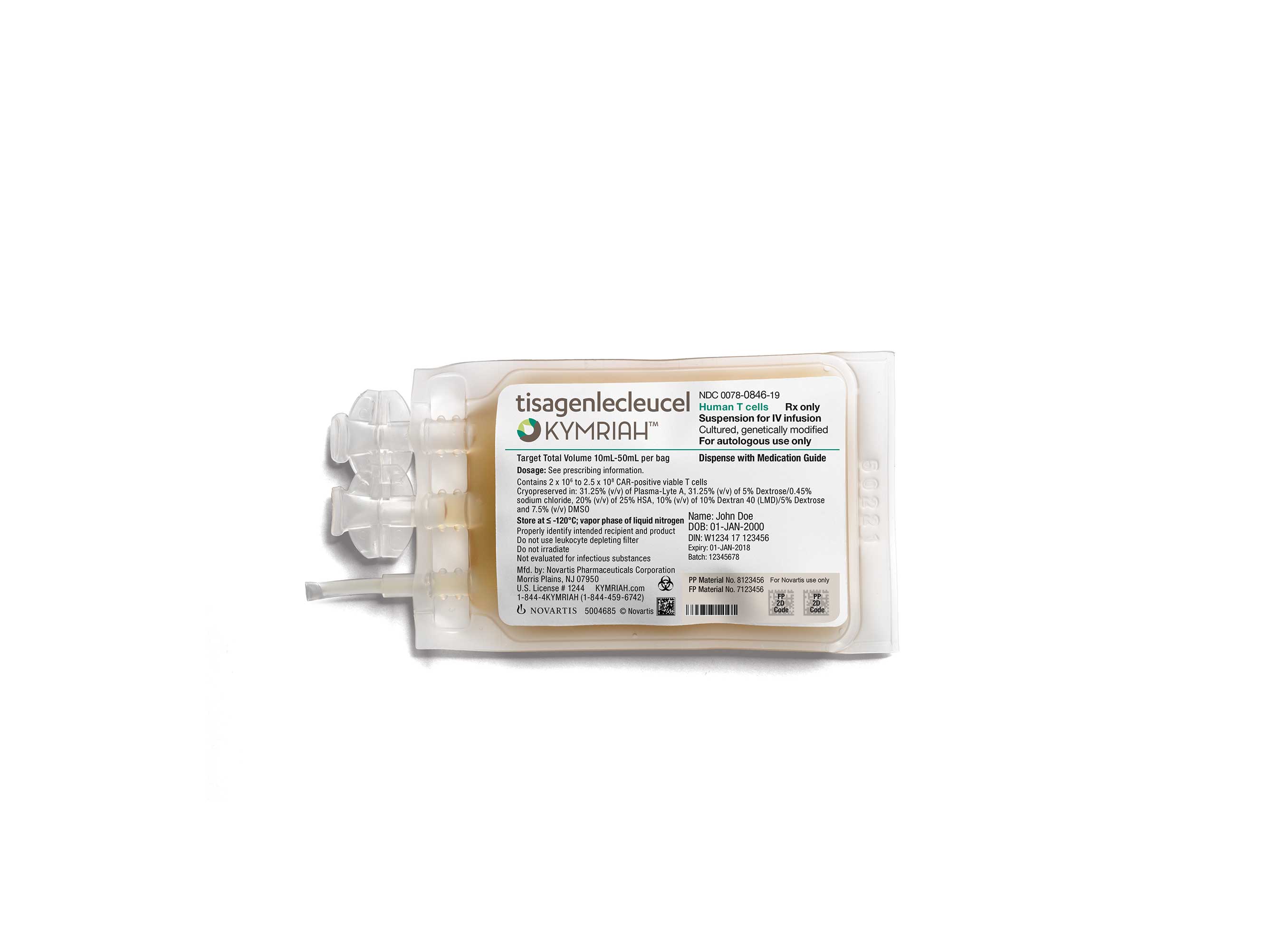 Novartis' CAR-T therapy Kymriah racked up back-to-back approvals in acute lymphoblastic leukaemia and large B-cell lymphoma a few years ago, but hasn't added to its label since. Now, a bid to move it onto earlier-stage use in lymphoma has ended in failure.
In the phase 3 BELINDA trial, Kymriah (tisagenlecleucel) was unable to extend event-free survival wen used as a second-line therapy for aggressive B-cell lymphoma, dashing Novartis' hopes of extending its current use in patients who have relapsed after receiving two lines of therapy.
BELINDA was attempting to show that earlier use of Kymriah could help avoid relapse when added to standard care for patients with this type of non-Hodgkin's lymphoma (NHL) who had primary refractory disease or who relapsed within 12 months of first-line treatment.
Standard care was salvage chemotherapy followed in eligible patients by high-dose chemotherapy and a stem cell transplant.
"Patients with aggressive B-cell NHL who are refractory to first-line treatment are vulnerable and we are disappointed that the BELINDA study did not meet its primary endpoint in this setting," said Jeff Legos, Novartis' global head of oncology and haematology development.
"Kymriah continues to demonstrate durable responses for patients with certain advanced blood cancers in the third-line setting," he added. Novartis had hoped to file for approval in second-line B-cel lymphoma in the latter half of this year.
Now, the failure of BELINDA leaves Novartis' best chance of extending the indications for Kymriah as the phase 2 ELARA trial in relapsed follicular lymphoma (FL) – another form of NHL – which generated positive results last year in heavily pre-treated patients.
Two-thirds (65%) of patients with relapsed or refractory FL in that study who were treated with Kymriah achieved a complete response, with an overall response rate of 83%, setting up regulatory filings in what could become the CAR-T's third approved indication.
Kymriah was the first CAR-T to be approved for marketing in the US back in 2017, just ahead of rival Yescarta (axicabtagene ciloleucel) from Gilead Sciences.
After a slow start resulting from manufacturing capacity constraints it has started to gather momentum, with sales growing around 40% to $298 million in the first half of this year. Yescarta – approved for relapsed/refractory B-cell lymphoma as well as FL – chalked up $410 million in sales during the same period.
Novartis has always suggested it could build Kymriah into a $1 billion-plus product with new indications, but that task now looks a lot harder.
The big disappointment is for patients however, explained lead BELINDA investigator Michael Bishop of University of Chicago Medicine.
Around a third of patients with NHL relapse after receiving first-line immunochemotherapy, and another 10% to 15% do not respond even to initial treatment. For them, prospects are very poor, with a median survival time of just a year.
Fewer than half of this group are eligible for a stem cell transplant, and even among those that are only around a quarter will get sustained remission from the treatment.
"We were hopeful the BELINDA study would show that Kymriah could improve outcomes and the overall treatment experience for these patients in need," said Bishop.
"The study investigators will work together with Novartis in the coming weeks and months to understand the factors that contributed to this outcome," he added.