NICE rejects J&J's Spravato for treatment-resistant depression
News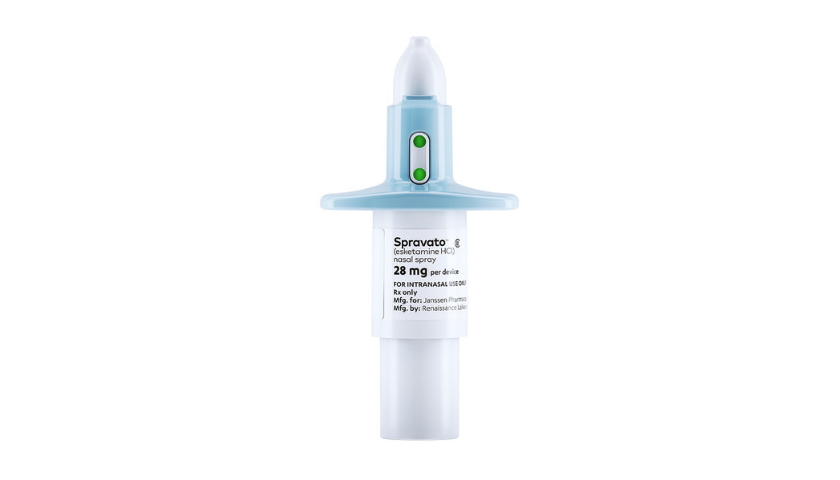 The UK healthcare cost-effectiveness agency has said it will not recommend funding for Johnson & Johnson's antidepressant nasal spray Spravato on the NHS, because of cost and clinical concerns.
J&J's Janssen-Cilag pharma unit has reacted angrily to the decision by NICE, saying that it "may potentially deny patients living with treatment-resistant major depressive disorder access to a much-needed new treatment option."
Spravato (esketamine) was approved by the EMA in December as an adjunctive, add-on therapy for people with serious depression who don't respond to treatment with at least two from the current stable of oral antidepressant therapies.
In draft guidance, NICE says that there are questions about not only the price of the medicine – which costs around £10,500 per course of therapy ahead of any discounts – but also the clinical data with the drug.
For instance, there is no comparison with other oral antidepressants used as adjunctive therapy, as well as with electroconvulsive therapy (ECT) – another option for treatment-resistant depression – or psychological therapies, says the agency.
It also has concerns about what happens after treatment with Spravato is stopped, saying it is "unclear if any improvements in symptoms will be maintained after a course of treatment and whether this will improve someone's quality of life."
Those uncertainties – and a lack of data on the cost and benefit of repeat treatment with the drug – mean that the cost of treatment is "likely to be much higher than what NICE usually considers to be a cost-effective use of NHS resources."
The publication of the draft guidance kicks off a consultation period until 18 February, with a second appraisal committee meeting expected in March or April to consider the comments received.
According to Janssen-Cilag executive Jennifer Lee, the draft shows that "current NICE technology appraisal processes are not fit for purpose in terms of evaluating innovative technologies for complex mental health conditions."
Spravato has been the subject of much hyperbole since its registration trials first showed that the drug seems to work much more quickly than current antidepressants, with its effects kicking in within days rather than weeks.
It was billed as the first antidepressant with a new mechanism of action in 30 years when approved by the FDA last year.
J&J has since filed for approval of an additional label claim in both he US and Europe that would make it an option for people with major depression considered to be a suicide risk, based on its rapid onset.
"Introduction of esketamine into clinical practice in the NHS will be complex because the structure and delivery of services would need to be changed," said Meindert Boysen, director of the centre for health technology evaluation at NICE.
"Estimates of the costs of providing the clinical service for esketamine were highly uncertain, as are the costs of repeated courses of the drug," he added.
According to Janssen-Cilag, up to 30% of people with major depression fall into the treatment-resistant category. All told, there are around 1.45 million adults with depression in England alone, it says.