NICE backs NHS use of Novartis' cholesterol drug Leqvio
News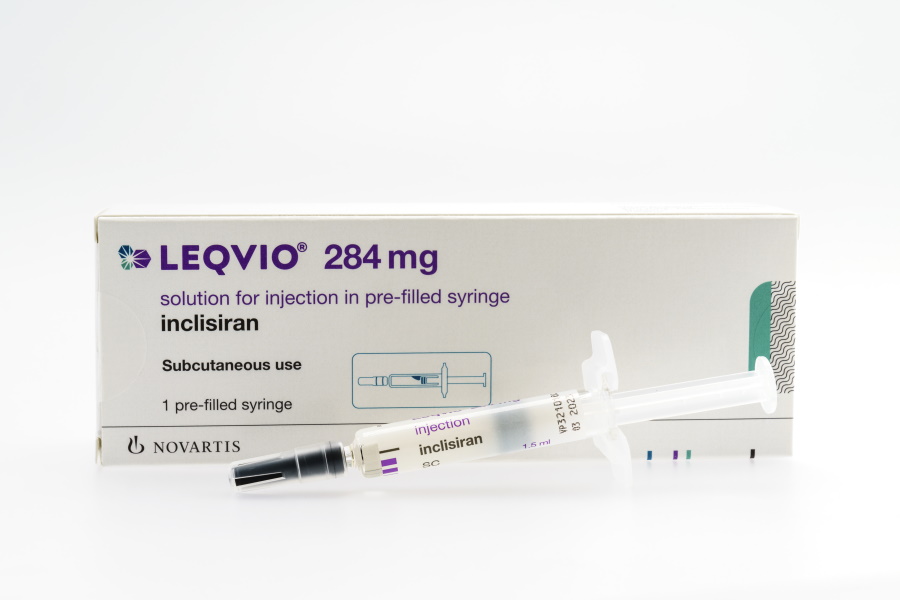 Novartis' cholesterol-lowering drug Leqvio will be made available on the NHS in England and Wales, and could help to prevent up to 30,000 deaths, according to NICE.
The PCSK9-targeting oligonucleotide – which is already available in Scotland – requires dosing just twice a year and has been approved by the health technology assessment (HTA) agency for use in people with atherosclerotic cardiovascular disease (ASCVD) who can't reach target cholesterol levels with oral statins alone.
NICE estimates that around 300,000 people could be eligible for treatment with Leqvio (inclisiran), and use of the drug will reduce the 10-year risk of a heart attack or death from 29% to 20%. It boosts the liver's ability to remove harmful cholesterol from the blood.
The publication of NICE's guidance also activates a first-of-its-kind commercial agreement with the NHS in England to make Leqvio widely available as quickly as possible via a "population health management approach".
Novartis will work with the NHS Accelerated Access Collaborative and the Academic Health Science Network – with the support of NHS Digital – to help them identify, treat and monitor people eligible for treatment with the drug.
As well as the access agreement for high-risk patients, the Novartis deal also covers a large-scale trial of the PCSK9 inhibitor and the creation of a consortium with academic groups aimed at improving the manufacturing of oligonucleotide drugs in the UK.
Professor Kausik Ray of Imperial College London said that the drug is a game-changer because of the drug's "convenience, safety and duration of effect".
When combined with statins, Leqvio reduces average LDL-cholesterol levels by another 50% over the course of the year, he added, with the combination reducing levels by 75-80% when compared to no treatment.
"NICE has approved it for those with established cardiovascular disease," said Prof Ray, who was lead investigator on the ORION-10 and ORION-11 trials of Leqvio.
"The obvious disappointment is that they don't seem to have thought it cost effective for familial hypercholesterolaemia (FH), where patients have genetically elevated LDL-C and limitations on treatments available. This needs further thought," he added.
In its guidance, NICE said there is enough evidence to support Leqvio in people with ASCVD, although there is no data directly comparing the drug with other treatments like Organon's Ezetrol (ezetimibe) and PCSK9 antibodies Praluent (alirocumab) from Sanofi/Regeneron and Amgen's Repatha (evolocumab).
In people who have never had a cardiovascular event, the cost-effectiveness estimates were "very uncertain and likely to be above what NICE considers an acceptable use of NHS resources," said the HTA, although it noted that a trial of Leqvio as primary prevention in this setting is ongoing.