Madrigal sees road to approval for NASH drug resmetirom
News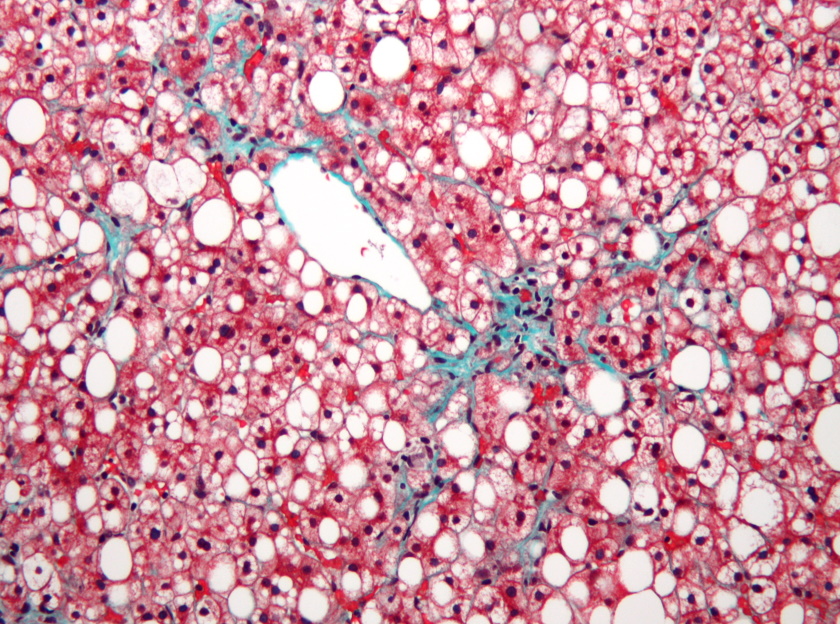 The road to the development of treatments for non-alcoholic steatohepatitis (NASH) is littered with failed projects, but US biotech Madrigal Pharma thinks it now has enough evidence for its drug resmetirom to support regulatory filings.
The Massachusetts company has reported the results of the phase 3 MAESTRO-NASH trial of resmetirom – a once daily, oral, thyroid hormone receptor (THR) β-selective agonist – showing that it reduced symptoms of NASH and seemed to resolve the liver fibrosis associated with the disease.
NASH is a form of non-alcoholic fatty liver disease (NAFLD) that affects millions of people and which, for several years, has been billed as pharma's next big growth area. Although, so far efforts to bring a therapy to market have failed.
The condition is largely associated with obesity and an unhealthy diet and lifestyle, and is on the rise in industrialised nations, leading to estimates it could present a market opportunity worth tens of billions of dollars worldwide.
Earlier this year, Madrigal reported positive results in another phase 3 trial of resmetirom called MAESTRO-NAFLD-1, including some patients with NASH, and said a filing in the lead indication of non-cirrhotic NASH with liver fibrosis hinged on a positive readout in MAESTRO-NASH.
The new study seems to have delivered, hitting both its primary endpoints with both doses of resmetirom under test (80 mg and 100 mg once daily), according to the Conshohocken biotech.
After 52 weeks, NASH resolution – defined as a two-point or greater reduction in NAFLD activity scores (NAS) with no worsening of liver fibrosis – was seen in 26% of the 80 mg group and 30% of those on 100 mg, with both results significantly better than the 10% rate seen with placebo.
Similarly, a one-stage or greater improvement in liver fibrosis was seen in 24% and 26% of the resmetirom groups, respectively, versus 14% of patients taking placebo. That's impressive, as it has proved exceedingly difficult for pharmacological therapies to show an impact on fibrosis in prior studies.
The THR agonist additionally reduced LDL-cholesterol, also linked to worsening NASH, cutting the biomarker by 12% and 16% at the two dose levels with a 1% increase seen in the control group. That ties in with its proposed mechanism, as the drug is designed to tackle NASH by increasing the metabolism of fat in the liver, reducing the deposits that can cause toxic effects the organ.
Madrigal's chief medical officer Becky Taub said the data suggests resmetirom can "help patients achieve improvement in both the underlying steatohepatitis that drives this disease and the resulting fibrosis that is associated with progression to cirrhosis and its complications."
Shares in Madrigal have more than tripled in the last few days in anticipation of the readout, driving the company's market cap above $4 billion, which by coincidence is what some analysts - including Andrea Tan of Goldman Sachs - say could be the peak sales level for resmetirom.
Speculation is already building among industry observers that the company could become a takeover target, perhaps garnering as much as $9 billion.
If the efficacy and safety data stands up to deeper scrutiny and support approval, Madrigal will have succeeded where so many other companies have failed in NASH, including Gilead Sciences, Genfit, Albireo, CymaBay, Cirius, and NGM Biopharma.
For some time, Intercept Pharma looked odds on to win the race to bring a NASH drug to market, but its hopes were dashed after the FDA rejected its marketing application for obeticholic acid (OCA) in 2020 and it was forced to withdraw its filing for the drug in Europe.
The company's hopes of getting the programme back on track were further dashed in September when OCA failed the REVERSE study in patients with compensated NASH-related cirrhosis, although it has insisted it plans to refile on the totality of its data before the end of this year.
Madrigal said that all patients enrolled in MAESTRO-NASH - which include up to 2,000 in total - are continuing on therapy after the initial 52-week treatment period.
They will be followed for up to 54 months to generate data on clinical outcomes, including progression to cirrhosis and hepatic decompensation events, as well as all-cause mortality.