GW close to filing cannabis-based epilepsy drug
GW Pharmaceuticals is closing in on a US filing for its cannabinoid epilepsy drug, Epidiolex, after trumpeting late-stage study findings.
The company specialises in drugs derived from the cannabis plant, and noted that the New England Journal of Medicine had published results from its phase 3 study of Epidiolex (cannabidiol) in the rare childhood epilepsy, Dravet Syndrome.
It says it is on track for a filing with the FDA in the coming months.
The latest results were based on a trial of 120 children aged two to 18 years, with Dravet syndrome seizures not controlled by other anti-epileptic regimens.
Results showed 5% of children became seizure free over the 14-week treatment period when treated with Epidiolex, an effect that did not occur in any of the patients on the placebo arm.
Overall patients in the treatment arm had a significantly greater median reduction in convulsive seizures (39%) compared with placebo (13%).
The proportion of patients who had a 50% or better reduction in convulsive seizure frequency was 43% with Epidiolex versus 27% with placebo.
But the drug is not without side effects – the most common adverse events were somnolence, diarrhea, decreased appetite, fatigue, vomiting, pyrexia, lethargy, convulsion, upper respiratory tract infection.
But of the 93% of patients that experienced an adverse event, 84% reported it to be mild or moderate.
Ten patients on Epidiolex experienced a serious adverse event compared with three patients on placebo. Eight patients on Epidiolex discontinued treatment due to adverse events compared with one patient on placebo.
Elevations in liver enzymes occurred in 12 patients in the treatment arm and one patient taking placebo, all of whom were on concomitant valproic acid. Four of these patients withdrew from the trial, three on Epidiolex and one on placebo. In the remaining nine patients taking Epidiolex, elevations returned to normal while on treatment.
Epidiolex is a liquid formulation of plant-derived cannabidiol, which is in development for the treatment of a number of rare childhood-onset epilepsy disorders.
Analysts have predicted that should the drug get approved in Dravet, and the additional Lennox-Gastaut syndrome and Tuberous Sclerosis Complex indications, sales could exceed $1 billion a year.
Japan's Takeda and the biotech Ovid Therapeutics are also developing TAK-935, a CH24H inhibitor that could be used in Dravet, Lennox-Gastaut and TSC.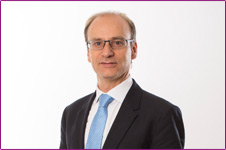 GW Pharma's Justin Gover
Justin Gover, GW's chief executive, said: "The publication of results from this landmark study by The New England Journal of Medicine and the accompanying editorial commentary highlight the potential of Epidiolex to address the significant unmet need in Dravet syndrome."
GW already markets Sativex (nabiximols) in multiple sclerosis spasticity, but a failed attempt to get this drug approved in cancer pain have meant sales have fallen short of expectations.
Don't miss your daily pharmaphorum news.
SUBSCRIBE free here.