Gilead and US Government square up in court over PrEP
News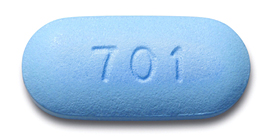 Gilead Sciences will go to court this week to argue that it does not need to pay the US Government a share of the profits it has made on the use of its HIV drugs for pre-exposure prophylaxis (PrEP).
The start of proceedings in a Delaware federal court will see the drugmaker try to overturn patents claimed by the US Department of Health and Human Services (HHS) on PrEP in the hope of fending off a claim for more than $1 billion in unpaid royalties and damages.
The four patents were awarded to the Centres for Disease Control and Prevention (CDC) in 2015 and cover two-drug PrEP regimens based on emtricitabine and tenofovir or a tenofovir prodrug, according to court documents.
The HHS had been negotiating with Gilead in an attempt to reduce the cost of providing Truvada for PrEP, but in 2019 those talks reportedly failed, and the government reported to legal action to press its case, claiming the company had ignored the contribution made by its scientists.
Gilead countersued shortly thereafter, saying the patents were invalid, and won a preliminary judgment in a separate lawsuit in 2022 that the government had breached its obligations by not giving the company sufficient notice of its intention to file the patents.
The judge in that case found that the CDC applied for its first patent in 2006, but didn't inform Gilead until 2014.
Truvada (emtricitabine/tenofovir disoproxil fumarate) was approved for HIV PrEP in 2012, and while it is also used as a treatment for people with HIV infection, it is thought that the lion's share of its sales come from prophylactic use. Sales ramped up quickly to nearly $3 billion before generic competition emerged in 2021, and sales quickly fell, coming in at $314 million last year.
Gilead launched a new drug for PrEP, based on the tenofovir prodrug tenofovir alafenamide, called Descovy in 2019, which has now grown into a $1.7 billion product worldwide - $1.4 billion of that from the US market – thanks to its improved safety over Truvada.
The outcome will be closely watched, given that it strikes at the heart of the role of taxpayer-funded R&D in pharmaceutical research and whether it should be reimbursed – an issue that came to the fore with the development of a number of drugs and vaccines used to mitigate the COVID-19 pandemic.
HIV patient advocates have long argued that the CDC patents could be used to help bring the price of Truvada down and make it more affordable for people at higher risk of contracting the virus.