Fresenius launches VR-based training for home dialysis patients
News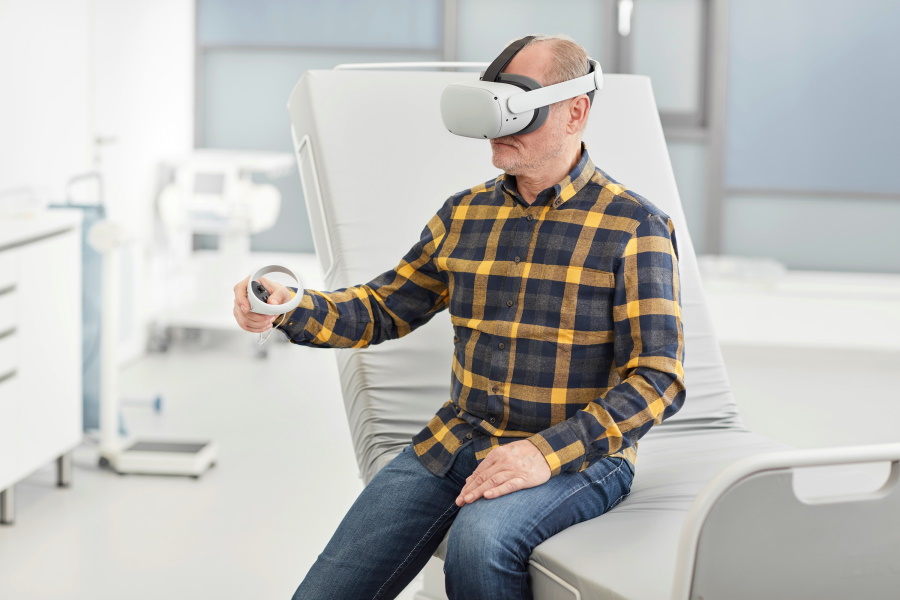 Fresenius has launched a virtual reality based training programme for people undergoing home dialysis in Germany, its home market, ahead of a rollout in other countries later this year.
The VR system – called stay•safe MyTraining VR – is designed for use in patients undergoing peritoneal dialysis, which uses the peritoneum in a person's abdomen as the membrane through which fluid and dissolved substances are exchanged with the blood.
This form of dialysis is used to remove excess fluid, correct electrolyte balance, and remove toxins in people with kidney failure, and is relied upon by about 11% of the 3.7 million dialysis patients worldwide, according to the pharma company.
The hardware – VR glasses and a controller – is accompanied by various training software modules that guide patients through the steps of the dialysis process, including hygiene practices, setting up and dismantling the dialysis apparatus, and bag changing.
It is designed for use by patients receiving continuous ambulatory peritoneal dialysis (CAPD), which involves exchanging fluid up to four times a day by hand. Training in peritoneal dialysis can take four to six weeks, sometimes with familiarisation beginning in the dialysis unit and then being continued at home.
According to Christoph Hame, nursing manager at Fresenius' NephroCare Germany dialysis unit, the VR makes it easier for patients to learn the procedures, and can be adjusted to suit their own pace.
"The VR glasses block out outside stimuli, so the patients stay focused," said Hame. "They can move around in the virtual room and reach for things. With this playful learning, the content is held better in the memory."
Crucially, the technology also allows nursing personnel to train several people at once, freeing up time for other tasks, and the standardised approach means every patient receives the same information, delivered in the same way.
That is a key consideration given that the global dialysis population is growing rapidly on the back of rising rates of irreversible kidney damage, as a result of the ageing population and increased prevalence of high blood pressure and diabetes.
"We want to make home dialysis possible for ever more patients," said Dr Katarzyna Mazur-Hofsäß, chief executive, EMA for Fresenius Medical Care.
"Part of this is preparing them and their family members for the challenges and changes that come along with it. VR training…lowers their inhibitions and helps them with the decision on whether peritoneal dialysis at home is right for them," she added.