FDA commissioner Scott Gottlieb resigns
News
The head of the Food and Drug Administration (FDA) Scott Gottlieb has announced that he will be leaving the US regulator in a month's time.
As FDA commissioner Gottlieb steered the agency for almost two years, after he was picked for the post by Donald Trump.
During his tenure he worked to make generic drugs more accessible, lower the prices of branded medicines and speed the development of digital health tools and products.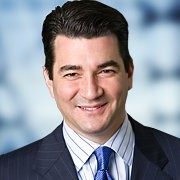 Gottlieb said: I'm immensely grateful for the opportunity to help lead this wonderful agency, for the support of my colleagues, for the public health goals we advanced together, and the strong support of Human and Health Services (HHS) secretary Alex Azar and President Trump - This has been a wonderful journey and parting is very hard."
In a letter to his colleagues Gottlieb said the decision to go was driven by the challenge of being apart from his wife and three young children when commuting each week from his Connecticut home to Washington.
In his last weeks in the post Gottlieb said he would work to secure the FDA's 2020 budget and "help transition the agency to new leadership".
President Trump praised Gottlieb for doing "an absolutely terrific job" and there was fulsome praise from Alex Azar who said he and his department were proud of Scott Gottlieb's "remarkable work" at the FDA.
Axar added: "He has been an exemplary public health leader, aggressive advocate for American patients, and passionate promoter of innovation. I will personally miss working with Scott on the important goals we share, and I know that is true for so many other members of the HHS family.
"Scott's leadership inspired historic results from the FDA team, which delivered record approvals of both innovative treatments and affordable generic drugs, while advancing important policies to confront opioid addiction, tobacco and youth e-cigarette use, chronic disease, and more. The public health of our country is better off for the work Scott and the entire FDA team have done over the last two years."
A former physician, Gottlieb previously served as deputy commissioner for medical and scientific affairs during the George W Bush administration. After taking the helm at the FDA he confounded early fears that he would be overly influenced by President Trump or the pharmaceutical industry, while also making good on his promises to get drugs to patients in need more quickly.