Dupixent falls short in phase 3 chronic spontaneous urticaria trial
News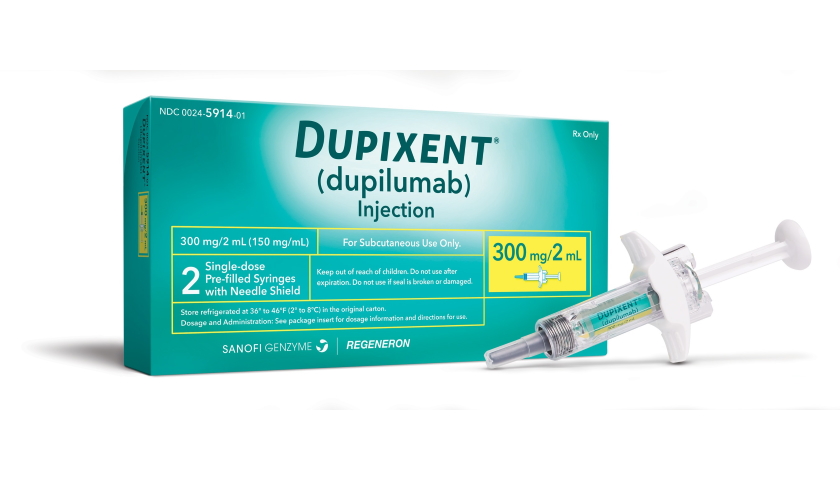 Sanofi and Regeneron have reported disappointing results in a trial of Dupixent in people with chronic spontaneous urticaria (CSU) who don't respond to the only approved biologic treatment, Novartis/Roche's Xolair. 
CSU is a severe form of hives that affects around 1% of the global population, causing severe itching and swelling that can last for weeks at a time and resist even very high doses of antihistamines, the standard, first-line therapy for the condition.
In CUPID STUDY B, IL-4 and IL-13 inhibitor Dupixent (dupilumab) wasn't able to achieve a significant improvement in symptoms in Xolair-refractory CSU patients, and will be stopped for futility, although the antibody did show "numeric improvements" on itching and hive symptoms, according to its developers.
Xolair (omalizumab) has been a mainstay of treatment for years, and approval for the condition in 2014 was responsible for a leap in revenues for the drug – originally developed for a form of severe asthma – to blockbuster levels.
Novartis reported $1.4 billion in sales from the drug last year, while Roche – which has rights in the US – made $2.1 billion from the drug.
Given those numbers, Sanofi and Regeneron have high hopes for Dupixent in CSU, particularly after Novartis' follow-up to Xolair – ligelizumab – was unable to improve on Xolair in two head-to-head trials reported in December.
Dupixent remains in the running to become a new treatment for CSU however as an earlier trial in patients who had not been treated with Xolair showed that giving the drug on top of antihistamines was able to reduce itch and hives compared to antihistamines alone.
In a statement, Sanofi and Regeneron said they are committed to advancing Dupixent for patients with CSU uncontrolled on antihistamines and are evaluating their next steps.
"While Dupixent did not show a significant benefit in the most difficult-to-treat patients who remain refractory to all approved medicines, we are carefully assessing the potential role of Dupixent in CSU based on the success of the first phase 3 trial in biologic-naïve patients, where Dupixent nearly doubled the reduction in itch and urticaria activity," said Regeneron's chief scientific officer George Yancopoulos.
Novartis meanwhile has said ligelizumab may still be approvable for CSU, but with biosimilars to Xolair looming it is uncertain about the commercial potential of the drug. It's waiting on the results of trials in additional indications – chronic-inducible urticaria and food allergies – before planning its next steps.
Dupixent is already approved to treat a range of inflammatory diseases including atopic dermatitis, asthma, and chronic rhinosinusitis with nasal polyposis, making $6 billion in global sales last year.