CRISPR pioneers Doudna and Charpentier claim Nobel chemistry prize
News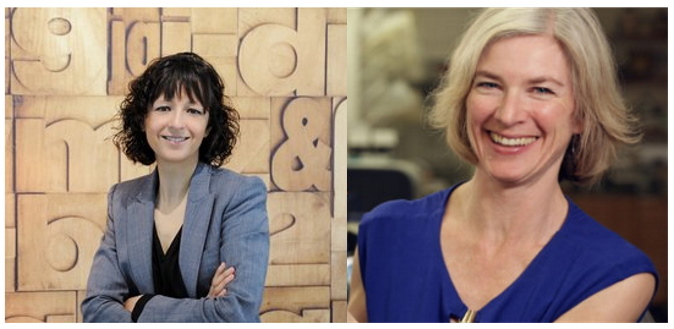 Drs Emmanuelle Charpentier and Jennifer Doudna have won this year's Nobel Prize for chemistry in recognition of their work on the gene-editing technology CRISPR/Cas9.
Charpentier – currently at the Max Planck Unit for the Science of Pathogens in Germany – and Doudna of the University of California, Berkeley (pictured left to right), are the first two women to share the prize awarded by the Royal Swedish Academy of Sciences.
Originally discovered in bacteria as a defense mechanism against pathogens, CRISP/Cas9 has made it possible to make exquisitely detailed and precise alterations to DNA sequences on demand, and as a tool for molecular biology has already transformed research into diseases and drug discovery.
The technique introduces a break in a specific place within DNA that triggers a self-repair mechanism.
Instead of restoring the original amino acid sequence, CRISPR – short for Clustered Regularly Interspaced Short Palindromic Repeats – serves as a new template that can be used to change it,  for example to delete, correct, or deactivate a gene.
Doudna and Charpentier's work has already spawned a series of gene-editing focused biopharma companies – including Intellia, CRISPR Therapeutics, Caribou Biosciences and Mammoth Biosciences – and the first drug therapies based on the technology are now in human testing for diseases like cancer.
"There is enormous power in this genetic tool, which affects us all. It has not only revolutionised basic science, but also resulted in innovative crops and will lead to ground-breaking new medical treatments," said Claes Gustafsson, chair of the Nobel Committee for Chemistry.
Charpentier's early work in this area led to the discovery of tracrRNA, a previously unknown molecule that defends bacteria from viruses by cleaving their DNA. She published her findings in 2011, and later that year started collaborating with Doudna, a biochemistry specialist.
Together, they recreated the process in a test tube, refined the molecular components so they were easier to use, and in a landmark study showed it could be reprogrammed to rewrite genetic sequences.
"What started as a curiosity‐driven, fundamental discovery project has now become the breakthrough strategy used by countless researchers working to help improve the human condition," said Doudna.
"I encourage continued support of fundamental science as well as public discourse about the ethical uses and responsible regulation of CRISPR technology."
[embed]https://twitter.com/NobelPrize/status/1313856890108088321[/embed]
Charpentier said she is "overwhelmed and deeply honoured to receive a prize of such high distinction," extending "special thoughts…to my former lab members – especially Elitza Deltcheva and Krzysztof Chylinski – who have contributed significantly to the deciphering of the CRISPR-Cas9 mechanism in bacteria and my colleagues of the field of CRISPR biology."
Already the recipients of dozens of awards for the work including the Dr Paul Janssen Award for Biomedical Research, the two scientists will now share the 10 million kronor ($1.1 million) Nobel Prize award.
"In medicine, clinical trials of new cancer therapies are underway, and the dream of being able to cure inherited diseases is about to come true," said the Royal Swedish Academy of Sciences in its statement on the 2020 prize.
"These 'genetic scissors' have taken the life sciences into a new epoch and, in many ways, are bringing the greatest benefit to humankind," it added.
This year's Nobel Prize for medicine was awarded this week to three scientists who discovered the hepatitis C virus – Michael Houghton of the UK and US researchers Harvey Alter and Charles Rice.