Circassia gives up on allergy treatments after second trial failure
UK biotech Circassia has finally given up on its allergy drug development business, citing difficulties in overcoming a strong placebo effect in the trials required for approval by regulators.
After a trial of its house dust mite allergy failed because of this placebo effect, Circassia will now focus on its respiratory business, including a new US collaboration with AstraZeneca.
This was the second time that Circassia has experienced this problem, after a marked placebo effect resulted in the failure of a phase 3 cat allergy therapy last June.
At that time Circassia ended a registration study of its grass allergy treatment, as well as preparatory work for a dose-ranging study of a ragweed allergy therapy.
In the phase 2b field study unveiled this week, Circassia's house dust mite allergy immunotherapy, both the active treatment and placebo greatly reduced allergy symptoms and rescue medication use.
The treatment did not therefore show a significant effect compared with placebo, and the four-armed 12-week study misased its primary endpoint.
Now Circassia's CEO, Steve Harris, confirmed that the company will make no further investment in its allergy portfolio. The company will now pivot to focus on its respiratory business and a US collaboration with AstraZeneca in chronic obstructive pulmonary disease.
In March, Circassia signed a deal with AZ to lead development and marketing of Tudorza (aclidinium bromide) and Duaklir (formoterol+aclidinium) in a deal worth up to $230 million, plus future royalties.
The companies will share profits and Circassia has an option to secure rights to Tudorza if certain sales targets are met, or if Duaklir is approved by the end of 2019.
Harris said the company is "disappointed" by the outcome of the dust mite study.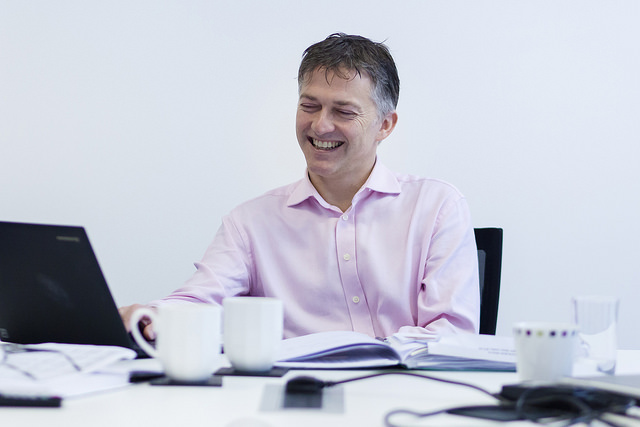 Steve Harris
Harris said: "It is concerning that in two well-designed field trials, a robust placebo response has confounded our ability to demonstrate a significant treatment effect, despite positive results in earlier chamber studies."
"We remain convinced that the technology has biologic activity, but we also believe the difficulty in overcoming the placebo effect using the field study designs required by regulators represents a significant hurdle, and consequently we will make no further investment in our allergy portfolio."
"As indicated previously, we will now focus on our wider respiratory business, in particular our new US commercial collaboration with AstraZeneca, our market-leading NIOX franchise and the development of our broader respiratory portfolio."
However Circassia has been criticised by one outspoken UK biotech expert, David Grainger. He is a co-founder of Medicxi, a life sciences-focused venture capital business. Tweeting in response to the news yesterday, Grainger dismissed Steve Harris' claims that the trials were well designed.
Note to Steve Harris (CEO at Circassia): if your drug isn't better than placebo you cant conclude that it works…

— David Grainger (@sciencescanner) April 18, 2017
Circassia's most recent published financial reports showed it earned £11.1 million in 2016 from sales of NIOX, its point-of-care an asthma diagnostic, which it expects to post continued sales growth in coming years. However the company saw its cash reserves fall from £202.8 million in 2015 to £138 million in 2016.
Don't miss your daily pharmaphorum news.
SUBSCRIBE free here.