BMS buys into Volastra's cancer expertise with $1.1bn alliance
News
Bristol-Myers Squibb is the first big pharma to strike a deal with Volastra Therapeutics, a start-up that has developed a drug discovery platform based on chromosomal instability (CIN), a common but under-investigated feature of solid tumours.
BMS is paying $30 million into the collaboration upfront, with a total deal value of $1.1 billion, for programmes addressing up to three undisclosed targets in cancer therapy.
New York-based Volastra notes that CIN is present in 60-80% of all cancers, and is caused by errors in chromosome duplication and separation as cells divide.
In healthy cells these errors are picked up and the cell is destroyed, but cancer cells evolve ways to circumvent those mechanisms, continuing to divide and spurring the growth of the tumour, as well as its spread (metastasis) around the body.
The genetic mutations that are seen in CIN have been extensively researched, but targeting them with drugs has proved a challenge.
Volastra reckons its platform – which has grown out of research at Weill Cornell Medicine and Memorial Sloan Kettering Cancer Center – will allow it to find new targets and develop cancer drugs that exploit a phenomenon known as 'synthetic lethality', inducing tumour cell death whilst sparing normal cells.
One of the architects of the drug discovery engine is Cornell cell biologist and biochemist Lewis Cantley, who was first to discover the PI3K pathway that has is targeted by new drugs, including Novartis' Piqray (alpelisib) – approved for breast cancer in 2019, and Bayer's Aliqopa (copanlisib) for follicular lymphoma.
Last year, the start-up partnered with Microsoft to develop algorithms that can be used to detect and predict CIN as well as the risk that tumours will metastasise. It also raised $44 million in its seed financing round.
[caption id="attachment_88491" align="alignright" width="139"]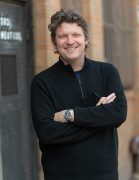 Charles Hugh-Jones[/caption]
"The combination of Bristol Myers Squibb's expertise in oncology and Volastra's deep understanding of chromosomal instability as cancer's Achilles heel makes for an ideal partnership to advance novel therapies for patients," said Charles Hugh-Jones, the biotech's CEO.
The agreement with BMS does not cover Volastra's lead drug programme, which targets KIF18A, a mitotic kinesin, with first-in-human studies anticipated to start in early 2023.