BioNTech shares pop after coronavirus vaccine deal with Pfizer
News

As the coronavirus pandemic spreads across the world and the pressure on health system and economies mounts, Pfizer and BioNTech have agreed to jointly develop a vaccine to prevent the infection.
Pfizer said it is to co-develop a potential mRNA-based coronavirus vaccine with the German biotech, and said the jab is expected to enter clinical testing by the end of next month.
The companies said they planned to use technology developed through an existing collaboration on an mRNA-based flu vaccine.
Shares in BioNTech popped and were up nearly 80% following the announcement at one point at more than $73 per share, an all-time high for the biotech following its launch on the NASDAQ last year.
The news follows the announcement that rival US biotech Moderna has begun its first clinical trial of a coronavirus vaccine.
Pfizer's shares were also up around 6% after the announcement, as markets rallied following the announcement that clinical trials of Moderna's vaccine have begun.
While the news is encouraging, the vaccines are still unlikely to be ready for market until next year even if the trials go well.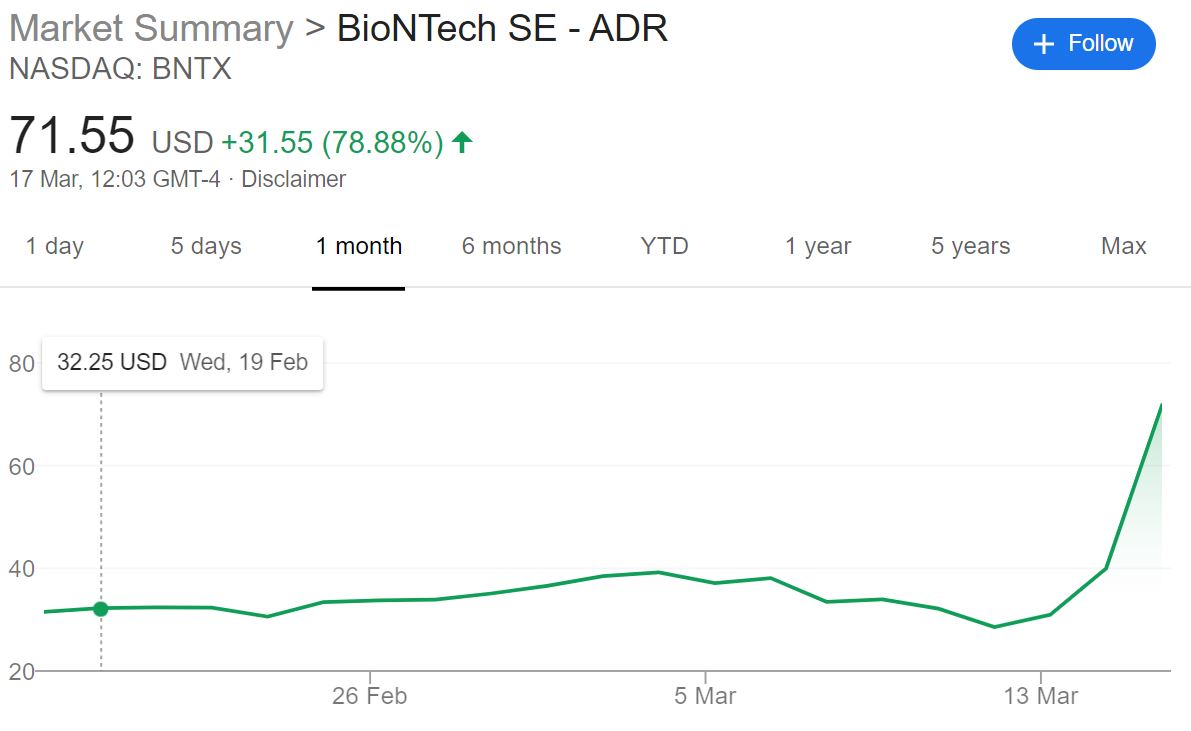 Dubbed BNT162, BioNTech's vaccine is also based around mRNA technology like Moderna's, but no further details about its mechanism of action were disclosed.
The companies described it as a potential "first in class" therapy.
BioNTech has already struck a separate collaboration agreement with China's Shanghai Fosun Pharmaceutical over the Mainz biotech's rights in China to the vaccine.
If regulators approve the vaccine, Fosun will market it in China, while BioNTech will retain rights for the rest of the world.
The announcements follow controversy over the German biotech CureVac, which was reportedly at the centre of a tug-of-war between the Trump administration and the Berlin government.
According to reports Trump's team had attempted to secure exclusive access to CureVac's potential coronavirus vaccine.
CureVac's CEO Ingmar Hoerr has stepped down since the row surfaced for non-coronavirus related medical reasons, having only been in place for a week after Daniel Menichella was ousted.