AZ chief Soriot bullish despite falling sales
AstraZeneca's CEO Pascal Soriot has described 2017 as a "defining" year for the company, with a series of new products gaining traction and the worst of a series of patent losses in the past.
In a third-quarter results call, Soriot said that the company will soon start to see the benefits of years of graft, where it rebuilt its pipeline after staving off a takeover bid from Pfizer in 2014.
But despite a series of high profile successes, such as the first ever approval of a blood cancer drug, Calquence, the company must still find ways to mitigate the impact of the failure of its key cancer drug Imfinzi in the lucrative first-line lung cancer indications.
The European patent on AZ's cholesterol drug Crestor is also set to expire next month – but this is the last in a series of expiries over recent years that is responsible for the company's current sales slump.
Other newer cancer products such as lung cancer drug Tagrisso have now become "major" products that are helping AZ move towards an ambitious sales target of more than $40 billion by 2023.
Soriot continued to stand by this in a conference call with journalists, noting that there are some major products still to come.
The first of these could be AZ's benralizumab. The FDA is set to make a decision on this in the coming weeks which is a competitor to GlaxoSmithKline's Nucala (mepolizumab) injection for severe eosinophilic asthma.
Chief medical officer Sean Bohen said AZ believes that benralizumab will compete with Nucala, which has seen rapid sales growth since it was approved about two years ago, and Teva's rival Cinqair.
"We believe it is the product with the best clinical profile for asthma patients with eosinophilic disease," he said.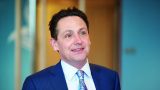 China was also a bright spot, where AZ has managed to get several of its drugs through regulators in anticipation of further growth in demand for drugs as the country's healthcare system develops.
The underlying figures are in line with forecasts, Soriot said – sales were down 3%, although the rate of decline has eased compared with the first half of the year when sales were down 11%.
Total revenues rose 9% to $6.23 billion, with a boost from a $997 million payment from Merck & Co, as part of a collaboration to co-develop co-market cancer drugs Lynparza and selumetinib.
Chief financial officer Marc Dunoyer said that sales growth will return in the short term, but there will be a lag before this translates into an improvement in profitability.
"There will be a period of investment for us to put all the new products on a new positive trajectory," he said.
Soriot also seemed unfazed by the forthcoming move of the European Medicines Agency from its London headquarters because of Brexit.
Referencing AZ's relocation of its headquarters from Cheshire to Cambridge, Soriot said: "We have shown ourselves that you can move a development organisation without disruption."
Shares in the company ticked up on the London Stock Exchange following the announcement.
Don't miss your daily pharmaphorum news.
SUBSCRIBE free here.