ASCO21: AZ seeks to supplant Imbruvica in CLL with new Calquence data
News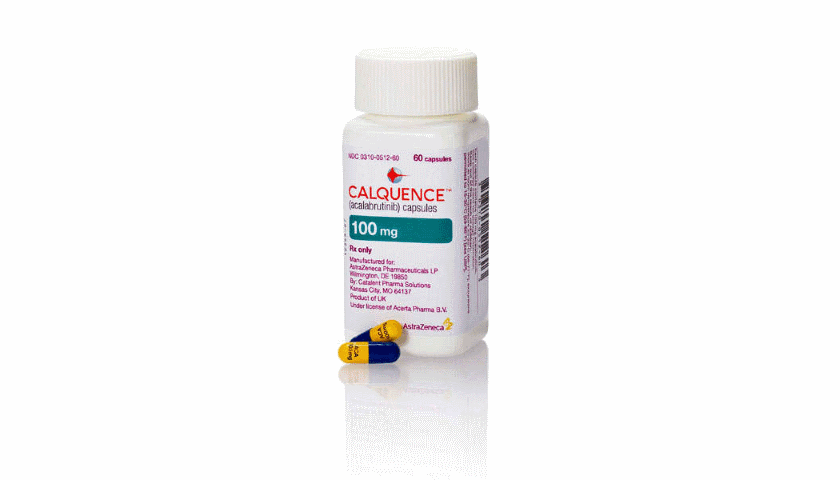 AstraZeneca has thrown down the gauntlet to AbbVie and Johnson & Johnson with new data for Calquence in chronic lymphocytic leukaemia (CLL) that it says show a safety advantage over Imbruvica – currently dominating the BTK inhibitor market.
In the ELEVATE-RR study, Calquence (acalabrutinib) matched Imbruvica (ibrutinib) when it came to keeping adults with previously treated, high-risk CLL alive without disease progression at a median follow up of 40.9 months.
Both drugs achieving a progression-free survival (PFS) of 38.4 months, but Calquence was associated with a lower rate of atrial fibrillation (AF) – an irregular heart rate that can increase the risk of stroke, heart failure and other cardiovascular complications.
All told, 9.4% of Calquence-treated patients in the study developed AF, compared to 16% of the Imbruvica group, and discontinuation rates due to adverse events were 14.7% and 21.3%, respectively..
Lead ELEVATE-RR investigator John Byrd of Ohio State University said that cardiac adverse events are an important consideration for treating CLL patients with BTK inhibitors "because they can produce significant morbidity in some cases and also lead patients to discontinue treatment."
He added: "These data provide compelling evidence that acalabrutinib is a more tolerable option with reduced cardiovascular toxicity and overall fewer discontinuations due to adverse events."
AZ teased the ELEVATE-RR results earlier this year, but at ASCO presented the results to oncologists for the first time, along with impressive follow-up data from the ELEVATE-TN trial that led to Calquence's approval in CLL in the US in 2019 and in Europe last November.
After a median follow-up of almost four years, Calquence plus Roche's CLL therapy Gazyva (obinutuzumab) reduced the risk of disease progression or death by 90% compared to Gazyva plus chemotherapy. On its own, AZ's drug cut the risk by 81% compared to the control group.
Sales were $522 million in 2020 but are accelerating, more than doubling to $209 million in the first quarter of 2021, gaining momentum in new CLL patients and setting it on course to top $1 billion mark for the full year.
It is still dwarfed by J&J and AbbVie's blockbuster though, which made around $8.4 billion in 2020 from half a dozen indications, including CLL and other blood cancers as well as chronic graft versus host disease (GvHD).
AZ needs Calquence to deliver financially, as it has invested a lot in the drug. It was originally developed by Acerta Pharma, a company in which AZ bought a majority 55% stake for $4 billion in early 2016.
The following year the big pharma paid $1.7 billion to Acerta on the first regulatory approval for the drug for mantle cell lymphoma (MCL). It decided in April of this year to buy up the remaining 45% of the company, shortly after Calquence secured European approval in CLL, for $2.3 billion.
AZ isn't however the only challenger for Imbruvica's crown. BeiGene's Brukinsa (zanubrutinib) is currently only approved for MCL in the US, but has a green light for CLL in China and is in late-stage development for other blood cancers.
It has already been filed in the US as a second-line therapy for marginal zone lymphoma (MZL) as well as Waldenström macroglobulinemia (WM), two other indications on Imbruvica's approved list.
BeiGene recently reported top-line results from the phase 3 ALPINE study which found a superior response rate in CLL than Imbruvica, as well as a lower rate of AF than AbbVie and J&J's drug.
The ALPINE results are due to be reported later this month at the European Haematology Association (EHA) congress.