Amgen nabs speedy approval for first-ever KRAS drug sotorasib
News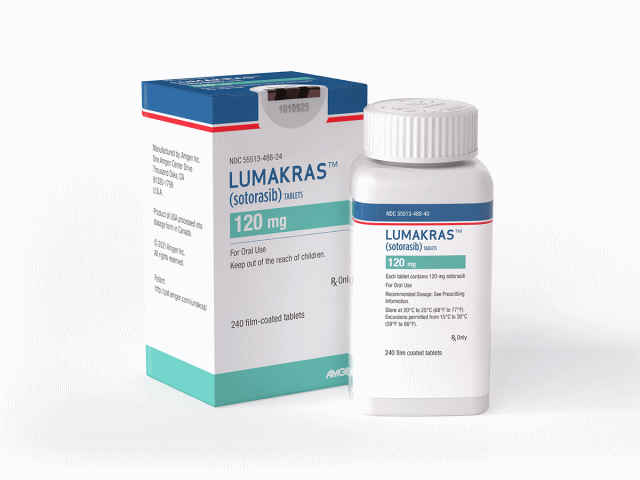 After decades of mostly unsuccessful R&D, Amgen has claimed the first ever regulatory approval for a drug that inhibits KRAS – a cancer target that for a long time was all-but written off as "undruggable". 
The FDA's conditional approval for Lumakras (sotorasib; formerly AMG-510) as a second-line treatment for KRAS G12c-mutated non-small cell lung cancer (NSCLC) has come more than two months ahead of schedule, which reflects the importance of the new drug.
KRAS mutations are seen in around a quarter of NSCLC tumours, with KRAS G12C mutations in particular found in around 13% of cases.
The FDA has also approved companion diagnostics from Guardant Health and Qiagen to identify patients eligible for treatment with the new drug. It is estimated there are around 25,000 new cases per year in the US.
"KRAS mutations have long been considered resistant to drug therapy, representing a true unmet need for patients with certain types of cancer," said Richard Pazdur, head of cancer drug reviews at the FDA, which granted the drug breakthrough status last December.
Amgen has priced Lumakras at $17,900 per month – equivalent to around $215,000 per year – which is a little lower than expected but still in the same ballpark as many other targeted cancer drugs.
Analysts think demand should drive blockbuster sales of $1 billion or more, particularly if the biopharma company can extend the label for the drug into the first-line setting and for other KRAS-mutated tumour types.
Amgen's phase 2 study, CodeBreak 100 in 733 subjects, was sufficient to get the conditional approval from the FDA, and showed that treatment with Lumakras was associated with a 36% objective response rate (ORR), defined as a 30% or greater reduction in tumour volume in patients treated with at least one prior systemic therapy.
The company is also running a larger phase 3 study called CodeBreak 200 that is comparing Lumakras to the chemotherapy agent docetaxel in previously-treated patients with KRAS G12C-mutated NSCLC, with results due later this year.
Meanwhile, Amgen is also running a series of phase 1b studies of Lumakras in first-line KRAS G12C-mutated NSCLC in combination with other drugs, such as MEK, EGFR or checkpoint inhibitors, as well as for other KRAS-associated solid tumours including colorectal cancer.
In common with other targeted cancer drugs, treatment with Lumakras has been linked to the development of 'escape' mutations that can lead to tumour developing resistance to the drug, and combination therapy could be a key way to tackle that issue.
Amgen meanwhile is also running trials of a lower dose (240mg once-daily instead of the current 960mg once-daily formulation) at the FDA's request, which may improve the tolerability of treatment. Side effects linked to the KRAS inhibitor include diarrhoea and increases in biomarkers that could point to liver toxicity.
The company has also sought regulatory approval for Lumakras as a second-line treatment outside the US, including in the EU and UK, Brazil, Canada, Japan, and Australia, but competition is following quickly behind.
Closest behind is Mirati with its rival small-molecule KRAS G12C drug adagrasib, in phase 2 and 3 testing with first filing anticipated in the second half of the year. Others in the pack meanwhile include Boehringer Ingelheim/MD Anderson, Gilead Sciences, Johnson & Johnson/Wellspring, Merck & Co/Moderna and AstraZeneca.
For the time being however Amgen is on its own, with a window of opportunity to establish Lumakras before competition reaches the market.
For years, researchers tried to develop inhibitors for KRAS but were unsuccessful because the structure of the molecule has few pockets where a drug agent could bind.
Amgen solved that issue when it discovered that the G12C mutation could be targeted and made to irreversibly force KRAS into an inactive state.