Akero rockets as NASH drug hits targets in phase 2b trial
News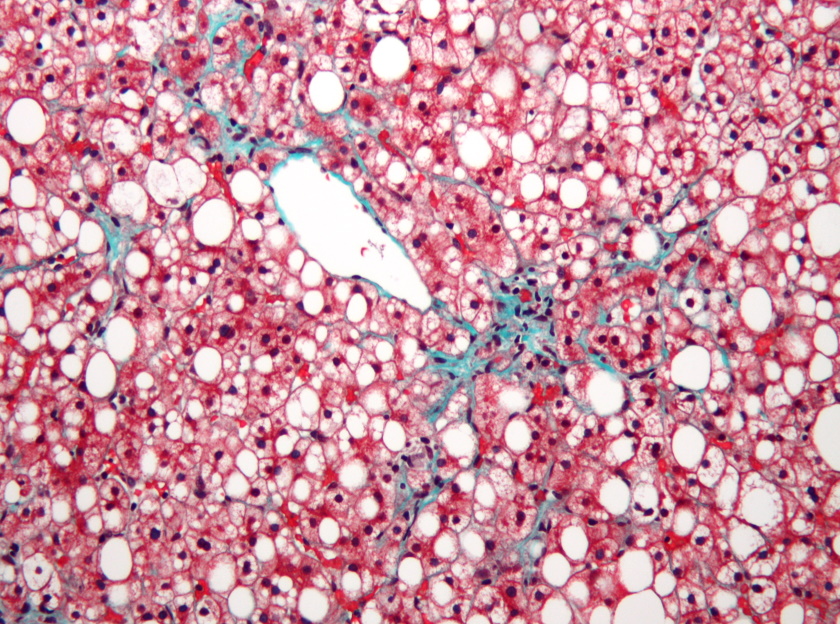 A drug developed by US biotech Akero Therapeutics has hit the mark in a phase 2b trial in non-alcoholic steatohepatitis (NASH) – catapulting it to the forefront of efforts to find effective therapies for the hard-to-treat disease.
The HARMONY study compared two doses of Akero's FGF21 mimic efruxifermin to placebo over 24 weeks in 128 adult patients with biopsy-confirmed NASH, a serious form of non-alcoholic fatty liver disease (NAFLD) that affects millions of people, and which for several years has been billed as one of pharma's next big growth areas.
Both doses – 28 mg or 50 mg given by subcutaneous injection once a week – achieved primary and secondary endpoints, including an improvement in liver fibrosis that Akero says support advancing the programme into phase 3.
All patients in the study had either stage 2 or 3 fibrosis (scarring) of the liver, while more than two thirds had diabetes.
All told, 41% of patients taking 50 mg efruxifermin and 39% of those on the 28 mg dose showed at least one stage of improvement in fibrosis without worsening of NASH, compared to 20% of the placebo group.
Secondary endpoints were also positive for the drug, with 47% of the low-dose group and 76% of the high-dose patients achieving NASH resolution without worsened fibrosis, compared to 15% of those taking placebo.
Current FDA guidance is that candidate NASH drugs should either improve fibrosis without worsening NASH, or resolve NASH without worsening fibrosis.
In the HARMONY study, NASH resolution plus a one-stage or better improvement in fibrosis was seen in 29% of the 28 mg group, 41% of the 50 mg, and 5% of the placebo arm, all of which were statistically significant improvements.
There were also significant reductions in lipids in the blood associated with cardiovascular risk, including LDL cholesterol and triglycerides.
On the down side, five patients treated with efruxifermin had to discontinue treatment due to adverse events, compared to zero in the placebo group, although Akero said only one of them was drug-related, namely oesophagitis in a patient with a history of gastroesophageal reflux disease (GERD).
"We believe today's results from […] HARMONY are an important milestone not only for Akero, but for the entire NASH community," said Akero chief executive Andrew Cheng.
"As the fastest growing cause of liver transplantation and liver cancer in the US and Europe, NASH represents a substantial and growing health burden."
With no approved therapies for NASH and a lengthening list of failed candidates, Akero's announcement captured the imagination of investors, who helped drive a doubling in the company's share price following the announcement.
There's still a long way to go before efruxifermin could reach the market, and plenty of NASH drugs have shown promise in mid-stage testing, only to fail at the final hurdle.
For some time, Intercept Pharma looked odds on to win the race to bring a NASH drug to market, but its hopes were dashed after the FDA rejected its marketing application for obeticholic acid (OCA) in 2020, and it was forced to withdraw its filing for the drug in Europe.
Meanwhile, there has been a string of failed projects and setbacks for companies developing drugs for NASH in the clinic, including candidates from Gilead Sciences, Genfit, Albireo, CymaBay, Cirius, and NGM Biopharma.
Akero has already started a second phase 2b study in a sicker group of NASH patients with cirrhosis, called SYMMETRY, with results due next year, and says it is finalising the design of a phase 3 programme.
It is, however, not the first small biotech to post encouraging clinical results in NASH this year. In February, Madrigal Pharmaceuticals said its daily oral drug resmetirom met its primary and secondary objectives in an NAFLD trial, including some patients with non-cirrhotic NASH, in a phase 3 trial.
A second phase 3 trial is due to report in the fourth quarter of this year, and if positive could lead to regulatory filings in the first half of 2023.