Welcome to the 2nd Tumor Myeloid-Directed Therapies Summit
Events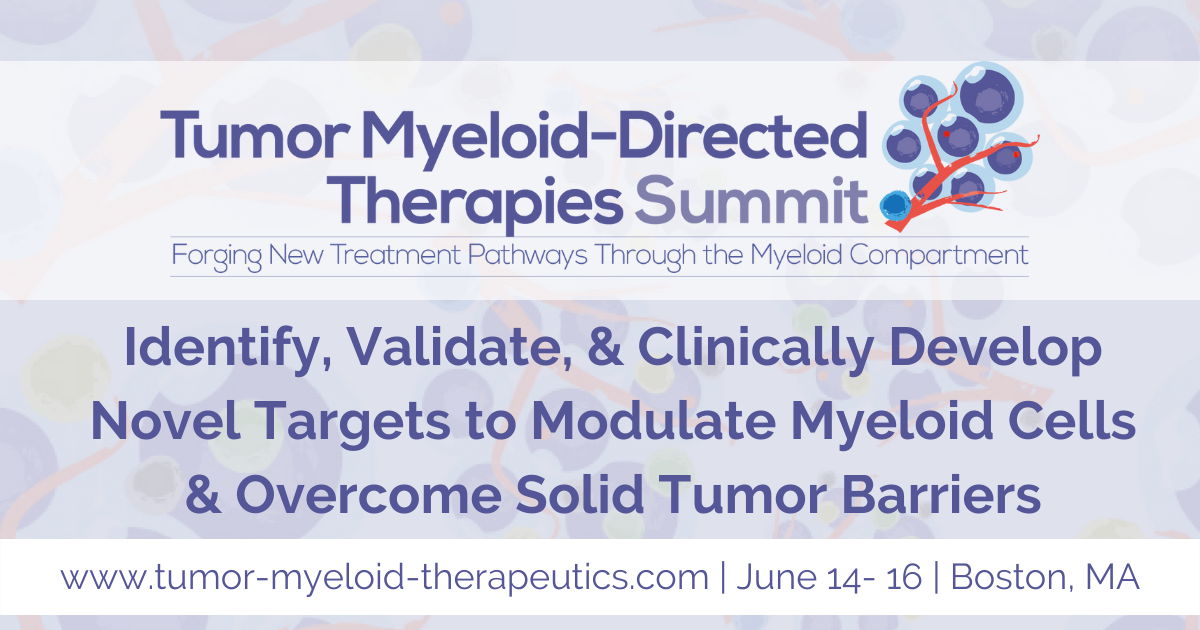 Identify, Validate, & Clinically Develop Novel Targets to Modulate Myeloid Cells & Overcome Solid Tumor Barriers
Returning in 2022, the Tumor Myeloid-Directed Therapeutics Summit is the only industry-focused meeting dedicated to unlocking novel therapeutic potential through the myeloid compartment.
This is your ultimate forum to identify, validate, and clinically progress myeloid targets to expand the oncologists toolkit and realize better responses by engaging myeloid anti-tumor function.
Designed for experts working directly on myeloid-directed therapies, and those in adjacent immuno-oncology fields, from cell therapy to checkpoint and engager development.
If you're scratching your head in attempt to enhance efficacy in solid tumors and overcome barriers in the microenvironment, this is your 500-foot view of the intricate pathways, interactions, and novel target development in the tumor microenvironment
Deep-dive into myeloid biology, guided by 27+ industry Gurus from the likes of Pionyr Therapeutics, Gilead Sciences, Merck, Verseau Therapeutics, Carisma Therapeutics, Pfizer and many more
With targets such as TREM1 and TREM2 making waves in the clinic, analysis of CD47 candidates back-translating to next-generation therapies, and novel dendritic cell candidates such as FTL3 in development, this 3-day myeloid extravaganza is unmissable for anyone looking to unlock better therapeutic potential through the myeloid compartment.
Access the official agenda for more information.
Early bird & team discounts available – Secure your place today.