STING & TLR Targeting Therapies Summit
Events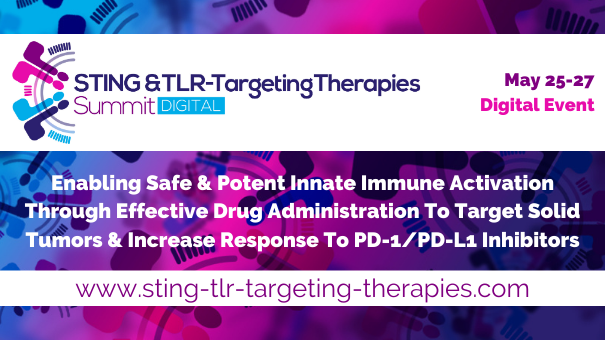 This is the definitive drug development forum for research teams to investigate how to modulate the cGAS-STING and Toll-like receptor (7/8/9) pathways both as monotherapies and as adjuvants in combinatorial approaches.
This meeting comes at a critical point for the cancer immunotherapy field, as researchers look to increase patient response rates and the efficacy on checkpoint inhibitors in several solid tumor indications. Preclinical and early clinical data for modulators of the STING & TLR plus other innate immune checkpoint inhibitors has been hugely promising.
Use this key forum to hone your innate immune activation strategies and deliver safe and effective treatments through systematic and intra-tumoral administration which can stimulate the adaptive immune arm, counteract solid tumor-induced immunosuppression and increase response to checkpoint inhibitors.
View the event guide now for the full agenda details and speaker faculty.
This virtual forum is designed so you interact with key clinical leaders from Checkmate Pharma, GSK, Bolt Biotherapeutics, Mersana Therapeutics, AstraZeneca and more, to discuss:
How to optimize the systematic and intratumoral administration of these agonists to lift innate immune barriers to anti-tumor immunity
How to initiate robust, localised response in the tumor microenvironment (TME) and address resistance to T-cell-based immunotherapies
Various therapeutic modalities including combinatorial approaches with PD-1/PD-L1 inhibitors, STING/TLR-agonist Antibody-Drug Conjugates and mRNA technologies
You will also have the opportunity to ask any burning questions and go back to your teams with a full picture of the innate immunotherapy pipeline and optimize your own research investments.
Innate Immune Checkpoints & Activation Pre-Focus Day:
In addition to two full conference days to STING/TLR-targeting, there will be a pre-focus day specifically on innate immune checkpoints and the activation of specific cell types including natural killer cells, macrophages and myeloid-derived suppressor cells.
An executive speaker faculty will take you through the leading drug candidates aimed at inhibitory and activation receptors on key cellular component of the innate immune system.