SMi's 3rd Annual 3D Cell Culture Conference
Events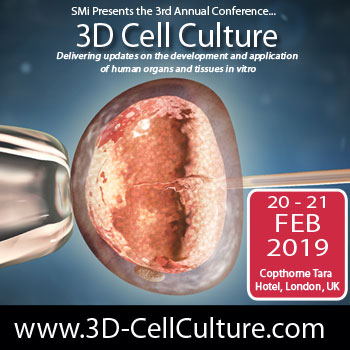 Delivering updates on the development and application of human organs and tissues in vitro
Conference: 20th & 21st February 2019
Workshop: 19th February 2019
Location: Copthorne Tara Hotel, London, UK
Website: www.3D-cellculture.com/pharmaphorum
Proudly sponsored by: InoCure & TEDD Competence Centre
CHAIRED BY:
Nicola Valeri, Gastrointestinal Cancer Biology and Genomics Team Leader, The Institute of Cancer Research
Stefan Przyborski, Professor of Cell Technology, University of Durham
Cell Culture in an important tool for research and development within the life science industry. Over the past few years, 3D Cell Culture has gained momentum within the pharmaceutical industry due to the benefits that this model offers over conventional cell culture methods. 3D cell culture enables cells to grow and interact with their surroundings in all three dimensions, better mimicking the in-vivo conditions in which the cells are naturally present. This enhances the ability for scientists to study basic biological mechanisms such as cell number monitoring, cell viability, proliferation and morphology. 3D cell cultures also have greater stability and longer life spans.
Researchers globally are realizing the potential of 3D cell culture for various applications, including testing and discovering new drugs to treat cancer, organ-on-chip models to study the human physiology in an organ specific context, and 3D cell printing to produce organ models. Therefore, this market is likely to grow over the next few years and is in fact projected to reach USD 1.7 Million by 2022, growing at a CAGR of 20.3% between 2017-2022. Growth in this market is also driven by global factors such as a need for alternative methods to animal resting, funding from governments and private entities and technological advancements in the field.
At the 3D Cell Culture Conference in February, we will look at the latest developments in the 3D Cell Culture field. Participants will have the opportunity to network with industry experts, gain insight into how the pharmaceutical industry is utilizing 3D Cell Culture technologies to enhance research and development, discuss the potential for novel in-vitro cell culture models to replace animal models, and discover novel 3D cell culture systems, organ-on-chip, 3D imaging of organoids and other technologies in development.
#SMi3DCellCulture
FEATURED SPEAKERS INCLUDE:
GUEST SPEAKER:
• Bill Mattes, Director, Division of Systems Biology, FDA
SPEAKERS INCLUDE:
• Asli Akidil, Cell and Molecular Scientist, AstraZeneca
• Gary Allenby, Business Development Director and Chief Scientific Officer, Aurelia Biosciences
• Jason Ekert, Head of Complex In Vitro Models, GSK
• Philip Hewitt, UK and Eurotox Registered Toxicologist, Head of Early Investigative Technology, Merck
• Stefan Kustermann, Lab Head, Investigative Safety, Roche
• Veronique Barban, Expert Virology, Research and Nonclinical Safety Department, Sanofi Pasteur
KEY TOPICS FOR 2018 INCLUDE:
• Organ-on-chip technologies and their applications in the pharmaceutical industry
• Panel discussion on whether 3D Cell Culture will replace animal models
• Determining the predictive validity of 3D models and achieving standardization for preclinical testing
• Global developments in 3D Cell Culture and how this exponential growth will impact researchers
• Several novel techniques for imaging of 3D Cell Cultures
• Development of 3D eye models for early assessment of retinal toxicity
• Musculoskeletal regeneration harnessing preclinical models for tissue repair
View the full agenda: www.3D-cellculture.com/pharmaphorum
WHO SHOULD ATTEND
Biotech / Pharma Companies - Team Leader, Junior Principle investigator, Cell and Molecular Scientist, Chief Scientific Officer, Deputy Director, Manager, Founder, CEO, Head, Director, Programme Manager, Lab Head, Toxicologist
Academia Professor - Cell Technology, Stem Cell Sciences, Biochemistry, Protein Technology and Tissue Engineering
Solution Providers – Manager, Head of, CEO, Director, Founder, Account Manager, President, CSO, Executive, Managing Director, Vice President, COO
Organisations / Regulatory – Director, Senior Science Advisor, Scientific Officer