Next Generation Kinase Inhibitors Summit
Events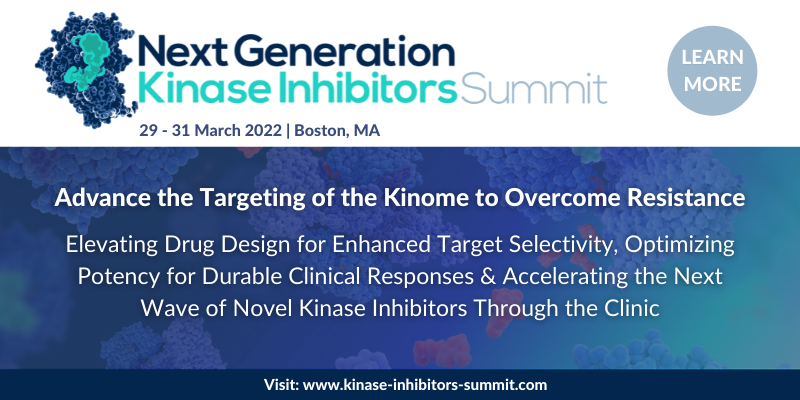 Turbocharge the Development of the Best-In-Class Kinase Inhibitor Products, to Enhance Specificity, Overcome Resistance to Deliver Safe & Durable Clinical Responses
Celebrating 20 years of FDA approval and high efficacy profiles, kinase inhibitors have changed the face of oncology treatment. However, increasing resistance and safety issues limit the success of existing kinase inhibitor classes.
The inaugural Next Generation Kinase Inhibitors Summit is the only industry-focused meeting dedicated to applying novel kinase biology to drug development and innovating existing programs to produce the next wave of kinase inhibitor drugs that are able to show efficacious and durable clinical response in oncology and beyond.
Boasting 20+ speakers, 1 deep-dive workshop and over 3 days of unrivalled content spanning discovery, R&D and clinical development, this event is a unique opportunity for your team to identify and target the undruggable, elevate drug design for improved target selectivity, overcome the blood-brain barrier and rationalize combinations for more durable responses.
Collaborate with 80+ senior drug developers in March to achieve the next generation of these kinase inhibitor therapies with optimized specificity, maximal durability to deliver the best clinical outcomes.
View the Full Event Guide here for the full speaker line-up and agenda details.
Key takeaways you will earn the Next Generation Kinase Inhibitors Summit:
Exploit novel kinase biology such as histidine kinase, phosphatases and multi-kinases to optimize specificity, enhance durability & leverage the highest clinical impact with Tony Hunter, Anavo & Kurome Therapeutics 
Navigate the cutting-edge platforms that are revolutionizing kinase profiling to accelerate target selection, accurately predict off-target effects and fast-track your kinase inhibitor drug development with Lewis Cantley, DeepCure & Kings College London
Reimagine drug design to optimize potency and penetrate the blood-brain barrier to transform the use of kinase inhibitors in neurodegeneration & brain metastasis with Biogen, Inhibikase & Black Diamond
Utilize biomarkers to inform a personalized medicine approach, rationalize combination strategy and weaponize against resistance for more durable clinical responses with Genentech, AstraZeneca & Massachusetts Medical School 
Weaponize the interaction of kinases in the tumor microenvironment by optimizing combination strategy to overcome resistance and yield higher clinical responses with TG Therapeutics, Onconova & AUM Biosciences
Early Bird & Team Discounts available – Secure your place today