Gene Therapy Comparability
Events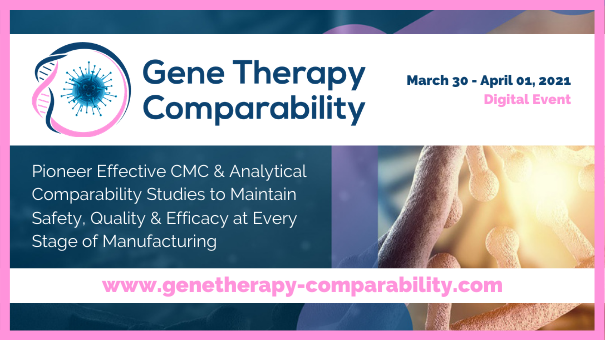 The inaugural Gene Therapy Comparability Summit is the only industry dedicated meeting to ensuring your manufacturing processes are effective and comparable at every stage of development, supporting a seamless transition to the larger scales required for commercialization.
This meeting will unite large pharma and innovative biotechs including Pfizer, Biogen, BioMarin and Takeda as they share best practices, lessons learned and analytical data across the comparability lifecycle.
Focused specifically on enhancing your gene therapy comparability approach, join us to ensure you maintain safety, quality, consistency and efficacy throughout scale-up from clinical to commercial-scale manufacturing, and satisfy regulatory demands to avoid costly delays to clinical programs.
Incorporating insights from leading CMC, Regulatory, Analytical and Process Development experts, this is your opportunity to gain extensive technical information on challenges like ensuring manufacturing processes are comparable when changing facilities and cell lines, developing effective bioassays for use in comparability studies and handling the limited gene therapy lots available.
View the full event guide here to see the full agenda, speaker faculty and more!