6th Microbiome Movement - Drug Development Summit Europe
Events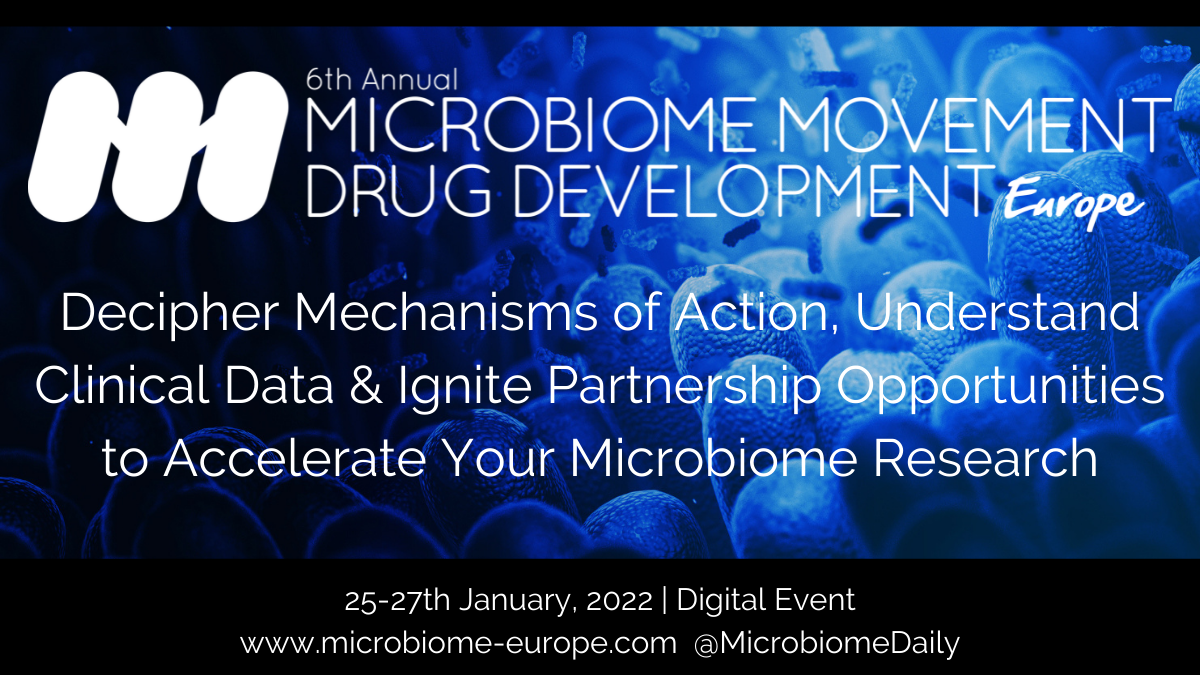 Decipher Mechanisms of Action, Understand Clinical Data & Ignite Partnership Opportunities to Accelerate Your Microbiome Research
Whilst emerging phase 3 data is set to ignite investment and uncover the reality of microbiome-based therapeutics, there remain analytical challenges and translational bottlenecks that the community must come together to overcome, in order to redefine biopharmaceutical treatment and diagnostic options.
The 6th Microbiome Movement - Drug Development Summit Europe returns online (January 2022, London) to unite leading scientists and industry partners surrounding the microbiome to pursue the causal role of the microbiome in disease, with the aim to obtain the first EMA-approved microbiome-targeted therapeutic from predictable modes of action and consistent clinical outcomes.
Download the full event guide for the speaker faculty and session details.
With over 50 speakers each sharing brand new sessions, the main focus areas for 2022 include:
Understanding the Pre- Clinical & Clinical Developments of Microbiome-based Therapeutics – INCLUDING a Range of Disease-Specific Case Studies
Explore the discovery and pre-clinical assessment of microbiome-based therapeutics across the critical product modalities and disease phenotypes, with exclusive case studies from Biomica, IFF, PharmaBiome, Ferring, and Seres Therapeutics
Development & Manufacturing of Microbiome-based Therapeutics
As the microbiome industry matures and many companies enter the clinic, there are still significant challenges with demonstrating clinically significant results. Take part in detailed analysis on the clinical, manufacturing, and commercial considerations when effectively scaling your therapeutic for market approval with insights from Boehringer Ingleheim, Finch Therapeutics and 4D Pharma PLC
Streamlining Regulatory Approval of Microbiome-based Therapeutics
Despite the maturation and clinical progress of microbiome-targeting therapeutics, there are still limited regulatory guidelines for many of these modalities. Understand how leading regulatory agencies are reviewing microbiome-targeting drug candidates with interactive presentations from the FDA, and the Pharmabiotic Research Institute
Featuring research and business leaders from the pharmaceutical, biotech and academic community, join 150 of your peers next January to pursue the causal role of the human microbiome in disease, and to create a new generation of targeted treatments that demonstrate consistent clinical outcomes and predictable MoAs.
Early Bird & Team Discounts available – Secure your place today