2nd Gene Therapy Immunogenicity
Events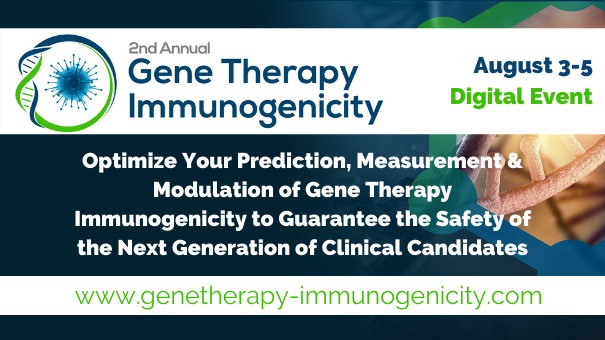 The 2nd Gene Therapy Immunogenicity Summit is the industry's definitive forum enabling you to better modulate, measure and predict immune response to your gene therapy candidate.
In the context of ever-increasing gene therapy clinical activity and uncertainty around immunogenicity challenges, the Gene Therapy Immunogenicity Summit will unite large pharma and innovative biotechs to ensure that you're up to speed on the latest approaches to predict, measure and overcome every immunogenicity challenge you encounter.
Focused specifically on examining gene therapy immunogenicity, this event will enable you to learn how to evaluate and overcome pre-existing immunity to AAV vectors, understand how immune-modulatory approaches could enable re-dosing and learn the reality of regulatory expectations around immunological assays.
Incorporating insights from leading immunological, bioanalytical and translational experts, this is your opportunity to gain extensive technical information on the contrasts between immunogenicity encountered across organs and administration routes, how models can be enhanced to enable comparative immunology between species and what the latest clinical data tells us about how to adapt existing approaches to address immunogenicity.
View the full event guide now for full meeting details!
Join your peers online and discover:
How Chameleon Bioscience are developing an immune evasive AAV for repeat dosing
The impact of innate and anti-transgene immunogenicity on AAV vector-mediated gene transfer with Genethon
Strategies to monitor anti-AAV cell-based transduction inhibition assay supporting clinical trials with Sangamo Therapeutics
Performances of biosafety analytical assays commonly used in gene therapy development
Immunogenicity risk assessment for AAV-based gene therapies with Roche
How to define the seroprevalence and titer of pre-existing antibodies with age and geographical location with Novartis
AAV capsid neutralizing antibodies and associated complement mediated immunotoxicties with IU Edu
Regulatory considerations for immune responses to gene therapies with the US FDA
Role of innate immunity in CD8+ T cell responses in AAV gene transfer with The NIH
Mitigation of AAV vector immunogenicity with tolerogenic nanoparticles with Selecta Bioscience
View the full event guide now for the full agenda and expert speaker faculty.