Cancer market commentary: 3 highlights from ESMO (Part 1)
ESMO2016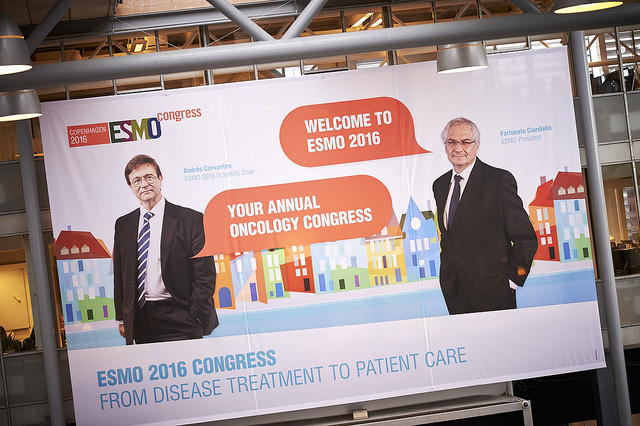 Kantar Health's oncology expert Stephanie Hawthorne is providing commentary on the most eye-catching trials presented at this year's ESMO congress in Copenhagen.  Part one looks at new pivotal trial data in breast and ovarian cancers. Round-up by pharmaphorum's Andrew McConaghie.
A new option for first line breast cancer?
AstraZeneca's Faslodex (fulvestrant) has been around for a long time, but the company is investing in new clinical trials to see where the drug can add new value to breast cancer treatment. The drug is a selective oestrogen receptor degrader (SERD), and acts through a different mechanism than standard first line treatment aromatase inhibitors (AIs). AstraZeneca's FALCON trial has investigated whether its different mechanism may represent an attractive treatment option in the first line for clinicians concerned about bone loss caused by AIs.
The company announced in May that the FALCON trial had met its primary endpoint, but has just announced full results at the ESMO conference in Copenhagen. Read more about the results, and Stephanie Hawthorne's commentary here:
FALCON Trial: Faslodex Spreads Its Wings but Remains in the Shadows of its Competition
PARP inhibitors take centre stage in ovarian cancers
A number of companies with drugs in the PARP inhibitor class are racing to establish them in ovarian cancers. The field is led by AstraZeneca's Lynparza (olaparib), which is already on the market, but two competitors, Clovis with its rucaparib and Tesaro with niraparib are in late-stage development.
These competitors have provided one of the biggest buzzes of ESMO so far - as well as a major disappointment. Read more on the Kantar Health Blog: Superlative data from NOVA: a star is born
New competition for Pfizer's Ibrance
Most breast cancer are hormone receptor positive (HR+) which mean they express oestrogen or progesterone or both. This means patients need endocrine therapy, but as most patients become resistant to the current standard aromatase inhibitors, new treatments for when they reach this stage of the disease are urgently needed.
The biggest advance in recent times in this field has been the US launch of Pfizer's Ibrance, a CDK4/6 inhibitor (palbociclib), which has been a rapid success since its launch in early 2015.
Not far behind are two competitors in the CDK4/6 class, Novartis' ribociclib and Lilly's abemaciclib.
So which company will end up the market leader in the field? Stephanie Hawthorne examines the latest state of play, reflecting on breaking data from ESMO.
Read more here: MONALEESA-2: Smiles Abound as First Line Ribociclib plus Letrozole Significantly Improves Progression-Free Survival
For more exclusive insight from ESMO 2016 please click here.