Ophthalmic Drugs Conference
Events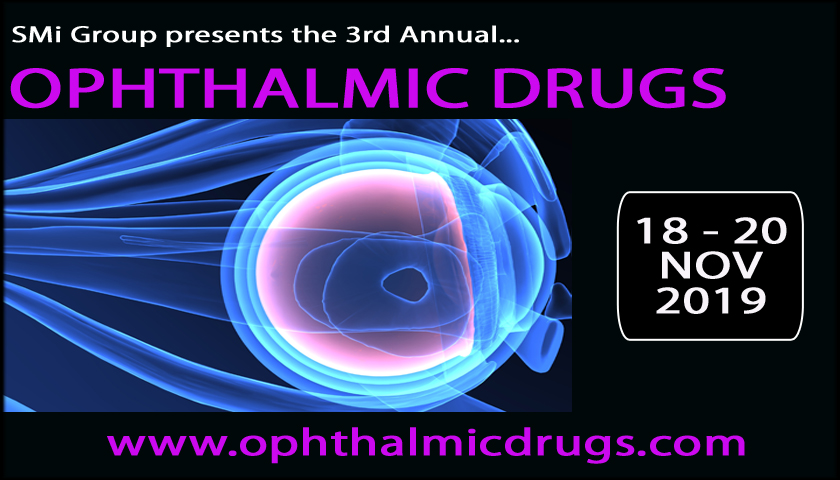 SMi Group are pleased to present the 3rd Annual Ophthalmic Drugs Conference and Focus Day, taking place on the 18th-20th November 2019 in London, UK.
The global ophthalmic drug market size is expected to reach a value of $30 billion USD by 2023 with growing focus on alternative delivery approaches to replace intravitreal drug delivery and novel drug development being the key factors driving the market.
With this in mind, this year's Ophthalmic Drugs conference will explore new discoveries in the treatment of ocular rare disease; innovations in gene therapy; the challenges in drug delivery through a complex barrier; patient comfort and regulatory compliance which make up core components within the Ophthalmic Drug sphere.
NEW FOR 2019:
The brand-new Focus Day on 'Novel Drug Delivery Through a Complex Barrier' will bring academic perspectives on the future for ocular drug delivery and notified bodies will provide a regulatory insight into this emerging field of ophthalmic drug development.
How will you benefit?
With over 15 expert presentations, the three-day agenda offers you peer-to-peer networking with Global Product Managers, Heads of Drug Development, Senior Directors of Ophthalmology, Heads of Research and Development and many more!
Network and learn from leading professionals such as:
CHAIRS FOR 2019:
• Mitchell de Long, Vice President, Chemistry, Aerie Pharmaceuticals
• Naj Sharif, Vice President, Global Ophthalmology, Santen Inc, USA
FEATURED SPEAKERS INCLUDE:
• Parisa Zamiri, Global Head of Clinical Development in Ophthalmology, Novartis Pharmaceutical Inc.
• Gavin Spencer, Executive Vice President and Chief Business Officer, Nicox
• Aniz Girach, Chief Medical Officer, ProQR Therapeutics
• Daniel Chung, Global Medical Strategy Lead- Ophthalmology, Spark Therapeutics
• Michael Ehrlich, Senior Clinical Program Lead - Retinopathies, Boehringer Ingelheim
• Peter Morgan-Warren, Medical Assessor, MHRA
• William Dallman, Clinical Development Manager, Eyenuk
For more information and to register, visit: www.ophthalmicdrugs.com/pharPH