Next Generation Lipid-Based Nanoparticles Delivery Summit | July 19-21, 2022
Events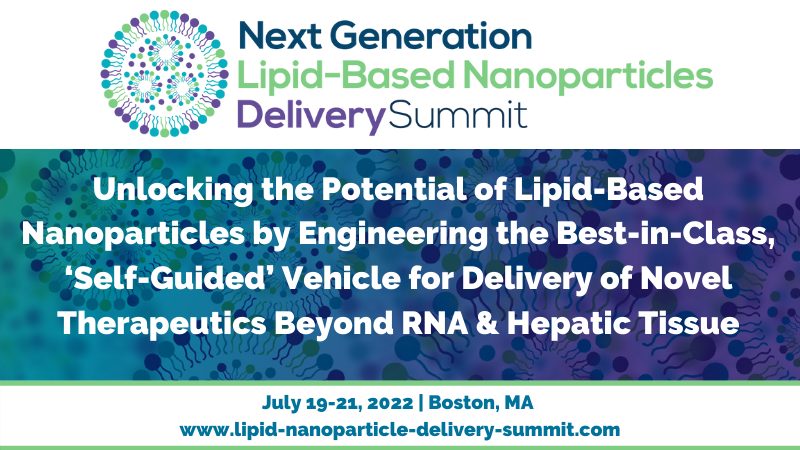 Harness Safe & Efficacious Lipid-Based Delivery for Novel Therapeutics Beyond RNA & Hepatic Tissue
The recent success of the mRNA-LNP vaccines fueled biopharma to explore lipid-based nanoparticles for advanced drug delivery. The industry is now poised to exploit the full therapeutic potential of these vehicles for emerging payloads and extrahepatic delivery.
The Next Generation Lipid-Based Nanoparticles Delivery Summit is your definitive industry-led meeting to design and engineer 2nd generation of lipid nanoparticles for emerging payloads beyond RNA into clinic. Join Intellia Therapeutics, Entos Pharmaceuticals, AstraZeneca, Eli Lilly, and other scientific trailblazers as they navigate the next generation of lipid-based nanoparticles for targeted delivery to expedite innovative treatments for unmet patient needs.
Download the full event guide to find out more.
Register now to make the most of the savings and team discounts!
Over 3 days we will:
Explore translating novel lipid chemistry and design – reviewing the journey from liposomes to LNP, from synthetic LNPs to lipid nano-crystals – to maximize cytosolic delivery and minimize immunogenicity and toxicity
Unlock the full potential of nanoparticles and assess lipid-based for new payloads – including CRISPR Cas9, DNA, cell & gene therapies, oligos and macromolecules
Improve the safety and efficacy of lipid-based delivery beyond RNA through formulation, particle engineering, and chemical design to overcome intracellular barriers