Available on demand: What do the upcoming changes to England's pharmacy funding mean?
New measures proposed by the Government will impact community pharmacies across the UK; the biggest change of this nature in decades.  The impact will go beyond community pharmacies as other stakeholders also feel the pressure.
UK pharmacies already support more inhabitants per pharmacy than other major European markets; how will this funding change impact how patients are cared for in the community?  How will pharmacy suppliers, such as consumer health companies, operate in the increasingly cost constrained and competitive environment?
IMS hosted an interactive webinar to share market insight on the potential impact and a live discussion with critical stakeholders of this change.  Hear directly from key stakeholders about their thoughts of how the changes will play out, and what this means for you in your sector.
The live webinar took place on Thursday 21 July at 12.00 BST / 13.00 CEST.
To view the on-demand version, please click here or on the button above/below.
Participants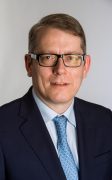 Jonathan Carney, Senior Principal, Supplier Services, IMS Health
Jonathan is a Senior Principal within the Supplier Services. He has a wealth of experience in the Commercial Effectiveness arena having led various projects including resource optimization, sales force sizing, targeting & segmentation, and incentive compensation management. With over twenty years of experience working in the industry Jonathan has a strong background in business operations in the pharmaceutical industry. He has worked for over 12 years in pharmaceutical companies in roles ranging from sales representative to Business Information Manager and Associate Director SFE Europe, so has a deep understanding of client situations and constraints. The remainder of his career has been in consulting, working with most of the top pharmaceutical and biotech companies.
Over the last few years Jonathan has been focussed on consulting for the wholesale and retail pharmacy sectors, delivering thought leadership as to "The Future of Pharmacy."
Jonathan holds an MBA from Warwick Business School.

John Smith, Chief Executive, Proprietary Association of Great Britain (PAGB)
John Smith joined PAGB as Chief Executive in July 2015.
Previously, John was Business Unit Leader, UK and Ireland, of Pfizer Consumer Healthcare.  He was appointed General Manager of Wyeth Consumer Healthcare UK in 2003 (which became part of Pfizer Consumer Healthcare in 2009).
A certified accountant, John began his career with Wyeth in 1995 as Chief Financial Officer for the Pharmaceutical division in South Africa.  In 1999, he became Country Manager for the Consumer Healthcare division in South Africa, before being appointed to General Manager in 2002, when he also took on responsibility for Russia, Spain and Portugal.
[Photo supplied by Lisa Bretherick www.lisaimages.com]

Rob Darracott, Chief Executive, Pharmacy Voice
Rob Darracott has worked in the NHS and Department of Health and spent 8 years with Alliance UniChem, working in the UK and in Europe.  He joined the Company Chemists' Association as its Chief Executive in 2007, and added leadership of the joint representative activities of Pharmacy Voice in 2010.  Since 1st September, he has been the full-time CEO of Pharmacy Voice. Rob was co-chair of the Modernising Pharmacy Careers Programme Board's review of the professional training of pharmacists and of Department of Health's Steering Group on Improving the Use of Medicines.  He was appointed an Honorary Professor in the School of Pharmacy at the University of Nottingham in 2013 and is a member of Public Health England's Blood Pressure System Leadership Board.

Sandra Gidley, Community Pharmacist, Chair of England Pharmacy Board
Sandra spent 21 years as a community pharmacist, working mainly in the locum and supermarket sectors. From 2000 to 2010 she was Liberal Democrat and MP for Romsey. During this time she held posts with shadow ministerial responsibility for health (social care, public health, long-term conditions) and equality. She was also a member of the Health Select Committee for four years. Since 2011 she has worked as a community pharmacist with occasional consultancy.

Paul Tunnah, CEO, pharmaphorum media
Dr Paul Tunnah founded pharmaphorum media in 2009 which has rapidly evolved and developed its offerings to drive better communication, connection and collaboration between the pharmaceutical industry and other stakeholders. Today the groups spans expertise in publishing and consulting around content-driven customer engagement. The offerings are underpinned by the common strengths of extensive global networks, a firm finger on the pulse of changing market dynamics, and deep expertise in creating engaging, relative media. Prior to this, Dr Tunnah obtained a BA in Biochemistry and DPhil in Biological Sciences from Oxford University, before working in commercial consulting for Datamonitor, IMS Health and SmartAnalyst.
Dr Tunnah can be contacted by emailing paul@pharmaphorum.com or tweeting @pharmaphorum.
* When you click to register for this webinar you will be taken to a website run by BrightTalk who host the webinar and gather your registration data.
This data may then be passed to pharmaphorum media limited, and in turn passed to the company(ies) we are partnering with to bring you the webinar. This data may be used by us and them for occasional marketing purposes. It will not be shared with any further third parties.
By clicking to register for this webinar you give consent for any data you provide to be used in this way.
If at any point you no longer wish to be contacted based on the information you provide during the registration for this webinar, please send an email to info@pharmaphorum.com requesting that your information is deleted in accordance with the General Data Protection Regulation.