The digital age in live programmes for healthcare professionals
Nick Willhoft
Noveida Health
On our final day in our digital month, Nick Willhoft discusses live programmes for healthcare professionals, including his own top ten digital innovations.
It is a blast of fresh air to have a client with an ambitious schedule of stand-alone and congress-affiliated programmes, who wants to shake things up a little.
Until recently, sproutings of true innovation in live programmes were crushed by the muddy boot of regulatory and cultural conservatism. But times are changing. Stakeholders, irrespective of their job title, want programmes that work. They also have a better sense of what "working" looks like.
There are often three overlapping desires that shape these conversations:
1) The desire for innovation that drives improved outcomes
2) The desire to engage HCPs before, during, and after programmes
3) The desire to inspire, educate, and entertain audiences
It's the outcomes, stupid!
Moore's outcomes framework (Figure 1) has become a force for good across the medical communications industry. It's a simple framework around which programme effectiveness can be measured.

Figure 1: Moore's outcomes framework
Demanding improved outcomes makes the case for greater use of digital technology. Programme design is everything in this context. We seek to educate and inspire. And we need to test in a way that doesn't kill the programme.
&nbsp,
"Until recently, sproutings of true innovation in live programmes were crushed by the muddy boot of regulatory…"
&nbsp,
For example, we can test knowledge and its application in case-based learning supported by iPods and iPads. We can probe the intention to apply what has been learned on return to the clinic. Follow-up post-event surveys can link what individuals showed they learned to what actually happens in the real world, and what good it does. Moreover, iterative improvements in the programme are possible by linking (anonymous) demographic information of the learner to the outcome measures.
But at what price?
Programming iPods and iPads is costly. Integrating the content with the programming is a skill few have, and the cost of devices to support large programmes is beyond the reach of many agency partners. But there are providers out there. Although iPods remain the more affordable option, costs from iPad providers are becoming increasingly more affordable.
Before, during, and after
A clinician walks into a programme. He or she sits there for 3 hours, then walks out. What's wrong here?
Our business is about partnership. Before the enlightenment, when advertising ruled our budgets, we screamed "BUY ME" from the journal advertisement. We now exist to advise, support, connect, and inspire. That's a big ask from a journal ad. But it can also be challenging in a 3-hour live programme.
Many have explored ways to recast the notion of a "symposium". We seek an educational journey that starts from the moment an invitation is accepted, and continues for as long as the participant chooses. Really?
The mixed bag of mobile
Web registration has helped. We can, through opt-in, push information to our audiences. In the real world, the one outside healthcare, large events generally come with an app. Although routine in our own conference circuit, the cost argument is often tough for one-off events. Moreover, smartphone penetration cannot be taken for granted in all situations. In our last dipstick survey of gastroenterologists at a regional conference in Taiwan, a little over 50% of doctors surveyed owned a smartphone.
&nbsp,
"We now exist to advise, support, connect, and inspire."
&nbsp,
SMS and MMS are our lowest common denominator. Messaging and short video clips, optimised for 70% to 90% of mobile handsets worldwide, can tell a story in advance of a programme. Ok, it's not that simple. It's a fragmented worldwide telecommunications industry, but with the right content, a competent partner, and enough piloting, measured success is possible.
The art of community building
Engagement and interaction in the programme itself is what we spend most time discussing. Perhaps our biggest opportunity is to translate "interaction" into "community building".
For "Rising Star" programmes, digital, international networking, and education are happy bedfellows. In this context, digital will catalyse interaction, provided the motivation of the participants is understood. That's for another day. For now, although Twitter has left many of us wanting, there is hope. And we need not be constrained by conference Wi-Fi and / or fear of roaming charges. See 6, 7 and 8 in the digital top ten (Figure 2).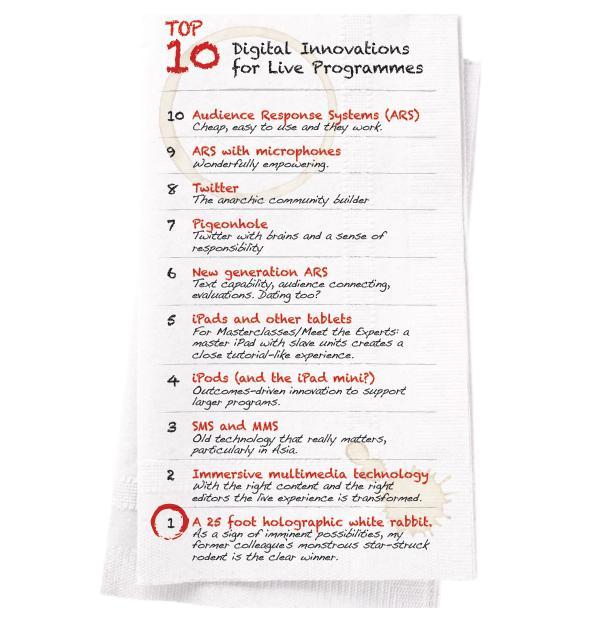 Figure 2: Top ten digital innovations in live programmes
And when the music's over?
When our audience has gone home, the story should continue. Opted in, passive receipt of content is straightforward — active participation more challenging. It is incumbent on us to ensure that career development, networking, improved clinical outcomes are all served through sustained participation. Mobile is an essential piece, but traditional online formats such as webinars can also help reinvigorate interest in a conversation or topic.
Behinds on seats?
All that said, if we don't offer a degree of entertainment, in many settings we are in danger of falling at the first hurdle — namely, attendance.
Clinicians select programmes based on faculty and content. Wrapped up in this package is the desire to enjoy the experience. At its extremes, two US-based opinion leaders in diabetes and dermatology have sung Nat King Cole and Elvis Presley, respectively. Terrific attendance was near guaranteed for their programmes. They were (and are) charming, knowledgeable, and inspiring educators. And they sang (and still sing) beautifully.
Let me entertain you
Here digital comes into its element. The costs of filming and editing have fallen, and access to green screen studio faculties has increased. When dealing with terrible illnesses, there is a line which must be seen and not crossed. If that is understood, actors can play patients and your audiences can watch the faculty get transported into another world.
&nbsp,
"Mobile is an essential piece, but traditional online formats such as webinars can also help reinvigorate interest in a conversation or topic."
&nbsp,
Enter the realm of immersive learning. If done well, it is entertaining and it supports elements of what we understand about adult learning and the need to provide information in different forms to allow for different learning styles. And this story can only get better.
Whither White Rabbit?
A friend and former colleague was intensely proud of a 25-foot holographic white rabbit he put on a stage 5 years ago. We mocked him a little, and still do. But his exuberance predicted an exciting future in immersive learning that is on our doorsteps.
With that I leave you with my own top ten digital innovations (as shown in Figure 2 above). To declare my interest, we have our own digital assets. But we see constructive partnerships with quality niche providers as critical to the creation of successful programmes.
&nbsp,

&nbsp,
About the author:
Nick Willhoft PhD is the Managing Director, Europe and Asia Pacific, at Noveida Health. He is responsible for Noveida's medical communications businesses in Europe and Asia.
You can contact Nick via his email, nwillhoft@noveida.com, or his Twitter account, @NickWillhoft.
What's on your list of top digital innovation?