Redefining the blockbuster model: Why the $1 billion entry point is no longer sufficient – part 1
Sarah Rickwood
IMS Management Consulting
In part one of this two-part article, Sarah Rickwood explains why the $1 billion entry point should no longer be the benchmark for a blockbuster drug.
When Zantac® surpassed US$1 billion in annual sales in 1987, the first global "blockbuster" pharmaceutical product was born. Today, there are 116 so-called blockbuster medicines, providing 36% of the global pharmaceutical market's 2011 value, up from 51 products and 25% of the global pharmaceutical market value in 2001.
While a billion dollars may once have defined a small number of products with truly exceptional sales, a significant expansion in the number of products reaching this level no longer makes this an elite group. The industry must now determine how best to define the exclusive group of drugs that are truly exceptional in terms of their performance by establishing a new benchmark, which accurately reflects and evolves with the current market environment.
Over the last decade, large pharmaceutical companies significantly grew in size via traditionally-defined blockbuster drugs ($1 billion-plus in annual sales). Multi-billion dollar sales and profits linked to these medicines attracted investors, driving up share prices, and making manufacturers acutely dependent on the fortunes of a small number of very large blockbuster products. Mergers and acquisitions were motivated by the need to acquire, or replace, these extraordinary medicines, and the number of traditionally-defined blockbusters reached a plateau in 2008. There is a growing awareness that the long-established benchmark of $1 billion that once defined a blockbuster medicine is no longer an effective measure.
The identity of the "blockbuster" is changing
Over the last 10 years, the identity of the blockbuster has changed. The characteristics of most billion-plus sellers were that they were used predominantly in primary care settings, and were targeted toward chronic conditions such as diabetes, dyslipidaemia, depression and respiratory conditions. In 2002, 70% of all traditionally-defined blockbusters were primary care products, while in 2011, only 44% were. The new blockbuster model has shifted away from primary care to specialty therapies, with specialty blockbusters driving much of the future projected growth. Currently 55% of all traditionally-defined blockbusters are specialty drugs, accounting for 61% of the value growth.
&nbsp,
"In 2002, 70% of all traditionally-defined blockbusters were primary care products, while in 2011, only 44% were."
&nbsp,
The billion dollar product is also no longer exclusively geared to the mass market. Products with much smaller patient populations are now starting to achieve billion dollar blockbuster status – driven by the potential for market dominance and relative pricing freedom. Spending for biologic and injectable medicines has dramatically increased, while spending on small molecule drugs has remained constant since 2005. Oral medicines, used mostly in primary care settings, have given way to specialist-driven, high-cost specialty therapies, putting the primary care "white pill" blockbuster model in decline.
Targeting a niche market, or defined patient segment, has historically been considered a weak strategy. However, this approach is expected to become the norm for driving growth for major products. Increasingly, larger numbers of mainstream products will be characterized by use in patients identified by specific, objective, diagnostic tests, or will, in practice, be confined to segments of the full patient population by the availability of effective low-cost generics, which will be used first line in many primary care diseases. Companies will lose their "segmentation anxiety", as more defined patient populations become the norm in both primary and specialist care.
Top 20 losing patent protection
By 2016, loss of patent exclusivity will impact 12 of the top 20 products, or seven of the top 10 current leading blockbusters, including Lipitor®, Plavix®, Seretide®, Crestor® and Nexium®. The products that remain as the world's largest selling drugs will be largely specialist and biologic.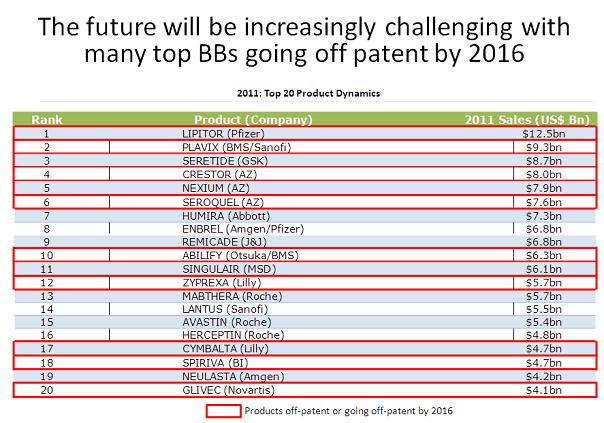 Figure 1: Many top blockbusters going off patent by 2016
Source, IMS Health MIDAS, Dec 2011
As a result of this significant number of patent expiries, the dominance of the top 10 pharmaceutical companies in the traditionally-defined blockbuster market is declining, from 72% of all $1 billion-plus medications sold by top 10 companies in 2006, to 63% in 2011.
Truly large products a thing of the past
The days of the super-large, $10 billion-plus, Lipitor-like blockbuster medicines are most likely behind the industry. Real growth has happened in the very large ($5-9.99 billion), mid-sized ($2-4.99 billion) and small ($1-1.99 billion) products, with most growth over the decade in the absolute numbers of small blockbusters, but the largest relative increase in the very large ones. However, the last year shows a change in trend for the small and mid-sized products, as small ($1-1.99bn) products have increased to 65, the highest number ever. IMS believes that the trend will be larger numbers of smaller patent protected products, not all of which should be described as blockbusters.
Need for change
Since 1987, inflation has diminished the value of $1 billion, while overall market growth has significantly expanded the number of products reaching this former elite level. Today, $1 billion is worth only one-seventh of the global market share that it was worth in the period of the first blockbuster, Zantac.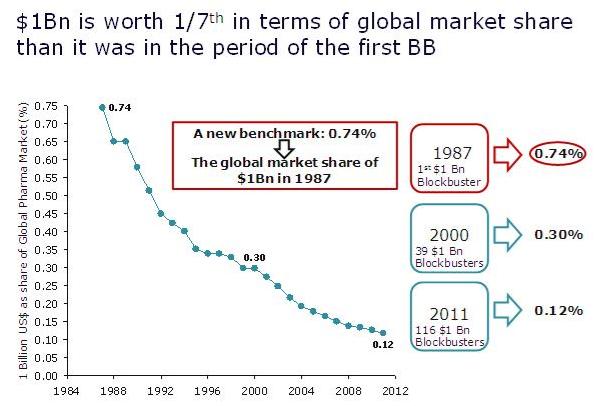 Figure 2: $1 billion is worth 1/7th in terms of global market share
Source: IMS Health, MIDAS
IMS analyzed several approaches in determining the new blockbuster benchmark, including: constant ranking, market share, and chained dollars.
Constant ranking
While simply identifying blockbuster products by their rank as determined by sales, e.g. the top 50 products globally, has the advantage of straightforwardness and consistency over time, we discarded this approach as over-simplistic. This approach does not capture the size element that distinguishes the best known definition of the blockbuster, the traditional $1 billion, nor does it allow insight into how market trends change the number of products that are truly large.
Part 2 of this article can be viewed here.
&nbsp,

&nbsp,
About the author:
Sarah Rickwood has 20 years' experience as a consultant to the pharmaceutical industry, having worked in Accenture's pharmaceutical strategy practice prior to joining IMS Management Consulting. She has an extremely wide experience of international pharmaceutical industry issues, having worked most of the world's leading pharmaceutical companies on issues in the US, Europe, Japan, and leading emerging markets.
In her time in IMS, Sarah has played a key role in developing the Launch Excellence Thought Leadership and IMS's Launch Excellence thought leadership studies and Launch Readiness offerings which provide IMS pharmaceutical clients with comprehensive and critical guidance during the crucial pre-launch and launch periods for their key brands. In this capacity she has advised companies on the launch of current and potential blockbusters in many therapy areas and countries.
As the Director of Thought Leadership for the European Business Units, Sarah has managed a highly productive team delivering over 100 client presentations a year, and developing new Thought Leadership on launch, biosimilars, commercial analytics, healthcare system changes, blockbusters, the top 10 company of the future and uptake and access of innovative medicines.
Sarah holds a degree in biochemistry from Oxford University.
How should we now define a blockbuster pharmaceutical model?