New and old methodologies converge at PM Society Awards
Resurgence of 'old-school' copywriting and hand-drawn animation up against the latest advertising technology, says head judge Dean Woolley.  
Every year, the best creative work from the pharmaceutical industry and its service agencies is celebrated at the Pharmaceutical Marketing Society Awards, throwing a spotlight on the most interesting and exciting innovations in advertising, medical communications and digital.
"The PM Society Awards are the most grounded in the reality of how UK pharma and agencies work together and are a true celebration of best practice in this field," said Dean Woolley, co-founder and executive creative director of healthcare agency woolley pau gyro and head judge at this year's awards. "In addition, the competition's unique judging panel – which consists of three different kinds of jury: agency creative directors, healthcare professionals and marketers – means work is not only recognised by your peers, but also by your target audiences."
This year, the objective is no different. Featuring a total of 19 categories, 49 client companies and 29 agencies, the PM Society Awards 2016 is as diverse as ever.
"The awards are growing in popularity and that's reflected in the number of new finalists," said Woolley. "Aurora Healthcare Communications, Blue Latitude Health, Page & Page Ltd, Pulsar Communications and Solaris Health are among the newcomer agency finalists, whilst Abbott Point of Care, Merck, Sandoz and Sanofi make up some of the new pharma company finalists to look out for."
Last year's 30th Annual PM Society Awards played host to an audience of more than 1,000 marketing and communications professionals from across industry and agency – an audience that watched the first ever "Winner of Winners" award handed to Frank Walters – formerly of Paling Walters – for the firm's "Butter" advertisement from the renowned Xenical campaign of 2006. It fought off top competition from Tritace's 'whale' ad from 2002, Risperdal's 'house' and 'chest' ads from 1998 and 2004, respectively, and Xenical's own 'cheese' and 'curry' campaigns.
"The Xenical 'Butter' ad stands out for multiple reasons. It is built around a simple, powerful idea and it's beautifully done. For me, it has that 'know it when you see it' quality which exemplifies what best practice looks like for creativity in healthcare," explained Woolley. "Thanks to the success of the award, this year will see the addition of a "Best of Show" award to celebrate the very best of what will be on display on the day."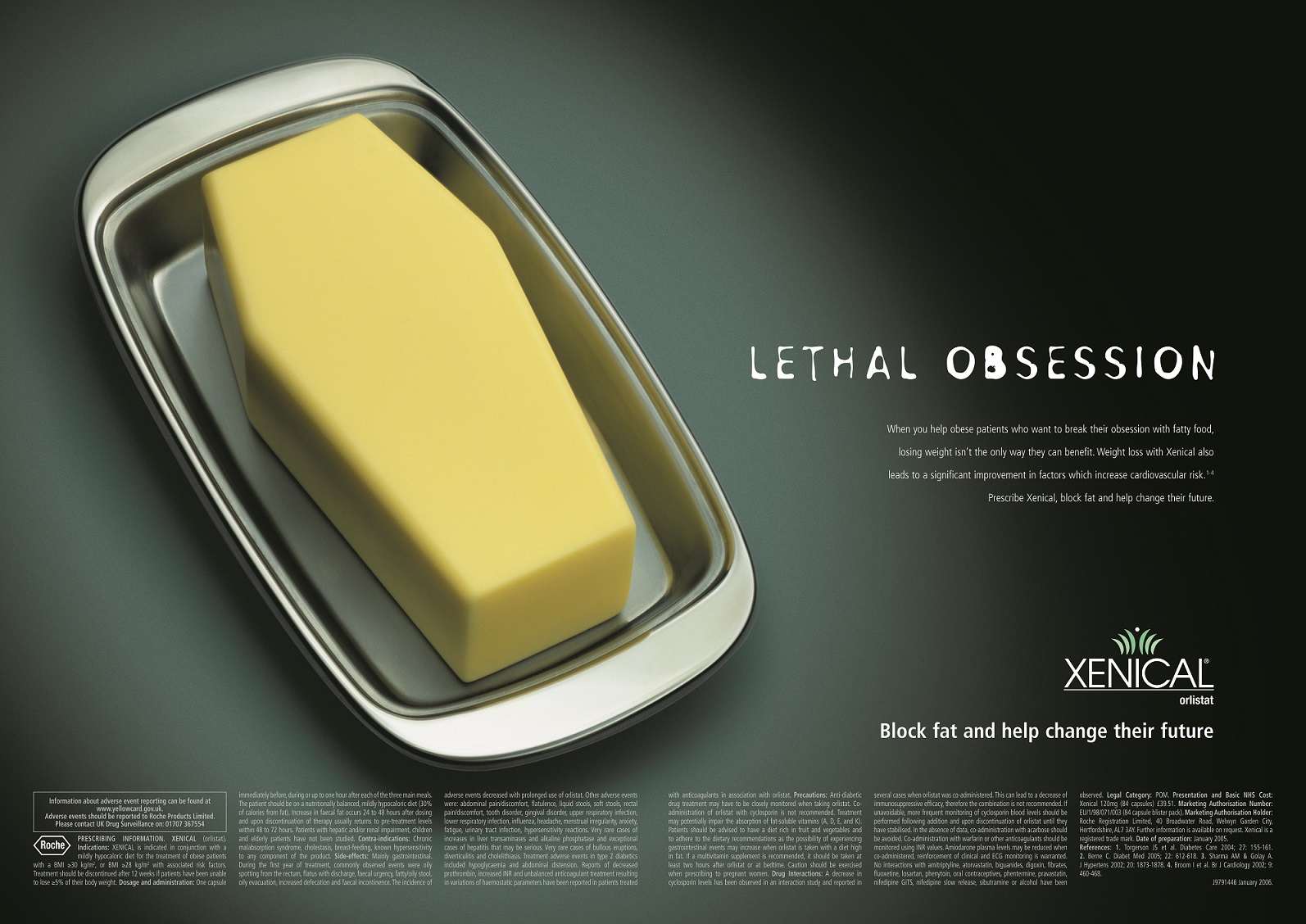 Xenical's "Butter" advert stood out for its simplicity and hard-hitting message, leading to its claiming of the "Winner of Winners" award at last year's show.
In terms of pharmaceutical company categories, plenty of award regulars return, including last year's most successful pharma company Teva which nabbed a total of six trophies – two of which were gold. Fellow double-gold winner Allergan will also hope to relive last year's success, while Sanofi Pasteur MSD, which won one silver and four bronzes, and AstraZeneca (two silvers, one bronze and one gold), will be looking to add to their respective hauls.
Last year's big agency winner was Saatchi & Saatchi, achieving the biggest collection of gold awards – one for best ad campaign, one for best secondary care campaign and one for best film. Awards regular VCCP also scooped 10 awards for the second year in a row, taking home two golds, four silvers and four bronzes, while The Health Hive Group won five (one gold, three silvers and a bronze).
According to Woolley though, this year's entries should have no trouble topping the high standards set last year: "This year's winners really do reflect the uniqueness of the awards because of their sheer diversity. In this digital age, it is heartening to see some 'old-school' copywriting and art direction on show in the press advertising categories, while some truly stunning CGI is up against some awe-inspiring, hand-drawn animation in the animation category. Also, look out for some really clever thinking in the disease awareness and interactive communications categories."
The PM Society Awards 2016 will be held at the Grosvenor House Hotel in London on Friday 3 February. To find out more about the awards, click here.
Don't miss your daily pharmaphorum news.
SUBSCRIBE free here.