Patients in the driving seat
Many pharma companies talk about the importance of 'patient centric' clinical trials and involving patients in trial design – but what does this really mean? As part of a series of articles in association with Cytel, the company's Dr Nico Merante, VP of Clinical Development, tells us how the patient voice can aid the clinical development process.
Drug development is changing rapidly, with an increasing interest in drugs and therapies that are focused on individual patients' needs and the unique characteristics of their disease.
In cancer, for instance, only a few drugs targeting the mutations present in a tumour instead of their location in the body have been approved. Going forward, it's expected that this approach will become more common.
The idea of personalised medicine is expected to target other diseases, for instance neuropathic pain conditions, based on biomarkers that could indicate which patients are more likely to respond to a certain mechanism of action of an investigated molecule1.
This innovative approach requires precise and targeted research, which needs to be driven also by patients.
"Instead of starting with a molecule, with this model a clinical study really starts with patients"
Additionally, in clinical development there are therapeutic areas where recruiting patients into clinical studies is particularly challenging. So, making the trials more feasible – and therefore more attractive – for patients by minimising the burden on their daily lives has become increasingly important.
It is essential to objectively assess the feasibility of a clinical study. This must be seen also from the patient's perspective to ensure that studies are fit for purpose, because often they tangibly impact on people's life, as they may be too complicated, highly demanding or even unrealistic.  This way, studies can also become more clinically meaningful, practical and more cost-effective.
This approach has driven companies to find new ways of interacting with patients, and to make the R&D process more efficient and more meaningful to all concerned – regulators, doctors, and to patients.
The 'Outside-in' clinical development model
The new way of working is described as an 'outside-in' clinical development model. Instead of traditionally starting with a molecule, with this model a clinical study really starts with patients.
The system should engage with patients from an early stage. It would be beneficial to include their input when study protocols are designed and study objectives are decided, for example. In case of paediatric studies, both parents should be carefully listened to.
This approach allows us to improve the quality of the development plan and study designs, to engage with patients early and to include more meaningful endpoints in the protocol. It's about getting more realistic information from patients on side effects of the treatments they're taking and understanding better the extent of patients' responsiveness to drugs whilst undergoing a clinical investigation (i.e. the onset of action and how sustained the response is). This serves to gather knowledge and experience from patients' perspectives, through a more accurate patient reported outcome data analysis, and to understand what really, really matters to people  in relation to the disease condition they suffer from.
This approach could be extremely helpful in designing trials together, particularly in those disease areas where there are limited, ineffective or poorly tolerated available treatment options.
Figure 1: The 'Outside-In' product design model1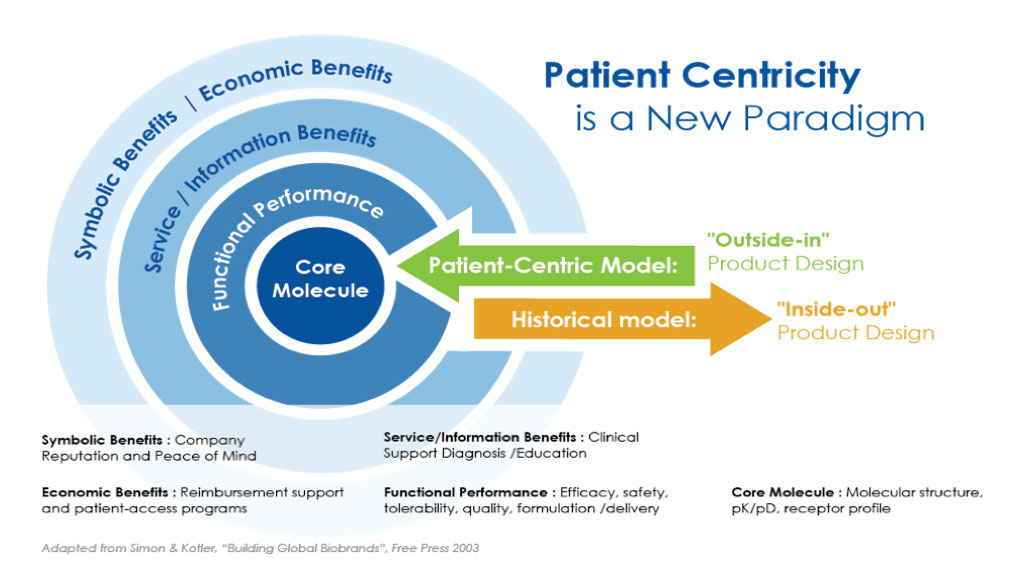 Patient-focused study objectives
By engaging with patients this approach could support the inclusion of more clinically relevant and patient-focused endpoints. The approach can finally ensure that data generated from clinical studies is truly meaningful.
Some objectives in a clinical study are more relevant to patients than others. These can also be important as part of the cost-benefit assessment at the end of a clinical study or study programme. One example is pain, cancer and their bi-directional link – at the moment there is a pressing need for new alternatives to opioids that are commonly used to treat chronic pain conditions and cancer pain because of their addictive side effects and safety concerns.
For instance, one pain endpoint that is relevant to patients in clinical studies – but is not used as often as it should be as primary/co-primary endpoint – is the Patient Global Impression of Change (PGIC). PGIC is an assessment based on a very simple question with seven potential answers, and records how a patient feels at the end of the study treatment. The patient is simply asked to indicate how they feel now compared to how they felt before receiving treatment in the study on a 7-point scale of -3 (very much worse), 0 (no change), to +3 (very much improved). This rating scale enables the patient's impression of change in their condition since admission to the study to be globally evaluated.
It's a short and straightforward endpoint, but it collects key information on how people are really feeling at the end of the trial compared to when the trial started.
Cost-effectiveness benefits
If, for instance, the PGIC questionnaire produced favourable results as seen by the patients, this can be relevant in addition to the more conventional Average Daily Pain Score (ADPS), or the lately recommended by the FDA Worst-ADPS, traditionally used as a standalone primary endpoint in the majority of neuropathic pain studies.
Bodies such as NICE in the UK typically look very carefully and in great detail at this data with focus on any potential benefit patients can achieve from the study and from a new pain medication. Information such as quality of life, daily functioning, ability to return to work, status of pain co-morbidities, pain correlated symptoms, sleep pattern, anxiety and depression state, together with an accurate safety and tolerability profile, are all fed into the final decision on whether a new drug can be approved and in the definition of the value of the new medicine, which must be based on the real data this therapy can be tangibly produced.
The data gathered through this model provides a better view on how the drug behaves in the real world, and the patient's views should always be included in a clinical study. The approach brings together information about real-world patients and real-world evidence data and ensures that patient-focused endpoints are well defined and correctly positioned in the clinical study protocol (this translates to 'a more realistic clinical setting approach').
Involving patients at the start of the study design could produce higher quality drugs. There is an urgent need for more effective and better tolerated cancer and cancer pain medications, which need to be tailored to the different typologies of patients. This is highly relevant. An analysis published in 20073 showed around 59% prevalence of cancer pain in patients on anti-cancer treatment, rising to 64% in patients with metastatic, advanced or terminal disease.
A follow up meta-analysis published in 20164 from 122 studies conducted in over 95,000 people confirmed high pain prevalence rates (39.3% after curative treatment; 55.0% during anticancer treatment; and 66.4% in advanced, metastatic, or terminal disease. Moderate to severe pain was reported by 38.0% of all patients). The conclusion from this data was that, despite an increased attention on assessment and management, pain continues to be a prevalent symptom in patients with cancer.
We still need to overcome barriers toward effective pain treatment and develop and implement interventions to optimally manage pain in patients with cancer. The commitment of any researcher working in this area is to ameliorate the life of people suffering from cancer and from cancer pain. For this reason, patients need to be at the core of clinical research.
Digital technology is an enabler
The focus on patient centricity comes at a time when digital technology is proving its ability to provide patient data on an ongoing basis. This can be used in several ways – to engage with patients before recruitment, to gather data during a trial, and to provide ongoing joined-up care as part of the process5. It's important to have this in place because it's hugely helpful and supportive for engaging with patients and ultimately for doing everything in our capacity to help them.
It's now possible to create "virtual clinics" through the use of digital technologies, allowing people to receive world-class treatments without needing to physically visit a clinic for most or at least some of the typically frequent and long visits that are quite often scheduled in a clinical study.
While there are challenges as to whether technology is used consistently across different age groups and the severity of suffering conditions, the approach is nevertheless becoming an increasingly important part of the clinical trial process. It can positively engage patients and, in the case of younger patients with their parents, help us to better understand how to meet their needs through the use of the technology.
Recruitment bonus
The technology can support the running of trials by enabling patients, caregivers and medical professionals to link up.
Patient groups also have an important role to play to support clinical research and clinical trial designs6.
While they are well established in some countries and some regions, patient groups are not so commonplace in other areas. It is important that the pharma industry contributes to raise awareness of patient-centric trials and to show the benefits this approach can produce. This should be a priority also to ameliorate patient enrolment and retention in clinical studies7.
By failing to take patients' views on board, drug research companies could end up with results being submitted to regulators that are totally irrelevant to people and ultimately may not even be meaningful and supportive for drug approval. There's a risk that lack of patient input could result in a product that countries and health systems find difficult to approve or even to fund.
We have to make sure that study data are evidence/reality-based and patient-focused, with results that clearly demonstrate the advantages compared to what is already available. For the scope, comparative study designs should be often preferred for a new investigational drug versus the available 'standard of care' treatment.
There's a lot more to do in terms of improving the quality of clinical studies, to harmonise the existing and often diverse regulatory guidances8, but significant progress can be made only by including patients' views in the trial process.
With the advent of digital technology there's an enormous opportunity to make clinical studies more clinically meaningful and to better understand the study data based on the input and perception as described by the patients themselves.
References
D. Merante and S. Patel. `A Clinical Development Plan for a newly investigated neuropathic pain molecule looking at a clear Go/No-Go decision based on imaging, biomarkers and patient clusters`. Abstract accepted as E-poster ESRA8-0413 on 26 June 2018 at the 37 Annual ESRA 12-15 September 2018, Dublin. Regional Anesthesia and Pain Medicine, Vol. 43, Number 7, Supplement 1, October 2018, e180: pag. 84.
D. Merante et al. `Outside-In:  Why putting patients at the heart of drug development matters`. Applied Clinical Trials Online, 26 October 2018. http://www.appliedclinicaltrialsonline.com/outside-why-putting-patients-heart-drug-development-matters
MHJ van den Beuken-van Everdingen et al. `Prevalence of pain in patients with cancer: a systematic review of the past 40 years`. Annals of Oncology, Volume 18, Issue 9, September 2007: 1437-1449
MHJ van den Beuken-van Everdingen et al `Update on Prevalence of Pain in Patients With Cancer: Systematic Review and Meta-Analysis`. Journal of Pain and Symptom Management Vol. 51 No. 6 June 2016: 1070-1090
D. Merante.  `Patient engagement`.  Innovations in Clinical Development.  Oral presentation.  De Vere Grand Connaught Rooms, Holborn, London, 17 May 2018.  https://www.cytel.com/innovations-in-clinical-development-london/
D. Merante. `Collaborate with patient groups, patient advocates and patient networks to drive forward clinical research`. Patients Centric Clinical Trials Europe. Oral presentation on June 9th, 2015. Eyeforpharma.  eyeforpharma.com/patient-clinical-trials-europe/. Hilton Tower Bridge, London – June 8-9th, 2015.
D. Merante. `Patient enrolment & retention in clinical studies: How can we improve in cost effectiveness and timing of study conduction? ` Oral presentation at the 4th Clinical Operations Strategy Meeting, Munich, 14 March 2019, proventainternational.com/clinical-operation-eu-2019
D. Merante and S. Patel. `Fibromyalgia: an urgent need for a harmonized, global and patient-centric regulatory guidance for developing new medicines for the treatment of pain and associated symptoms`. Letter to the Editor. Pain Medicine, April 2019, 1-3. https://doi.org/10.1093/pm/pnz077
---
About the author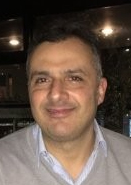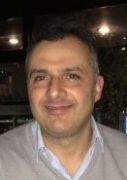 Dr Domenico Merante
Dr Domenico Merante is a physician with 25 years' global experience (Italy, UK and US) in EU, US and Japanese based pharmaceutical, contract research organizations and biotechnology companies, these mostly spent in global clinical development. He is a medical doctor, specialist of endocrinology and diabetes from University of Pisa/Italy,  with more than 20 years of practicing experience as emergency doctor in the Italian NHS, medical officer in the Italian Navy and private specialist consultant. As research scientist Dr Merante has a background of successful clinical development programs (phase 1-3), post-marketing safety surveillance programs in pain treatments, in type 1 & 2 diabetes and diabetic complications (including painful diabetic neuropathy and diabetic wounds), severe hypertension and in the endocrine area. So far Dr Merante has produced 90 publications as main or co-author amongst full papers, abstracts, posters and oral presentations.
---
About Cytel
As a pioneer in evidence generation, with deep expertise in advanced analytical solutions, Cytel is uniquely equipped to unlock the value from increasingly complex data. Life sciences companies count on Cytel to deliver exceptional insight, minimize trial risk and accelerate the development of promising new medicines that improve human life. Cytel provides data-focused clinical research services and software solutions for the design and analysis of clinical trials, including industry standards East®, StatXact®, and LogXact®. With operations across North America, Europe, and India, Cytel employs 900 professionals, with strong talent in biostatistics, programming, data science, and data management. For more information about Cytel, visit www.cytel.com