Concern for Coronavirus Among People with Chronic Conditions
It would be difficult to find a person who isn't impacted in some way by the global coronavirus pandemic that has led to significant shifts in how people work, play, socialize, relax – really, live their whole lives. People are impacted in vastly different ways depending on a variety of factors, from age to location to occupation to social preferences.
While concern about one's health –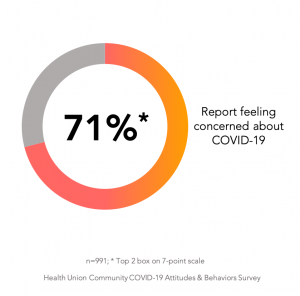 and the health of others – is a common thread during this time, this concern rises to a whole new level for people living with chronic health conditions. In fact, seven out of 10 respondents, in a Health Union survey of 991 people living with chronic health concerns, said having a chronic health condition makes them feel particularly concerned about the novel coronavirus COVID-19. This survey, which was fielded March 19-25, was the first of a series of "snapshots in time" that will track the perspectives and health behaviors of people with chronic conditions throughout the coronavirus pandemic.
While survey responses represented a range of feelings, emotions and mindsets, recurring words and phrases among some of the open-end questions illustrate that people are feeling "worried," "anxious," "nervous" and "scared." Among the many reasons for these feelings, their pre-existing health conditions play a significant role, as 62% of respondents said they feel they are at greater risk of having a more severe case of COVID-19, if infected, due to their general health (based on the top two choices of a seven-point scale).