Pfizer Healthcare Hub Challenge 2018 winners announced
A service that helps patients capture and share their experience and outcomes of care, in settings from trials to the clinic, is one of three 2018 Pfizer Healthcare Hub Challenge winners.
Medopad will join NHS inspection app Perfect Ward and Inhealthcare, which provides digital health and telehealth services, in sharing a £50,000 grant and access to Pfizer's UK and global network and resources over the course of the next year after jointly winning the pharma company's digital health start-up competition.
Dr Hamish Graham, Pfizer Healthcare Hub: London manager, said: "The broad array of innovative technology presented to us by the different start-ups at the pitch day was a real privilege to see. The three winners really stood out due to their ability to show the impact of the technology on the healthcare service and the lives of patients.
"We are looking forward to collaborating on some exciting projects in the next 12 months to help bring the benefits of their technology to more patients in the UK."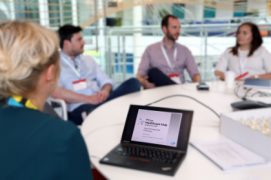 The three start-ups that won the 2018 Pfizer Healthcare Hub Challenge were selected by a panel of Pfizer UK leaders and invited judges that included vice president of the University of Swansea Prof Marc Clement and Dr Luke Gompels, chief clinical information officer at Taunton & Somerset NHS Foundation Trust.
Inhealthcare, which enables the NHS to deliver more care outside of hospitals, offers digital health services in areas such as COPD, hypertension and diabetes, in addition to an offering that enables the NHS to build its own digital services.
Chief executive Bryn Sage said: "It's fantastic to be working with the Pfizer Healthcare Hub: London. We really value the extra support and guidance to help us to build on our achievements to date. We're passionate about keeping people out of hospital; scaling our technology will help us to transform the health and care service and allow more people to be cared for on-the-go."
Now in its second year, the London Pfizer Healthcare Hub Challenge aims to help innovative health tech companies realise their potential.
The Hub is designed to help late stage start-ups to grow and reach more patients and providers faster, by giving access to Pfizer's UK and global network and resources. It forms part of a global network of innovation hubs that the company has in New York, Berlin, Tel Aviv, Stockholm, Sydney and Toronto.
Don't miss your daily pharmaphorum news.
SUBSCRIBE free here.