Angle poised to take on US cancer diagnostics market
Off the back of strong trial results, UK analytics specialist Angle is hoping to get ahead of rivals and market the first ever circulating cancer cell-based test capable of producing data that could be used to select drug treatments and monitor disease progression.
Latest results from a 400 patient EU/US study have showed the Parsortix liquid biopsy was able to outperform existing tests in discriminating between benign and malignant pelvic masses in patients with suspected ovarian cancer.
The results are significant because they could allow patients to be referred to the correct surgeon based on a simple blood test – to a generalist in the case of benign masses and to a specialist if the tumour is malignant.
Liquid biopsies offer a more convenient way of identifying tumours present, and can also be used in a range of other cancer diagnosis uses.
But CEO Andrew Newland said Parsortix could have uses in other cancer types. Aside from further trials to get a CE mark in Europe, and an FDA approval in the ovarian cancer use, Angle is targeting a use in metastatic breast cancer that could provide oncologists with a suite of diagnostic tools.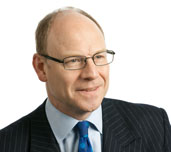 Andrew Newland
Starting with the US market, Newland wants to develop Parsortix to create a diagnostic tool able to detect the presence of cancer, choose a drug, assess whether treatment has succeeded and monitor patients to see whether they are still in remission.
Newland told pharmaphorum in an interview that the diagnostic suite could be used in other cancers once the FDA has approved it in metastatic breast cancer.
"The challenge is getting that first approval, getting it approved in different uses after that is much easier. The hardest is the first one," said Newland.
Because Parsortix is based around a simple principle – that cancer cells are larger and easier to trap than other circulating cells, Newland says production costs are low.
This allows Angle to offer the basic biopsy at rates in line with existing tests, although the add-ons such as drug selection will cost extra.
There are competing liquid biopsies in the US, which cost just over $500 per test and Angle hopes to match this price and win business with what they consider to be a superior product.
Newland said: "We can make $300 million per year at much less than $500 because our cost of goods is so low."
In ovarian cancer, Angle is planning the further studies necessary, as well as fine-tuning algorithms used to differentiate malignant and benign tumours, and is looking to use the UK's NHS as a test-bed.
Studies so far have been based in the US and Austria, so testing the treatment in the UK will allow the company to build a network of potential clients should the treatment make it through the approval process.
"What we may well do is select the UK for the site of the next study we do in Europe," said Newland.
Don't miss your daily pharmaphorum news.
SUBSCRIBE free here.